The Building Industry is eager to rebuild in the wake of destruction, but seems opposed to adopting measures that will help prevent destruction.
Back in November, I closely followed the weather reports in a month that proved to be one of the warmest on record for our part of the world. The television weather reporters and news anchors gleefully cheered the unseasonable temperatures, often in sportswear and sleeveless tops to illustrate the point.
When the month finally wrapped up, it was one of the driest on record, with zero measurable precipitation officially recorded in a calendar month that usually averages about 2.5 inches. The official high temperature on Thanksgiving Day in Denver reached the low 70s, only a couple of degrees off the all-time record for that holiday. A few days later, the high was reported to be above 80.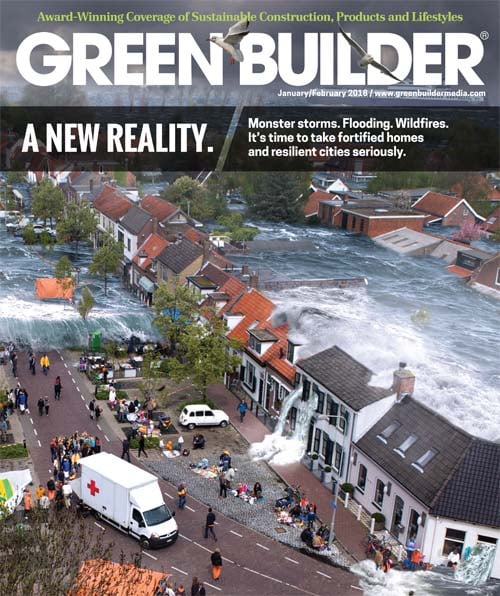 Frankly, it was more than a little frustrating to witness carefree celebrations and lack of expressed concern about the extreme dryness and unusually warm temperatures. While some basked in the short-term comfort afforded by the conditions, I kept thinking about the record wildfires that had only weeks before dominated the news in the West—especially those in California, but in other states as well.
The nightmarish images of entire communities, croplands and vineyards, and countless acres of wild lands transformed into charred wastelands and ruin were impossible to forget. The nightly stories of the shattered lives, hopes and dreams of thousands of residents could only be described as heartbreaking. The loss of life and property were difficult to comprehend, and the millions of dollars in public and private resources that were poured into the efforts to battle the infernos, not to mention the heroic efforts of the firefighters and other first responders boggled the mind.
I remember thinking that the images resembled photographs of cities and towns that had been destroyed by massive bombing campaigns in wars all around the world. Often, they bore an eerie resemblance to the black and white photos of Hiroshima and Nagasaki.
Are people really as shortsighted and oblivious to the big picture, as we often seem to be? Can we actually learn from experience, and if so, why don't we apply those lessons in an effort to avoid enduring the same outcomes when these kinds of catastrophes occur?
The real estate industries, and all forms of development and construction, seem to be among the greatest offenders. We are extremely eager to rebuild in the wake of destruction, but it seems that we're adamantly resistant to adopting measures that will help prevent the same outcome the next time we encounter similar challenges.
Resilience is a topic that has captured a great deal of the dialogue these days. There are many sincere people and companies in our industry, and others, who are devoting vast amounts energy, creativity and resources to develop products and systems, and to implement strategies intended to provide a more resiliently built environment and a safer, more secure future.
But until we are able to look beyond our immediate comforts, we will struggle to take the necessary and appropriate actions that will lead to more-resilient homes and communities. It's something we cannot continue to fail to achieve.
---
© 2018, Green Builder Media. All rights reserved. This article is the exclusive property of Green Builder Media. If you would like to reprint this content, you are free to extract a short excerpt (no more than 1/4th of the total article), as long as you 1. credit the author, and 2. include a live link back to the original post on our site. Please contact a member of our editorial staff if you need more information.