Three Efficiency Upgrades for Kitchens and Baths
There are several easy targets for improving the efficiency of kitchens and baths that don't require opening up walls.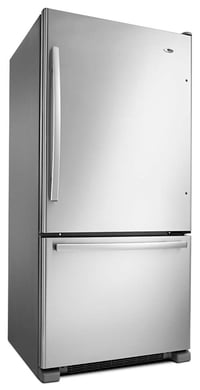 This 22 cubic foot refrigerator from Amana represents decades of efficiency-driven innovations, including foam insulation with low global warming potential. http://bit.ly/1KUpyG4
According to the U.S. Energy Information Administration (EIA), heating and cooling are no longer the biggest part of a household energy pie. Appliances, lighting and electronics eat up nearly 36 percent. This is in part because households contain more electronics and appliances, even as efficiencies have improved, but also because houses are tighter and HVAC equipment is better.
1. Smarter Appliances. Replacing an old refrigerator with an Energy Star-certified new one can save between $35 and $300 in energy costs over its lifetime. This handy calculator can give your clients a more accurate picture of the energy and money saved by replacing their particular unit: http://1.usa.gov/OiSQVV
But replacing an older model with any similarly sized new one will save energy, as advances in compressors and insulation have yielded much greater efficiencies across the board. The Whirlpool Corporation estimates that its refrigerators across all of the company's brands cost 75 percent less to operate than in 1970. It's also important to look at overall energy use. For instance, the Amana bottom freezer unit pictured here is not an Energy Star model, but with an estimated annual energy usage of 556 kWh, it uses less energy than many Energy Star-qualified "French door" units of the same capacity. This is because different style categories have different annual consumption standards.
2. Cans and Tubes. Upgrading lighting with LED lamps and fixtures keeps getting more affordable. Can light retrofit kits make upgrading ubiquitous can lights a snap—literally. A kit such as the one from TCP Lighting pictured here costs around $20, and the light is pleasant, bright and dimmable. Replacements for fluorescent tubes that don't require rewiring (sometimes referred to as "ballast-ready") are becoming more widely available, too. Late last year, TCP introduced its DirecT8 T8 tube lamps, which have a lifespan of 50,000 hours and can save up to 40 percent of the energy compared to fluorescent bulbs. They're not cheap—at $25 apiece, that's several times the cost of conventional fluorescent lamps—but the price is likely to fall quickly, and the energy savings ensures the bulbs will pay for themselves over time.
3. Better DHW. According to the EIA, heating water accounts for nearly 18 percent of a home's energy budget. Much of this hot water is used for baths, showers and dish-washing. There have never been more options for efficient water heating, but solar, tankless and electric heat pump water heaters will yield the most savings—between $100 and $300 a year, according to the DOE. All three systems qualify for federal rebates, and state and local incentives are often available, as well.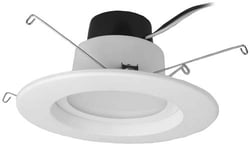 These 5" and 6" Dimmable Recessed Retrofit kits from TCP are an easy way to introduce LED lighting into a remodel project. www.tcpi.com