Green Builder Media's third annual Sustainability Symposium 2019 promises to be our best one yet. Check out the star-studded agenda, filled with visionary leaders who are leading the transition to a sustainable future.
Green Builder Media has scheduled the Sustainability Symposium 2019: The Desert Shall Bloom on Monday, February 18 at the Artemus W. Ham Concert Hall on the UNLV campus. Trust me—you don't want to miss this one.
Given the urgency of our environmental realities, full-scale deployment of comprehensive climate solutions cannot wait (the UN's World Meteorological Organization recently issued a report stressing the urgency of climate action with conviction, asserting that the "Earth's climate is now changing faster than at any point in the history of modern civilization, primarily as a result of human activities.")
We have thus designed the Sustainability Symposium 2019 to address head-on critical climate change topics, from global economic stability to national security to water to clean energy.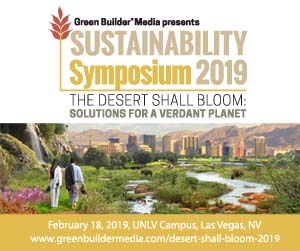 We're proud and delighted to unveil the Symposium agenda:
8:00-9:00—Registration at Artemus W. Ham Concert Hall
9:00-9:30—Welcome video with Academy-Award Winning Actor Jeff Bridges and opening remarks by Sara Gutterman, CEO Green Builder Media
9:30-10:30—The Imperative of Climate Action, General Wesley Clark, retired Four Star General and Army Chief of Staff
10:30-11:00—morning networking and refreshment break
11:00-11:30—Emergent Sustainability, Susan Kucera, internationally esteemed Producer, Director, and Videographer
11:30-12:30— Pouring New Foundations in the Built Environment: The Trajectory of Cities, Andrew Beebe, Partner, Obvious Ventures
12:30-1:30—lunch
1:30-2:00—Net-Zero Water: Will the Desert Bloom?, Kim Shanahan, Builder, Developer, and former Executive Director, Santa Fe Area Home Builders Association
2:00-2:45—The Flow of Power: Toward Renewables, Wes Kennedy, Strategic Executive, EnSync Energy Systems; and Eliza Clark, Director of Sustainability, Andersen Corporation
2:45-3:15—afternoon networking and refreshment break
3:15-3:45—Sustainability Success Secrets, Gwen Migita, Chief Sustainability Officer, Caesars Entertainment
3:45-5:00—Legend & Legacy, Bill Walton, NBA Hall of Famer and Ron Jones, President, Green Builder Media and industry provocateur
5:00-6:00—cocktails and networking
We invite you to join us for what promises to be an unforgettable day filled with ideas, insights, and inspiration.
Click here to register for the Sustainability Symposium 2019: The Desert Shall Bloom. Space is strictly limited and by reservation only, so reserve your seat today!
A sincere thank you to our generous sponsors, Samsung, Ingersoll Rand, Emerson, Andersen, Owens Corning, Uponor, Rheem, and Caesars Entertainment for helping to make the Symposium possible.
Got questions about the Sustainability Symposium? Write to me at sara.gutterman@greenbuildermedia.com.
Want to read more? Follow me on Twitter and Facebook. For more information about green building and sustainable living, visit Green Builder Media at www.greenbuildermedia.com, like us on Facebook, and follow us on Twitter for regular updates and breaking news.