The Ultimate Smart Home is "Wiser"

Wiser home management
Schneider Electric's Wiser™ home management system helps you create a smart home. By automating your lighting, heating and cooling, security systems, and electronics you can reduce your energy use and your monthly electric bill.
The system includes an energy monitoring system that allows you to see how much energy you use. You can set energy saving goals and know when you need to conserve energy use.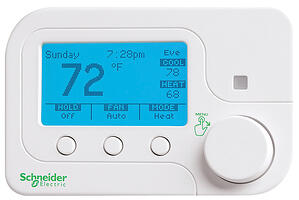 It also includes a Smart Thermostat that can be set to make automatic temperature adjustments according to your lifestyle, by room or by time-of-day.
Left the house and forgot to turn off the lights? No problem. The easy-to-use website or mobile app makes it simple to communicate with your smart home and turn your lights off remotely. Going on vacation and you don't have a house sitter? Just set your home to vacation mode and you can remotely monitor door and window sensor status or allow for electronics to be shut off automatically when not in use.