Last week, I wrote about how the Sharing Economy is transforming capitalism (by emphasizing access to goods rather than ownership) and providing an important part of the solution to our urgent environmental needs (by enabling more people to use fewer resources.)
The Sharing Economy has been propelled by a shift in core values, embracing collaborative, peer-to-peer, cloud-based, and distributed networks. On a social level, people are disseminating and accessing information like never before. On a corporate level, companies that espouse the Sharing Economy are amassing loyal customers and enjoying financial success.
Of course, there are the companies like Airbnb, Uber, and Snapgoods that have developed business models based on novel Sharing Economy principles. But there are other companies with more traditional models that are also paving the way to a more collaborative approach.
Take Google, for example, which made its Android operating software available for competitors to use at no charge. While the move seemed risky at the time, the company recognized that they had more to win by expanding the market for mobile devices and ensuring that their search engine and other revenue-based digital services were compatible and prominently featured.
Google's open-source strategy has served the company well: its stock has soared and Android is now the most widely adopted mobile operating system in the world, used on over 1 billion devices.
In a similar move to drive market growth, electric vehicle maker Tesla recently opened its patent portfolio to anyone, including its competitors, who wants to use the intellectual property for productive purposes. "If we clear a path to the creation of compelling electric vehicles, but then lay intellectual property landmines behind us to inhibit others, we are acting in a manner contrary to that goal," said Elon Musk, Tesla's founder and CEO.
Musk is emphatic about growing the electric vehicle market, and he realizes that Tesla can't achieve exponential change alone. "We need all cars to go electric," he says. "Given that annual new vehicle production is approaching 100 million per year and the global fleet is approximately 2 billion cars, it is impossible for Tesla to build electric cars fast enough to address the carbon crisis." Tesla produced 22,500 Model S vehicles last year, and expects to deliver 35,000 this year—only a drop in the bucket when compared to the number of vehicles sold every year.
By choosing collaboration over protectionism, Tesla has embraced a pivotal principle of the Sharing Economy—transforming competitors into allies. Tesla has opened the opportunity for new, complimentary business relationships with other automotive companies and positioned itself as an essential source of intellectual property and innovative solutions (the company already makes electric systems for Daimler and Toyota, and is now in discussions with BMW about electro-mobility solutions.)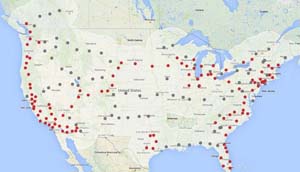 This bold move further enhances the David versus Goliath story for Tesla—the company, which was founded to "accelerate the advent of sustainable transport," is already known for unabashedly taking on the automotive industry with its innovative disruptive technologies, such as its Model S sedan (with its 265 mile battery range, compared to a 84 mile range for the Nissan Leaf), its national supercharger network that provides free power to drivers when traveling long distances (the superchargers replenish approximately 50% of an electric vehicle's battery power in 20 minutes or less), and its proposed $5 billion lithium-ion battery gigafactory.
By encouraging collaboration, Tesla has fast-tracked the electric vehicle industry, increased demand for its super charging network, and laid the groundwork for future battery sales. Tesla has not only shattered traditional thinking, it has also raised the bar on itself—self-imposing a mandate to perpetually remain the leader in breakthrough transportation solutions.
Another company that surfaced as an early leader in the Sharing Economy is iconic outdoor clothing maker Patagonia. In a recent interview, the company's Director of Environmental Strategy Jill Dumain asserted that companies in the outdoor industry are collaborating like never before.
This relatively newfound collaboration is manifested in the Sustainable Apparel Coalition, a group of manufacturers, retailers, NGOs, and other partners that are working to reduce the environmental and social impacts of apparel and footwear. The Coalition has created The Higg Index, a suite of assessment tools that measure the lifecycle impacts of apparel products.
"It took years for companies in our industry to break through the historical barriers of competition and embrace collaboration, but now that we have, we're creating real, positive change together," said Dumain. "We share information about raw materials, supply chain issues, and other sustainability topics, and we're therefore, as an industry, able to deliver an unprecedented level of transparency to customers about what they buy."
Since its inception, Patagonia has embraced radical thinking and endeavored to be a catalyst for change. The company's Common Threads and Worn Wear initiatives revolutionized the concept of transparency and authenticity in the apparel sector. "Patagonia is willing to share our information with the public. Our increasing level of transparency, and corresponding profitability, has encouraged our competitors to follow suit."
Dumain confirms that the Sharing Economy is transforming consumer purchasing patterns. "People, particularly Millennials, are becoming happier with less stuff. In one way, that could be challenging for Patagonia and any other company that has to sell products in order to stay in business. But, here's a radical concept—what if everyone consumed half of what they do today, and purchased only high quality products so that they used same budget?"
Dumain presents an intriguing proposition—more people using fewer resources without having a negative impact on the economy. Sounds like a win all around.
What are other creative examples of the Sharing Economy in action? Write to me at sara.gutterman@greenbuildermedia.com or follow me on Twitter or Facebook.
For more information about green building and sustainable living, visit Green Builder Media at www.greenbuildermedia.com, like us on Facebook, and follow us on Twitter for regular updates and breaking news.
---