2020 has been a grueling year, indeed. Is it an anomaly or a glimpse into the future, and how can we proficiently navigate the turbulence?
A global pandemic. Record-breaking wildfires, hurricanes, flooding, and heat waves. Mind-boggling swings in financial markets and unemployment rates. Communities on edge. Vast populations of people and animals displaced. Are the locusts next?
2020 has certainly been one of the most challenging years in memory. Unfortunately, experts agree that this year is not necessarily an outlier, but indicative of increasingly volatile times to come.
Health experts predict that, due to the combination of urban sprawl and habitat destruction, the interaction between animal species and humans will continue to increase, opening the door to the ongoing spread of contagious diseases like the Coronavirus.
Climate scientists project that ever-growing levels of carbon emissions will continue to intensify atmospheric moisture, further exacerbating climate instability and severe weather events.
And extreme drought conditions, in conjunction with the disruption of the natural burn cycle in forests and prairies, has yielded a "performance enhancer" effect for wildfire, metamorphosizing what should be moderate fire events into apocalyptic infernos, the scale of which would even alarm Dante.
With each passing day, we creep closer and closer to the threshold where life as we know it is irreversibly changed.
In fact, according to the United Nations' Intergovernmental Panel on Climate Change, we have ten years to transform our entire socioeconomic system before we reach a point of no return, precipitously falling into a new age of fire—the Pyrocene era—which threatens to completely unhinge the planet.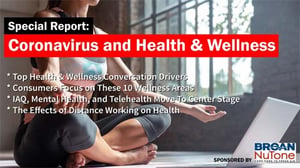 If this happens, Arizona State University professor Stephen Pyne predicts that we'd find ourselves in "a no-narrative, no-analogue future, so immense and unimaginable that the arc of inherited knowledge that joins us to the past will be broken."
A daunting outlook to be sure, and one that begs the question: Will the heartbreaking year of 2020 help us to marshal the inspiration and innovation that is needed to solve for our public health and climate emergencies, or will the future witness our continued dystopic demise, brought about by Faustian agreements resulting from greed and short-sightedness driven by our desperate quest for the seduction of more?
Will we allow the global pandemic to deepen our understanding that we are one integrated organism, and that every action we take is just a ripple in a pond, affecting every other living species across the planet? Will it help us appreciate that we must take care of ourselves, our communities, and the only place that humans (at least at this point) can call Home?
And will that enhanced awareness then drive us to pivot our underlying financial system and social constructs accordingly?
How can we turn catastrophe into opportunity, healing ourselves and our planet in the process?
I truly wish I had the answer, and I'm certain that there is no silver bullet solution. For now, I believe that the path to recovery is through the process of finding peace and purpose, discovering joy in the little things, appreciating the small victories, understanding the difference between luxuries and necessities, and expressing abundant, unconditional love for those around us.
For, as the proverb goes, "Shared joy is a double joy; shared sorrow is half sorrow."
Want to read more? Follow me on Twitter and Facebook. For more information about green building and sustainable living, visit Green Builder Media at www.greenbuildermedia.com, like us on Facebook, and follow us on Twitter for regular updates and breaking news.