The Rocket Ride: Green Builder Wins Best Trade Magazine Gold
I'm not generally one to boast, but, today, I can't help myself. Green Builder® magazine has won a prestigious award from the National Association of Real Estate Editors (NAREE), Best Residential Trade Publication!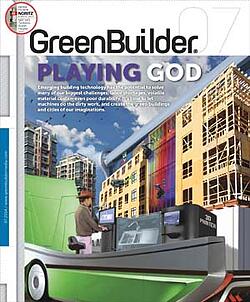 "This magazine packs a lot of information in a small space. It broke new ground by challenging readers to do better with features on living with a smaller carbon footprint and detailing environmental crises of our time," NAREE judges pointed out.
Creating something out of nothing is hard, and developing Green Builder Media's portfolio of offerings has been a long and arduous road. Our company has certainly evolved since the initial launch of Green Builder magazine in January 2006.
When we first started, we carefully doled out information about green building products and practices to a sometimes skeptical readership. But, over time, things evolved— awareness grew about the realities of climate change and diminishing resources; the recession altered the world's perception of expensive and dirty energy; and extreme weather brought issues like durability and risk mitigation to the forefront—offering us the ability to advance our message, increase our impact, and expand our reach.
Today, we attempt to offer the most forward-thinking, mind-expanding information to catalyze and inspire commitment to sustainable living. As our editor in chief, Matt Power, says, "What's exciting about winning this award now is that we're breaking all the rules. We're taking the magazine in directions that no other b2b magazine has dared—not just reporting events, but dishing out predictions about the future, with our year-long Celestia Project. The American Dream is about to flip completely upside down, as people ditch the suburbs and return to urban neighborhoods, and we're thrilled to be heralding the shift."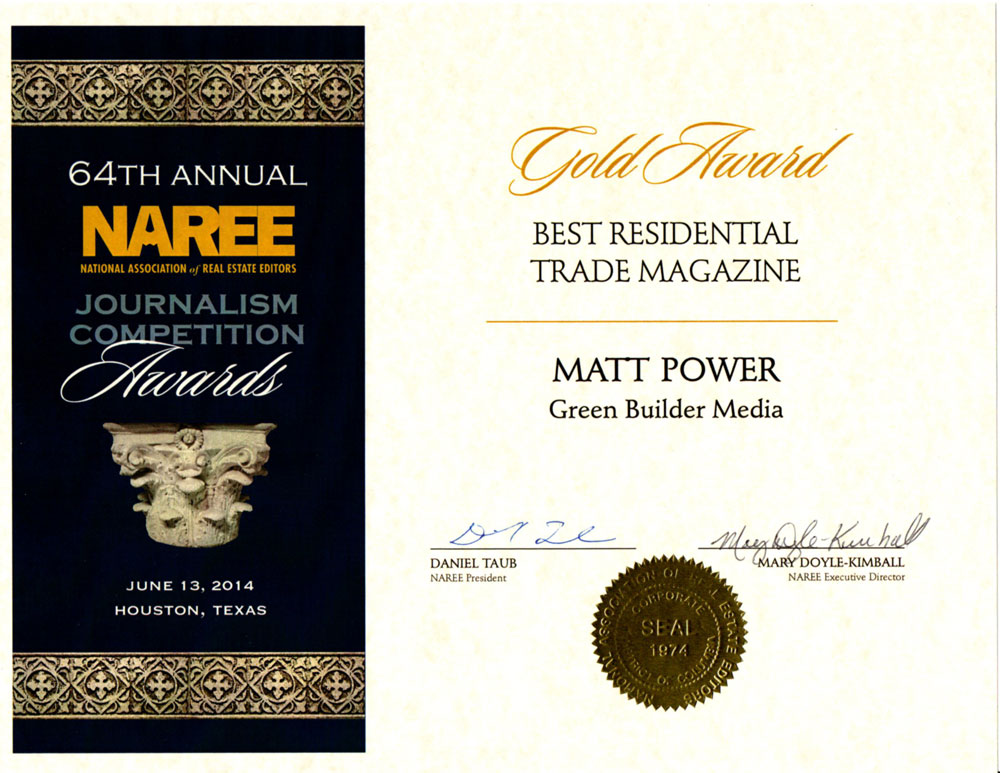 National Leader Green Builder magazine won the top prize for "Best Residential Trade Magazine" in this year's NAREE awards.
With Green Builder magazine and our website, e-newsletters, webinars, online training, sustainability toolkit, mobile app, and social media offerings, we reach over 200,000 of the most progressive and influential building professionals across the country with vanguard ideas and practical information to improve tomorrow's housing stock. We have become a trusted content provider to a wide variety of national media outlets, allowing us to amass an aggregated community of over 38 million consumers who have opted in for information about sustainability.
The journey has been exhilarating (and, in truth, at times exhausting.) Ultimately, the credit for our success goes to our incredible team of passionate, authentic, intelligent, and highly capable individuals—I am in awe of the things that we have accomplished and the impact that we have made over the years together—not to mention our engaged, dedicated readers who are similarly committed to sustainability. We appreciate that you tell us exactly what you feel when you love or hate something that we do—your voice helps us constantly tweak and improve our approach.
A special thanks to Matt Power, Cati O'Keefe, Craig Coale, Mary Kestner, Juliet Grable, Heather Wallace, John O'Brien and the entire Green Builder Media team for your hard work to make Green Builder magazine precious.
As Sheryl Sandberg, COO of Facebook says, "If you're offered a seat on a rocket ship, don't ask what seat! Just get on." I look forward to many more years of engaging in meaningful, rewarding work with you.
Will you help me congratulate our team? Let me know what you like best about Green Builder magazine and I'll pass it along. Write to me at sara.gutterman@greenbuildermedia.com or follow me on Twitter or Facebook.
For more information about green building and sustainable living, visit Green Builder Media at www.greenbuildermedia.com, like us on Facebook, and follow us on Twitter for regular updates and breaking news.