The Solar and Smart Home technologies are quickly converging, opening up watershed growth opportunities for companies in these sectors. But it also invites new players like metadata behemoths Google and Amazon into the space, who have a long history of disrupting industries. Who is poised to win?
The global solar industry, expected to reach $345 billion by 2020, and the global smart home market, expected to reach $59 billion by 2020, are two of the building industry's hottest growth sectors.
One of the main drivers for this meteoric growth is the unprecedented transition from a high-consumption and low automation market to low-consumption & high automation market. This transition is fundamentally altering the performance of our built environment and the way that we interact with it.
As technologies in both solar and smart home spaces become mainstream and cost-effective, it's clear that these two categories will not remain stand-alone islands. Rather, they will sync together as a part of an integrated ecosystem that empowers consumers to optimize the performance of their homes.
Smart home technology and solar share the same ultimate goal: to provide homeowners with a greater level of control. The integration of solar and smart home technologies transforms homeowners from passive consumers into active energy managers, offering the freedom to cut out the energy middleman (the utility) as well as the ability to intelligently plan and harmonize power generation with consumption patterns.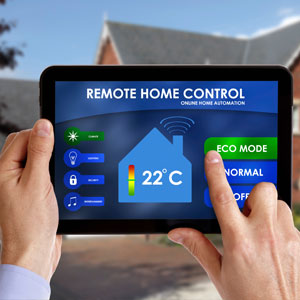 In essence, the convergence of smart technology and solar is the ultimate demand side management strategy, empowering homeowners (and their devices) not just to manage their own energy use, but also, in some places, to profit from it through net metering. Only when these enabling technologies are bundled together will homeowners will be able to truly optimize their resource efficiency, cost savings, and convenience.
While consumer demand has spurred the growth of residential solar and smart home technologies to date, utilities as well as the regulatory environment are entering the picture. Factors such as rate restructuring, time-of-use pricing, fees on net metering, and residential demand charges are shaping the landscape of the solar industry, and will soon cross over to impact smart home technology—with utilities concerned about grid reliability, resiliency, and cost-shifting, I predict that solar will soon be required to connect with smart home technology as an effective load management strategy.
As solar and smart home technology converge, expect to see a rush of service providers offering personalized settings and customized energy packages that suit homeowners' lifestyles, preferences, and work and travel schedules.
Who will win this mad dash? Will it be the metadata goliaths Google and Amazon who disrupt yet another business sector with innovative, streamlined solutions (remember when Google was just a search engine and Amazon was just an online marketplace?) Or will the solution come from partnerships developed by the solar players and the smart home tech companies themselves?
While I hope that the solar and smart home tech companies have the foresight to claim their fair share of the evolving market, I certainly wouldn't discount the data behemoths when it comes making a play for the larger space of integrated enabling technologies—they have certainly have proven time and again that they have the creative capability and business flexibility to transform the homeowner experience.
Who do you think will win the race in the integration of smart home technology and solar? Write to me at sara.gutterman@greenbuildermedia.com or follow me on Twitter or Facebook.
For more information about green building and sustainable living, visit Green Builder Media at www.greenbuildermedia.com, like us on Facebook, and follow us on Twitter for regular updates and breaking news.