Before you say "nothing ever changes," here are five energy and water-saving innovations to be grateful for this holiday season.
EACH YEAR, we update and "remodel" our special Homeowner's Handbook for homeowners and would-be homeowners. (Free download available here). The publication isn't just for the general public, of course. It's a tool for green professionals: a free, easy-to-follow how-to guide that can be shared with clients and potential clients, so that they enter the building/remodeling process with a basic understanding of why green building matters—and which systems are critical to a high-performance home.
In the building industry, some things have changed for the better since our first edition of the Handbook five years ago—others, for the worse. But rather than focus on the negatives—or on products and manufacturers that have not risen to address the environmental crises at our doorstep—let's celebrate some of the bright lights of green building innovation:
LED Lighting. Finally, we can stop cursing our compact fluorescent lamps. Unlike fluorescent lamps, which rarely live up to their promise of 10,000-hour lifespans and which contain enough mercury to classify as hazardous waste,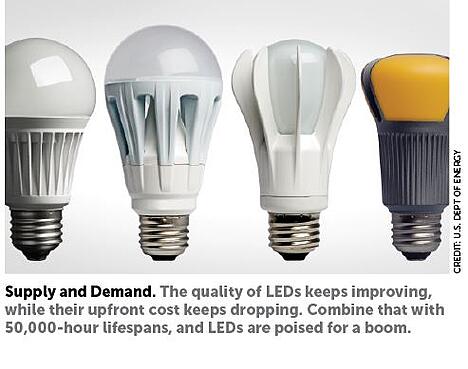 LEDs do it all. They' use a fraction of the energy of a CFL, come in dimmable versions that change color warmly, last up to 50,000 hours and don't contain mercury or other hazardous chemicals. Win, win, win.
Dual-Flush Toilets. A simple either-or button on most new toilets keeps half the water of a normal flush from going down the drain. At a time when freshwater supplies are getting scarce, the dual-flush toilet changes the rules.
Super-Quiet Bath Fans. Remember the roar of the old bathroom fan? You only used it when you REALLY needed to clear the bathroom mirror. A lot of the new fans are so quiet, you don't even know they're running.
Smart Thermostats. There's a reason Google paid $3.2 billion for Nest, a company that makes "learning" thermostats and smoke detectors. The future lies that direction—in what some call the Internet of Things. It's a future where your thermostat can save you 20 to 30 percent on your heating or cooling bill.
Solar Tipping Point. The price of photovoltaic panels keeps dropping. Soon, this form of renewable energy could be the cheapest option available. That path leads to a cleaner future.
I could list others: porous pavers; "smog-eating" tile; new, better types of non-toxic paint; smart home systems and recycled countertops; ultra-efficient dishwashers and particle-sensing range hoods. You'll find most of these products and innovations described in this year's Handbook. Put them all together, and you're building green—and taking steps in the direction of a reducing the human impact on Earth's finite resources.