Fossil fuel interests are waging a shady war on solar through backroom transactions and bootleg deals. How long will they be able to rig the game?
84% of U.S. voters are in favor of "taking action to accelerate the development and use of clean energy", but major fossil fuel interests don't care as long as their profits are at stake.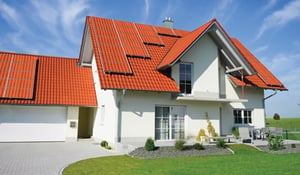 This solution gives solar power a more aesthetic look, making solar an appealing option for building owners.
This story and more in Green Builder's
A recent report by the Environment America exposed 12 special interest groups that are waging aggressive anti-solar campaigns in states across the country to quell the exponential growth that the solar industry has recently been experiencing.
These fossil fuel interests, utilities, and industry front groups are stacking the deck, substantially undermining key policies that have enabled the solar industry's growth over the past decade—often to the detriment of the general (and supportive) public.
According to Environment America's report, "A national network of utility interest groups and fossil fuel industry-funded think tanks is providing funding, model legislation and political cover for anti-solar campaigns across the country."
The report highlights specific organizations that have worked hard to hinder the proliferation of solar in the U.S., including:
The Edison Electric Institute (EEI), the trade group that represents U.S. investor-owned electric utilities, launched the current wave of anti-solar advocacy with a 2012 conference warning utilities of the challenges solar energy posed to their traditional profit centers. Since then, EEI has worked with the American Legislative Exchange Council (ALEC) on model legislation to repeal state renewable electricity standards and ran an anti-solar public relations campaign in Arizona.
The American Legislative Exchange Council (ALEC) provides utility and fossil fuel interests with access to state legislatures, and its anti-net metering policy resolution has inspired legislation in states like Washington and Utah.
The Koch brothers have provided funding to the national fight against solar by funneling tens of millions of dollars through a network of opaque nonprofits. One Koch front group, 60 Plus, ran a TV and internet anti-net metering campaign in Arizona. The Koch-funded campaign organization Americans for Prosperity (AFP) carries out anti-solar energy organizing efforts. In Florida and Georgia, AFP has run misinformation campaigns against net metering and other solar policies.
The Heartland Institute, a think tank with backing from the fossil fuel industry, helped draft the language for ALEC's "Electricity Freedom Act," and has spread misleading information about the impacts of solar energy.
The Consumer Energy Alliance is a Houston-based front group for the fossil fuel industry, representing fossil fuel companies like ExxonMobil, Chevron and Shell Oil. In Wisconsin in 2013, CEA submitted 2,500 dubious signatures in support of a utility rate case to increase costs for solar customers.
As part of its campaign to discourage rooftop solar power, Arizona Public Service, the biggest utility in Arizona, has funneled money through nonprofit groups in order to fund anti-net metering advertisements and has been accused of improperly cultivating influence with the state commission that regulates utilities.
Duke Energy, the largest utility in the U.S., has positioned itself through investments in utility-scale solar plants to be seen as a champion of solar energy – all while spending millions on campaign contributions to keep anti-solar politicians in office in Florida and lobbying against third party solar agreements in North Carolina.
American Electric Power (AEP) has backed anti-solar campaigns in states including Ohio and West Virginia. In West Virginia, AEP successfully lobbied for a bill to limit the net metering cap to 3 percent of utility peak demand.
In Utah and Nevada, subsidiaries of Warren Buffet's Berkshire Hathaway Energy are running active campaigns to halt the growth of solar power. In Nevada, subsidiary NV Energy has lobbied to prevent the raising of Nevada's net metering cap. With Nevada solar power on track to reach the cap limit in early 2016, a stagnant cap could damage the state solar power industry.
The Salt River Project, a public utility in Arizona, passed perhaps the most damaging anti-solar provision in the country: a demand charge for solar customers that will increase utility bills by an average of $50 per month, which has all but killed the growth of rooftop solar in the utility's territory. The passage of the fee was based in part on an internal SRP analysis that was criticized for failing to account for solar energy's value to the grid and to the environment.
In Ohio, FirstEnergy led the fight to make Ohio the first state in the country to freeze its renewable energy standard – resulting in annual private investment in Ohio solar energy dropping by more than $100 million. FirstEnergy has also sustained a series of regulatory attacks against Ohio net metering policy.
We Energies, Wisconsin's largest utility, has submitted a nearly continuous stream of proposals to the Wisconsin Public Services Commission (PSC) to halt the growth of solar, including proposals to limit net metering and to impose surcharges on solar owners.
The efforts of these groups have influenced policies in 21 states, creating prohibitive caps on net metering, implementing restrictive tariffs for solar customers, crafting unnecessary regulatory burdens on the solar industry, rolling back renewable mandates and standards, and reducing the economic viability of rooftop solar.
Rather than innovating new business models through which they can capitalize on the inevitable future of renewable energy and leverage a smart grid that enables distributed sources of energy, these entities are grasping onto obsolete paradigms that ultimately do each and every one of us a disservice.
The time has come for the public to vote, speak out, and act against these organizations that are impeding the progress of clean energy and sustainable technologies. If we band together to pit our collective force against theirs, I wonder how long their final stand will last.
How do you think we can stand up against the special interest groups waging war on renewables? Write to me at sara.gutterman@greenbuildermedia.com or follow me on Twitter or Facebook.
For more information about green building and sustainable living, visit Green Builder Media at www.greenbuildermedia.com, like us on Facebook, and follow us on Twitter for regular updates and breaking news.