EARLIER THIS WEEK, the Environmental Protection Agency (EPA) proposed rules to achieve a 30% reduction in carbon emissions from existing power plants by 2030 (compared to 2005 levels). The move was celebrated by some as the strongest step towards combating climate change that any administration has ever taken and a harbinger of change to come in our nation's approach towards clean energy and sustainability.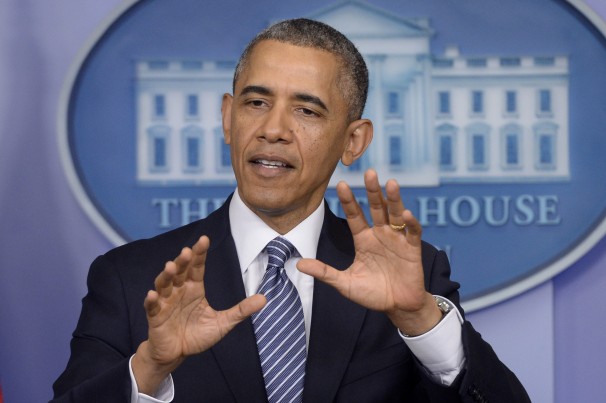 Coal Must Go President Obama makes the case for reducing pollutant emissions from dirty utility plants. Transcript | Listen (mp3)
Existing power plants are America's single largest source of greenhouse gas pollution, producing approximately 40% of our climate emissions (coal is the most carbon-intensive fossil fuel, accounting for 40% of U.S. electricity generation and 74% of carbon emissions). Currently, there are no restrictions on the amount of pollution that existing plants can belch into our air. This veritable frenzy of unlimited emissions has resulted in polluted skies and a bevy of human health problems (studies show a direct link between pollution and respiratory, neurological, pulmonary, and cardiovascular ailments.)
The proposed guidelines will create a "rate-based" limit on greenhouse gas emissions based on each state's current level of CO2 emissions per megawatt hour. To mitigate the costs borne by individual states, the proposal offers each state the flexibility to select an emissions reduction approach and policy options that work best for their localized economies.
According to the New York Times, "Rather than immediately shutting down coal plants, states will be allowed to reduce emissions by making changes across their electricity systems – by installing new wind and solar generation, energy-efficiency technology, and by starting or joining state and regional 'cap-and-trade' programs, in which states agree to cap carbon pollution and buy and sell permits to pollute."
Nationwide, the proposed guidelines are predicted to reduce overall carbon emissions by more than 6% from 2005 levels by 2020, and slightly more by 2030. Experts also forecast a positive impact on human health, with the lower emissions levels resulting in the prevention of up to 100,000 asthma attacks and 2,100 heart attacks in just the first year of implementation.
While the targets fall dramatically short of the 80% emissions reductions that experts claim we need to achieve by 2050 in order to avert climate catastrophe, they're certainly a step in the right direction. And, they set the Obama administration on a course to meet the 17% reduction target established at the 2009 climate talks in Copenhagen, just in time for the 2015 climate talks in Paris (Obama is hoping to secure the pole position for the U.S. at the Paris climate talks, which may prove challenging given China's recent announcement of a proposed absolute cap on carbon emissions beginning in 2016.)
As expected, widespread debate is raging over the benefits and drawbacks of the proposed rules. Pundits affirm that stricter carbon emissions will contribute to cleaner air, spur investment, and ensure long-term energy security. Opponents decry the proposed guidelines, claiming that they will raise consumer prices for electricity, kill jobs, and slow economic growth.
The proposed rules are also facing criticism from environmentalists, who want to see more aggressive targets along the lines of a 25% decrease in emissions from current levels (not 2005 levels). This contingent is also calling for increased regulation on the extraction and transportation of fossil fuels—not just emissions—so that the regulations incorporate a full life cycle analysis.
Assuming that they survive the rigors of the 120-day public comment period and subsequent hearings, the guidelines have ample potential to encourage innovation and bolster our economy. No doubt, utilities will be prodded into spending money to retrofit their facilities with more efficient equipment or switch from coal to cleaner energy solutions, which may indeed result in nominal monthly cost increases for homeowners (which, according to EPA Administrator Gina McCarthy, will be less than the price of a gallon of milk). However, the multi-layered benefits of a strong clean energy economy will quickly eclipse any intermediate negative effects.
In fact, the emissions reduction guidelines will likely provide incentive for large corporations like GE and Siemens to double down on their investments in wind, solar, and other clean technology solutions, opening new markets, providing opportunities for financial growth, and creating jobs.
Mythologist and author Joseph Campbell said, "we must be willing to get rid of the life we've planned, so as to have the life that is waiting for us." And so it is time for our great nation to turn our back on fossil fuel and implement regulations that reduce carbon emissions and pollution, increase our renewable energy portfolio, and divest from dirty energy. Let us make sooty smokestacks a thing of the past, and open ourselves to a future full of bright, clear skies.
What do you think about EPA's new rules? Write to me at sara.gutterman@greenbuildermedia.com or follow me on Twitter or Facebook.
For more information about green building and sustainable living, visit Green Builder Media at www.greenbuildermedia.com, like us on Facebook, and follow us on Twitter for regular updates and breaking news.
---