When I turned the pages of my calendar to 2018 a while back, I realized that this marks my 35th continuous year as a licensed general contractor. And although I don't build for clients anymore, preferring to work exclusively on our own demonstration projects instead, I still renew the license each time it comes due.
I don't really need it, at least not in any practical sense, but it has been such a core part of my life in the building industry that I can't bring myself to let it lapse and move on. I suppose it's the professional credential that I'm proud of, but it has also always been a badge of commitment—an important piece of the foundation that a lifetime of work is built on.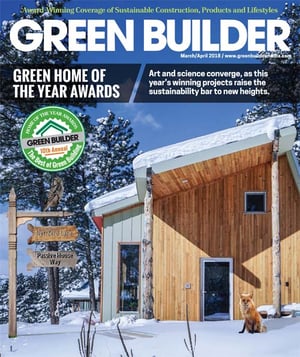 All this got me to thinking about how the industry looks today compared to 1983. I have to say, I'm not all that encouraged by the lack of progress that seems to define the business and differentiate our industry from so many others that profoundly affect our lives.
The old adage "The more things change, the more they stay the same" comes into play here. Sure, the trucks on the jobsite have become more beautiful and luxurious over the years, not to mention much more expensive, and the ubiquitous array of cordless power tools we all take for granted today have truly revolutionized many of the common tasks and made efficient use of our time more possible than we ever imagined in the "old days."
But I am not so certain about the core culture of the industry. We are still stubbornly clinging to 17th-century sources of power in our developments, 18th-century base structural materials in our buildings, 19th-century building practices and techniques in our production, and 20th-century financial and valuation models in conducting our businesses.
Meanwhile, the world around us is transforming at light speed, with breakthroughs in communications, medicine, transportation, energy production and a universe of technologies that we are only beginning to explore.
The most progressive among us have most certainly mastered the devices that almost magically allow us to download and demonstrate the approved installation procedures of a given product or system in real time, and multiple languages, to onsite crews, making antiquated training methods virtually obsolete. And the proliferation of components assembled offsite and delivered ready to install are finally beginning to find paths into the mainstream thinking that has dragged like an anchor for so long.
But in spite of these and many other advances, the industry still wallows in attempts to solve outdated problems—namely labor and material shortages; the challenges of juggling a supply of buildable lots; and tilted financing strategies that have kept the lenders in control for as long as the business of building has existed, rather than seeking innovations that would render those issues obsolete. Builders keep trying to solve the same old problems with the same old responses and believing that somehow, the results will change.
Until we are willing to challenge the antiquated culture and customs of this industry, we will remain captives to the same set of challenges that have plagued us and limited our opportunities to integrate into the modern world—reflections not so much of how we build, but how we think about building.