THE LIVING BUILDING CHALLENGE is a green building certification program that reaches beyond projects' physical boundaries. As more green building programs delve into the manufacturing process, they will create a demand for products with established life-cycle assessments (LCSs) and reduced use of harmful chemicals.
In the Beginning…
In 1992, then Sen. Conrad Burns (R-Montana) had secured an earmark of approximately $1.2 million to be administered by the U.S. Department of Commerce's National Institute of Standards and Technology (NIST) for the intent of funding sustainability projects. At the same time, Montana State University's (MSU) Office of Research and Technology Transfer was charged with identifying appropriate projects and funding green building technology research.
MSU's Vice President of Research Robert Swenson formed a team of experts with the intent to build a 10,000-square-foot building as an experiment that would operate as the "most energy-efficient building in the world." The project, called EPICenter, was intended to be built in Bozeman, Montana. The leads were Bob Berkebile, principal of the architectural firm BNIM, and Kath Williams of Kath Williams + Associates. Other team participants included Bill Browning of the Rocky Mountain Institute and Jason McLennan, also of BNIM at the time. McLennan was responsible for guiding the research and technology solutions for EPICenter that laid the eventual framework for what is now called a "living building"—a term he coined in 1998. Although the EPICenter was never built, the research and ideas that came out of the endeavor continued to be developed by Berkebile and McLennan.
The efforts also resulted in the development of a new tool called "Baseline Green" for material selection. The primary team members were Steve Loken and Rod Miner from the National Center for Appropriate Technology. They continued the LCA research already in progress by Pliny Fisk from the Center for Maximum Potential Building Systems and Greg Norris of Sylvatica. Together with BNIM, this tool was created and used to determine the lifecycle analysis (LCA) of materials that would have been used in the EPICenter project if it had been constructed.
LBC Petals and Imperatives
The program organizes its 20 Imperatives under seven "Petals." Required Imperatives vary, depending on the project type and location.
Site
Limits to Urban Growth
Urban Agriculture
Habitat Exchange
Car-Free Living
Water
Net-Zero Water
Ecological Water Flow
Energy
Net-Zero Energy
Health
Civilized Environment
Healthy Air
Biophilia
Materials
Red List
Embodied Carbon Footprint
Responsible Industry
Appropriate Sourcing
Conservation + Reuse
Equity
Human Scale + Humane Places
Democracy + Social Justice
Rights to Nature
Beauty
Beauty + Spirit
Inspiration + Education
Living Buildings
In 2000, BNIM was commissioned to create a comparison matrix between various levels of LEED certification and the principles of a "living building." The comparison examined the economic and environmental implications, and found that although first costs were at a premium, choosing the methods and materials of a "living building" would be the smartest long-term economic choice. Further studies published in 2009 indicated that first-cost premiums had diminished and could be applied to certain building types.
In 2005, McLennan began to expound on the "living building framework" to create a guideline that was eventually presented to the Cascadia Green Building Council in 2006 as the "Living Building Challenge (LBC) version 1.0." About this same time he also left BNIM to lead Cascadia and continue development of the LBC. In 2009, Cascadia founded the International Living Building Institute to administer the LBC and its auxiliary programs. Two years later, this organization was renamed the International Living Future Institute (ILFI).
Program Overview
The LBC is a philosophy, advocacy tool and certification program that addresses development at all scales. It also promotes nature as the performance measurement; for this reason the program uses the flower as both its metaphor and its logo.
A sustainable project addresses the five elements of site, water, energy, materials and indoor environmental quality. The LBC is no different, as it integrates the same five elements within "petal" categories called site, water, energy, health and materials. Within these "petals" are additional imperatives, much like the concept of credits used in other green building programs. But the LBC goes further by including the concepts of equity (e.g., social justice) and beauty (e.g., aesthetics) as "petals;" there is also an unofficial petal of integrated design.
Throughout the development and implementation of LBC, getting teams to optimize systems by how they work together has been key in creating successful projects. It has also been discovered that the main barrier is not technology, but mindset. Speaking from personal experience, this has been the difficulty for most every green building program.
It has been proven that education is the key to changing mindsets—i.e., to market transformation. As part of its outreach, the LBC created a companion "Ambassador Program," with the intent of training volunteers to present the LBC to the building industry and communities alike. Additionally, collaborative facilitators provide further education and guidance on the LBC and potentially undertake local actions. It does seem, however, that coaching on the process is the largest portion of the effort.
Having the organization's volunteers and collaborative facilitators heavily involved in projects creates a real-time feedback loop. While other sustainability-minded organizations may look to ANSI and a consensus-based process for product updates, the LBC team views that process as too slow. Utilizing this feedback, the LBC can respond to the market much more quickly, and the program can be adjusted accordingly.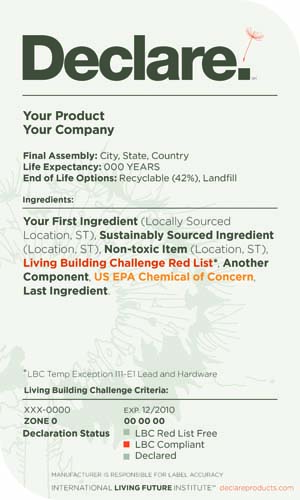 LBC Details
The certification process is similar to other green building programs. Projects begin by identifying an ideal outcome, based on restorative principles instead of code minimum solutions as an indicator of success.
Projects then register after identifying key solutions for compliance with the program and provide documentation throughout construction and operational phases. Certification is based on 12 consecutive months of actual performance rather than modeled or anticipated performance, which is unique for new construction.
The LBC considers four project types, or typologies:
Renovation: Simple projects include interiors, single for-tenant improvements, residential kitchen remodels or historic rehabilitations of a portion of the building.
Landscape or Infrastructure: Projects that don't typically include physical structures as a part of the main program, such as roads, bridges, plazas, amphitheaters, etc.—essentially non-enclosed space.
Building: The entire structure; can be new or existing.
Neighborhood: Can be as small as a campus or as large as a town.
Once the type of project has been established, the transect, or location, is identified. The program's six transects vary in density from the lowest, which is equivalent to a nature preserve, all the way up to the very high density commonly found in large cities. The project team must determine both the transect and solutions that are ideal to comply with the project typology's imperatives. Considerations include the interaction between the building and the site, energy requirements, the community and the density.
Sometimes imperatives or solutions cannot be achieved at the scale of the project, so the program allows meeting imperatives beyond the project site in what is called "scale jumping." This allows multiple projects to operate in a cooperative state by potentially sharing technology and infrastructure, or more readily integrates a project into existing neighborhood fabric. Also, in some cases there are exceptions for imperatives that conflict with local codes.
There are three certification paths available through the LBC program. "Living" status denotes a fully compliant project that meets all of the imperatives within the seven petals required for its typology. For the second, "Petal Recognition," at least three of the seven petals have been considered, one of which must be water, energy or materials. The last path is called "Net-Zero-Energy Building," where projects must meet at least five imperatives, including 01: limits to growth and 20: inspiration + education, as well as specific items from categories 07, 18 and 19 (see Imperatives Chart).
Once the operational phase is complete (depending on the certification path), the project team may submit their documentation for an audit, or review. Once the Institute verifies all the submitted documentation, an independent auditor then also reviews the documentation, visits the project site and provides a final report back to the Institute, which conducts the final certification.
The Market Effect and Relevance
For product manufacturers, the Materials Petal of the LBC program has the most impact. The primary imperatives that could potentially affect building products are:
11 – Red List
This imperative prohibits the use of certain chemicals and materials within products in the manufacturing thereof:
Asbestos, Cadmium Chlorinated Polyethylene and Chlorosulfonated Polyethlene (43), Chlorofluorocarbons (CFCs), Chloroprene (Neoprene,) Formaldehyde (added), Halogenated Flame Retardants (44), Hydrochlorofluorocarbons (HCFCs), Lead (added), Mercury, Petrochemical Fertilizers and Pesticides (45), Phthalates, Polyvinyl Chloride (PVC), Wood treatments containing Creosote, Arsenic or Pentachlorophenol.
Currently, projects may apply for temporary exceptions for products containing Red List items due to the lack of available substitutes. Including data on chemical composition would be extremely helpful, or if it is a matter of proprietary formulations, at least a third-party certified label that has verified the Red List chemicals have not been used in the product. To that end, the ILFI has created the Declare program and database. Products with the Declare label have voluntarily disclosed all ingredients, source and manufacturing locations.
12 – Embodied Carbon Footprint
Projects must account for the total embodied carbon footprint from construction through a one-time carbon offset tied to the project boundary.
Projects can potentially use the reduction that would be generated by building materials with a low-carbon manufacturing footprint, creating a benefit for manufacturers that provide this information.
13 – Responsible Industry
Projects must advocate for the creation and adoption of third-party-certified standards for sustainable resource extraction and fair labor practices. Applicable raw materials include stone and rock, metal, minerals and timber. For timber, all new wood must be FSC-certified.
Product manufacturers should consider using existing third-party-certified standards or become involved in the organizations that are creating them. In addition, the ILFI has created a new labeling program called Just, which considers fair labor practices and other measures of social equity.
14 – Appropriate Sourcing
Projects must incorporate materials within a certain distance or sourcing zone to the project. Services are also included in the radii, and radii distances vary depending on a) the MasterFormat section of the product or b) the type of service provided by a project team member.
Product manufacturers should continue to build upon providing this information to project teams but include the sources of all raw materials.
There is an underlying relationship between the Red List, Embodied Carbon Footprint and Appropriate Sourcing: "It's in the manufto skip a sourcing zone in order to purchase from a manufacturer who fully discloses their product's details." - Anna Huttel of dbHMS (Detailed information for the above, as well as a breakdown of the program petals is available at http://bit.ly/1kRxO9c)
As more and more green building programs like the Living Building Challenge begin to focus beyond project boundaries and delve into the manufacturing process, product manufacturers may want to assess their products using lifecycle analysis, or turn to third parties that specialize in providing that service.
---
Courtesy of The Green Builder Coalition, a not-for-profit association dedicated to amplifying the voic of green builders and professionals to dirve advocacy and education for more sustainable homebuilding practices. For more information, contact Mike Collignon, executive director.
---