The HVAC Revolution
Carrier's brand-new Infinity® 26 air conditioner and Infinity® 24 heat pump with Greenspeed® Intelligence answer homeowner demand for the highest quality indoor air, comfort, and unparalleled energy efficiency. Come check out all the new features!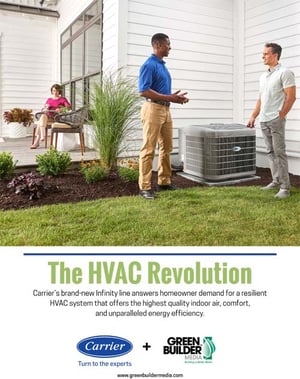 What's so revolutionary about Carrier's product? A lot. So much, in fact, we detailed it in this quick-read downloadable eBook so you can learn why the Infinity 26 and Infinity 24 with Greenspeed Intelligence is the best option for today's high-performance homes.
Learn about:
Variable speed technology and how it makes this system best-in-class for energy efficiency.
How Carrier achieved the lowest sound level in the ducted industry at 51 decibels.
The importance of humidity control and its role in keeping homeowners comfortable and helping them save on utility bills.
Carrier's Infinity® air purifier and how it addresses today's concerns about indoor air quality.
Bluetooth® and Wi-Fi® connectivity and how it is changing the way homeowners control their home comfort system -- and how service techs update and repair them.
Green Builder Media and Carrier are proud to offer this free downloadable eBook to help builders and homeowners understand the metrics by which ACs should be judged, and how to make sure the systems they select are low-maintenance, durable, and have the latest technology for ultimate comfort. Get your copy today!