The Green New Deal for Social Equality and Financial Abundance
Rhiana Gunn-Wright, co-author of the Green New Deal, explains how the plan synthesizes sustainability, social justice, and economic prosperity.
Rhiana Gunn-Wright has accomplished more in 31 years than most people achieve in a lifetime. Former Policy Director at New Consensus (an esteemed global think tank), 2013 Rhodes Scholar, and policy analyst for First Lady Michelle Obama, Gunn-Wright co-authored the Green New Deal, a resolution that was introduced earlier this year to Congress by Alexandria Ocasio-Cortez (D-NY) and Senator Edward Markey (D-MA).
"With the Green New Deal, we wanted to develop a vision that would set a baseline for blending sustainability, social equality, and economic prosperity," Gunn-Wright told me in a recent interview.
The Green New Deal is a call for national mobilization, fashioned after the World War II New Deal, to combat the climate crisis, boost our national economy, and provide broadscale opportunity at all levels of our society.
The policy framework calls for extensive investment in communities, public infrastructure, and private industry, with provisions that would provide the public with appropriate ownership stakes and returns on investments.
The goals of the Green New Deal are comprehensive: to achieve net-zero greenhouse gas emissions through a fair and just transition for all communities and workers; create millions of high-wage jobs and ensure economic security for all U.S. citizens; invest in infrastructure and industry to sustainably meet the challenges of the 21st century; secure clean air and water, climate and community resilience, healthy food, access to nature, and a sustainable environment for all; and promote justice and equity by stopping current, preventing future, and repairing the historic oppression of frontline and vulnerable communities.
While the Green New Deal has plenty of critics, "we're beyond where I thought we'd be," asserts Gunn-Wright. "We have begun a conversation that has gained a tremendous amount of traction in a short period of time, and there is no going back. We have reframed the national dialogue about adequate climate action, and, at this point, we'd be hard pressed to find a politician that talks about climate action without also highlighting social equity, income inequality, frontline communities, and job creation."
Gunn-Wright believes that the Green New Deal has gained bipartisan support among voters because it looks different from previous climate policy. "There is a growing understanding that the Green New Deal calls for a different type of economy that is more humane and treats people better," Gunn-Wright insists, "and that appeals to people's basic sense of humanity. I suspect that even if it isn't adopted in one comprehensive policy, the Green New Deal will live in lots of forms because the underlying economic elements of the proposal just make sense and resonate with people."
Gunn-Wright feels particularly bullish about the elements in the Green New Deal related to renewable energy, affordable housing requirements, public housing guarantees, and investments in smart grid infrastructure and electric vehicles.
"If we do this the right way," asserts Gunn-Wright, "the Green New Deal can facilitate job creation and open up new industries in a responsible way that solves for climate and increases standards of living."
Gunn-Wright is impressed by how communities throughout the nation are embracing the Green New Deal. For example, she points to farmers and ranchers, who are mobilizing around the plan because it supports innovative, regenerative agricultural practices that get them off the hamster wheel of producing more volume for lower prices that they're currently trapped in.
People in the Gulf South are also organizing around the Green New Deal to combat the climate related impacts that they're experiencing from rising sea levels and catastrophic superstorms.
Leaders in cities like Detroit, a former stalwart of manufacturing, recognize the environmental justice and living wage benefits of the Green New Deal, and New York has embraced the public housing aspect of the policy.
"While certain news outlets and politicians have made the Green New Deal super polarizing from the beginning, when you move out of the Beltway and down to the community level, most people agree that the fundamentals are sound," avows Gunn-Wright. "Young voters in particular, despite political affiliation, are demanding more aggressive climate action."
When I asked Gunn-Wright about why she thinks the Green New Deal will succeed, she responded, "Our economy is faltering, and we need to invest in our workers and communities in a way that will yield tangible returns."
"The Green New Deal prioritizes working people," she continues, "especially communities who bear the brunt of stagnant wages, polluted air and water, and climate impacts. While some people are asking how we can afford to do it, I think the real question is how can we afford not to? Without bold action to tackle climate change, toxic pollution and economic and racial inequity, our society will only see rising fiscal burdens. At the end of the day, it makes financial sense."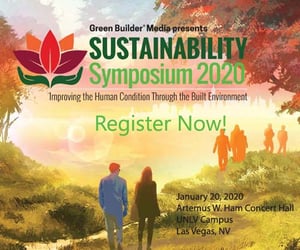 To learn more about the adoption and implementation of the Green New Deal, we invite you to attend Gunn-Wright's keynote presentation at Green Builder Medi's fourth annual Sustainability Symposium 2020: Improving the Human Condition on January 20, 2020 on the UNLV campus in Las Vegas, which will focus on the nexus between sustainability, social equality, and financial abundance.
Known for being one of the most compelling and thought-provoking events of the year, the Sustainability Symposium is designed to elevate the national dialogue about intelligent solutions for a sustainable future.
And, don't miss the celebration of our annual Home of the Year and Sustainability Awards winners at a special gala dinner on January 19, 2020 on the Zappos Campus.
Click here to register for the Sustainability Symposium 2020: Improving the Human Condition and Sustainability Awards gala. Space is strictly limited and by reservation only, so reserve your seat today!
A sincere thank you to our generous sponsors, Ingersoll Rand, Mitsubishi Electric Trane, DuPont, and Zappos for helping to make the Symposium and gala dinner possible.
To learn more about the Sustainability Symposium 2020: Improving the Human Condition, visit the event microsite.
Have questions about our annual awards program or Sustainability Symposium? Write to me at sara.gutterman@greenbuildermedia.com.
Want to read more? Follow me on Twitter and Facebook. For more information about green building and sustainable living, visit Green Builder Media at www.greenbuildermedia.com, like us on Facebook, and follow us on Twitter for regular updates and breaking news.