Pressure from investors and stockholders may force companies to act on Climate Change.
Is it worthwhile for a company to invest in sustainability? A growing number of larger U.S. businesses think so. Those that don't may severely impede their companies' success, according to a new market report.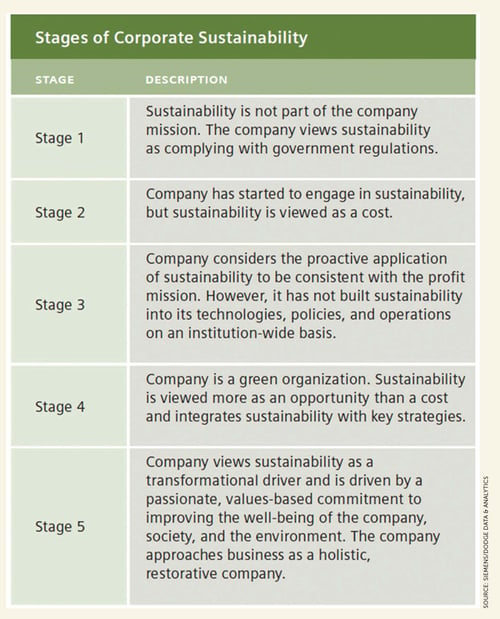 Corporate Sustainability Reaches Middle Age: A Review of Key Trends and Insights from 9 Years of Research, by Siemens and Dodge Data & Analytics (DDA), notes that the percentage of companies interested in green investments has nearly tripled, from 15 percent in 2006 to 41 percent in 2015. But the number that would rather stick to familiar fields also increased during that period, rising from 17 percent to 21 percent in just under a decade.
Study coordinators evaluated each responding firm and identified them as being in one of five stages of interest in sustainability. A stage 1 ranking means the company does not consider green strategies as important to operations other than in meeting government operations. A stage 5 ranks the company as one that believes sustainability is crucial to its business operations and its place as a green leader in society.
The study notes that there is a widening "green gap" between the forward thinkers and those that can't see the value of eco-friendly business—and that's not a good thing. "Those companies that invest in sustainability see clear value coming from those investments," says DDA Senior Director of Industry Insights Stephen A. Jones. "Companies that ignore these benefits may eventually find themselves at a competitive disadvantage."
But even companies that don't believe sustainability matters may be forced to face facts and take action...or risk going under.
Key findings include:
Eighty percent or more of companies at the higher end of the scale (stages 4 and 5) believe that their sustainability stance provides a stronger competitive advantage and helps them retain or attract employees and customers. Sixty percent or fewer of those at the low end (stages 1 to 3) believe the same.
Sixty percent of the companies at stages 4 or 5 believe their green buildings have higher asset values, compared to 30 percent of those at stages 1 to 3.
Most stage 4 and 5 companies (58 percent) expect higher corporate valuation and better financial performance (61 percent) from green investments. Among companies in stages 1 to 3, 39 percent and 29 percent, respectively, have the same expectations.
Siemens Director of Energy and Sustainability Ari Kobb says green investment trends over the past decade revealed that many of the nation's largest corporations are "firmly committed to sustainability and recognize the impact on the bottom line, brand equity, and both customer and employee connection." But he also notes that if the "green gap" continues to expand, "what will ultimately drive those organizations that are less engaged in sustainability to do more?"
---
Siemens/Dodge Data & Analytics, "Corporate Sustainability Reaches Middle Age: A Review of Key Trends and Insights from 9 Years of Research." http://bit.ly/2u0gKyC
Schroeders Investment, "Investment Firms Warn That Backing the Wrong Industries Will Yield Disastrous Global Heating."
http://bit.ly/2uQgz9e