The Future of Transportation: Connected, Autonomous, and Electric
Smart, self-driving, clean vehicles are redefining mobility.
I have just spent the past few days in the Motor City. Downtown Detroit's long-gone glory days still faintly reverberate from the crumbling brick Avant-Garde buildings, built in a distant glamorous age, but the city is only a shadow of its former prosperous self. Nonetheless, there are pockets of revival—a trendy restaurant here, a group of eager young professionals enjoying a night on the town there, and pride for the blighted city everywhere.
I've traveled the world, and I don't think I've ever been to a city that is more expressive of its hometown pride. "Made in Detroit" signs and wares are prominently displayed in almost every restaurant, store, and public venue.
While not the thriving industry that it once was, the grandeur of Detroit's history is still manifested in its automotive sector. Massive corporate campuses sprawl throughout Detroit suburbs, and within the walls of these well-kept corporate campuses, creativity is at an all-time high, with innovative minds redefining the very concept of mobility.
Connected, electric, and autonomous vehicles are paving the way to a clean transportation future. Smart vehicles will not only inform us of optimized routes based on factors like traffic, weather, and road construction, but they'll also be able to self-diagnose problems before breakdowns occur, and their "geo-fencing" capabilities will interact with our homes and offices to turn on HVAC systems, lights, music, locks, entry doors, appliances, and other connected technologies.
With 90% energy conversion efficiency, electric vehicles are a no-brainer when it comes to emissions reductions (not to mention noise attenuation). As range-capacity and battery life increase and purchase prices and recharging costs decrease, electric vehicles are quickly becoming a cost-effecticve, viable solution for a clean transportation future.
Self-driving cars will enable us to literally and figuratively take our hands off the wheel, freeing up valuable commute time that can be used for relaxing, reading, working, or engaging with our fellow passengers.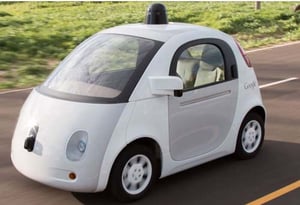 These autonomous vehicles represent the next breakthrough in automobile safety—they're able to collect 360-degree information about surrounding vehicles and obstacles, ostensibly taking out 'human error' and reckless drivers out of the equation by eliminating the main causes for accidents (boredom, distraction, intoxication, and poor driving skills). Self-driving vehicles are projected to reduce accidents and fatalities by nearly 90%.
An estimated 10 million vehicles with varying levels of autonomous driving capabilities are expected to be on the world's roads within the next five years. The leap to autonomy isn't as large as we may think—some self-driving features, like adaptive cruise control and blind spot warnings, have been around for years. These veritable Trojan Horses of autonomy will help drivers readily accept—and even eagerly anticipate—other elements like automatic parking assist and full self-driving capabilities.
There are certainly issues that still need to be resolved with autonomous driving, such as the possibility of technology glitches, hackers, and privacy concerns around GPS tracking. But with the proper blend of security software, firewalls, and vehicle protection laws, the future of autonomous vehicles is bright.
No doubt, the world of transportation is rapidly transforming. Let's hope that the inventive minds of Detroit maintain their pole position when it comes to pioneering technologies and incorporating novel solutions.
What other clean automotive innovations are you excited about? Write to me at sara.gutterman@greenbuildermedia.com or follow me on Twitter or Facebook.
For more information about green building and sustainable living, visit Green Builder Media at www.greenbuildermedia.com, like us on Facebook, and follow us on Twitter for regular updates and breaking news