Truck manufacturers compete to create efficient vehicles without sacrificing power.
TRUCK MAKERS ARE working overtime to squeeze more efficiency from work vehicles, without sacrificing range, power or turning off the market. That's not an easy task. Builders expect heavy, rugged machines that can also travel on the highway to outlying jobsites. There's no magic bullet solution, and everything is on the table: all-electric vehicles, cleaner diesel, biofuel, fuel cells and "smart" engines. All green work trucks have perks and challenges.
Leaders in Battery Technology
Lithium-Ion Batteries
Most electric vehicles on the market today use lithium-ion batteries. They can be recharged many times without losing overall charging capacity, but have been criticized for relatively low energy density.
Solid-State Batteries
Solid-state batteries use all solid materials, solving the problems of electrolyte leaks and fires that have occurred with lithium-ion batteries.
Aluminum-Ion Batteries
Aluminum-ion batteries are a new technology that is safer than lithium-ion batteries due to the use of an aluminum anode. They also take less time to charge and can bend.
Lithium-Sulfur Batteries
Lithium-sulfur batteries have a lithium anode and a sulfur-carbon cathode, which result in higher energy density at a lower cost than traditional lithium-ion batteries.
Metal-Air Batteries
Metal-air batteries are a lighter option due to their cathodes being made of air. These batteries are relatively new and still experimental.
Five emerging battery technologies for electric vehicles, www.brookings.edu
Diesel-Going Turbo
Diesel technology is one solution from truck manufacturers—and it's improving quickly. Diesel technology results in lower emissions while maintaining the torque and horsepower needed to get to the jobsite. For example, Ram's eco-diesel full-size pickup gets 29 mpg on the highway, an increase from 21 mpg just four years ago.
Ford's EcoBoost engine technology combines a turbocharger and direct fuel injection. The turbocharger uses a device that forces more air than usual through the engine, which makes the engine more powerful. Direct fuel injection means fuel doesn't go through the intake tract to be injected. Instead, fuel goes directly to the engine, which increases fuel efficiency, according to Autotrader.com. As a result, EcoBoost can provide the power of a V8 engine with the fuel efficiency of a V6.
This year, Nissan released a truck with Cummins' 5.0L V8 Turbo Diesel Engine that also included a turbocharger, which can work at high and low speeds. The truck includes Bosch's High Pressure Common Rail fuel system and piezo fuel injectors, which result in better fuel efficiency. Nissan also released the Endurance V8 gasoline engine, which provides torque and power while improving fuel efficiency and emissions.
Automatic Transmission
Recently, Ram introduced an automatic manual transmission in one of its commercial vans. An automatic manual transmission allows the van owner to get the fuel efficiency benefits of a manual, which typically is 10 percent less than an automatic, while avoiding the learning curve that comes with a manual transmission.
"We created the automatic manual transmissions because business owners have to be able to throw the keys to everyone on their staff," says Dave Sowers, head of Ram Commercial. "They are clutch-less and the transmission is changed automatically."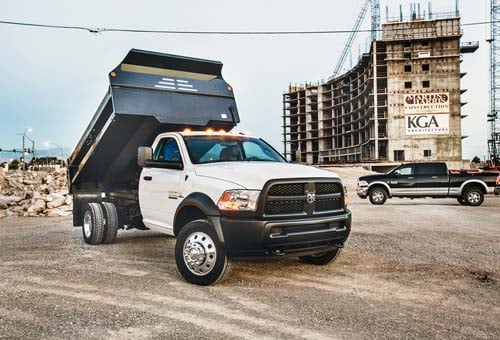 Heavy-duty pickup chassis cabs with power takeoffs use less fuel-intensive hydraulics to run compressors and other equipment.
Power Take-Offs
In addition, some truck manufacturers, including Ram, make heavy-duty pickup chassis cabs. These vehicles can include power takeoffs, which allow engines from other equipment—such as compressors, generators and water pumps—to be run off the truck's transmission.
"Smaller engines are less fuel efficient and pollute more than vehicle engines, because they don't have catalytic converters," Sowers says. "Chassis cabs let you run those engines right off the vehicle's drive train."
Demand is high for more efficient work trucks with the power needed for the long haul. To meet the demand, manufacturers such as Ram, Ford and Nissan are paving the way with innovative technologies to increase fuel efficiency and reduce emissions while providing the power needed to get the job done.
Hydrogen Fuel Cells
While hydrogen fuel cell trucks aren't available just yet, they are being tested by many vehicle manufacturers. For example, General Motors is developing a fuel cell version of its Colorado pickup truck for the U.S. Army that will be suitable for combat environments, according to Industry Week. The company also has been testing the technology on more than 100 SUVs.
In addition, Honda is working on developing hydrogen fuel cell vehicles and has committed to helping to double the amount of hydrogen fueling stations in California.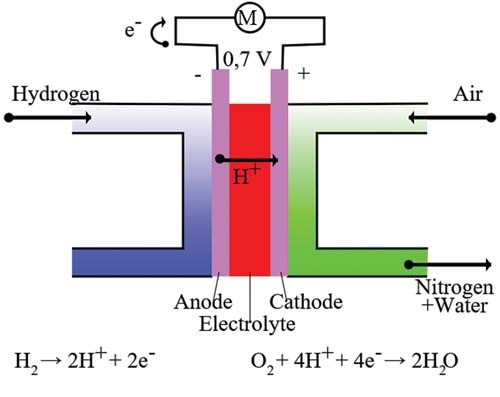 According to Hydrogenics, a fuel cell converts chemical potential energy (energy stored in molecular bonds) into electrical energy. A Proton Exchange Membrane cell uses hydrogen gas (H2) and oxygen gas (O2) as fuel, which reacts to produce water, electricity and heat.
Other companies are working on developing fuel cells that can be inserted into regular trucks. In 2014, Hydrogenics introduced Celerity, a hydrogen fuel cell technology that can be inserted into medium and heavy-duty trucks. According to truckinginfo.com, the system's low-pressure, non-humidified stack technology has a 60 kW net power output and is 300 volts at full power, with a maximum output of about 200 amps.
Celerity can be installed in medium and heavy-duty trucks by engineering the existing drive train. However, CelerityPlus Hydrogenics' second-generation fuel cell engine designed and built for medium and heavy-duty commercial buses and trucks.
Though fuel cell vehicles lag slightly behind electric vehicles in terms of adoption, they are coming. California plans on building 28 hydrogen fueling stations and major manufacturers have fuel cell vehicles in development.
Electric Trucks
It's becoming more common to see electric vehicles on the road today and most major manufacturers want a piece of the market. Though Tesla often is the first company to come to mind, fully electric vehicles have been created by Chevrolet, Fiat, Mitsubishi, Volkswagen, Nissan, Ford, Toyota, Kia, BMW, Volvo, Porsche and more.
In the meantime, costs are coming down, making ownership of a fully electric vehicle more feasible for the average person and increasing demand even more. Even though demand is increasing and prices are decreasing, there are no fully electric work trucks on the market today. Sowers says this is due to the fact that work trucks need to carry heavy loads, which significantly decrease the range of electric vehicles.
"We have built pure electric commercial vehicles and tested them as concepts with delivery fleets," Sowers says. "We found the battery systems weigh more than the power train of regular gas or diesel engines, and they take up a lot of space. Depending on a driver's load for the day, it really hurts the range."
Sowers says the delay of electric trucks lies in the battery, not the electric motor. "When battery technology improves enough that storage capacity increases, it will be possible," Sowers says. "There are electric motors out there today that can produce that kind of work. What's not possible today is to store enough energy in batteries to take power with you."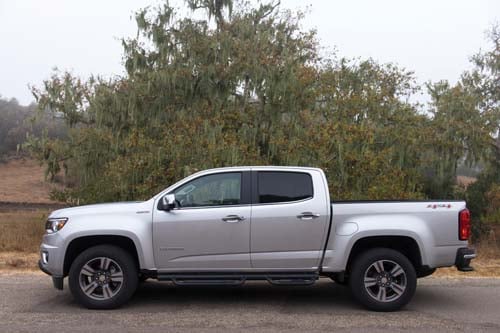 Best small pickup. Chevrolet Colorado 2WD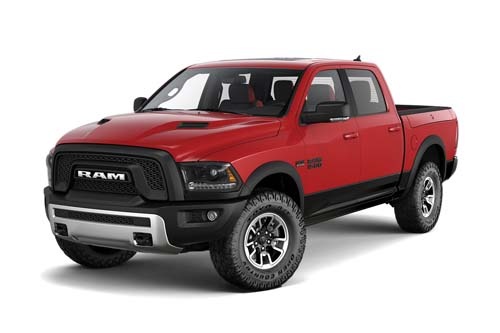 Best standard pickup. Ram 1500 HFE 2WD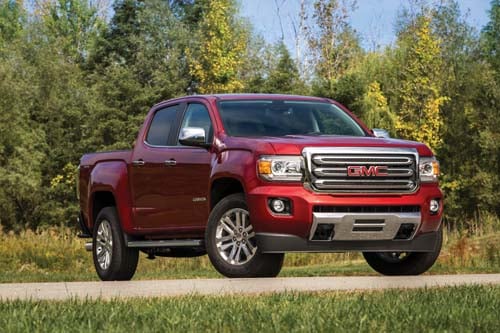 Best small pickup. GMC Canyon 2WD
EPA Truck Fuel Ratings for 2016
With truck technology improving rapidly, drivers can get the power needed without wasting fuel and producing high emissions. Although there are many options to choose from, making the right decision can be tough. The U.S. Department of Energy's Office of Energy Efficiency and Renewable Energy released its report: 2016 Most and
Least Fuel Efficient Trucks, Vans, and SUVs. Here's the
breakdown for pickup trucks.
Most Efficient
The Chevrolet Colorado 2WD and GMC Canyon 2WD tied for best small pickup truck. Both are 2.8L, diesel, 4 cylinder, automatic and get a combined 25 mpg.
The Ram 1500 HFE 2WD was named best in standard pickup trucks. It's a 6 cylinder, 3.0L, automatic, diesel and gets a combined 24 mpg.
Least Efficient
The Nissan Frontier 4WD earned the dubious distinction of being least efficient small pickup truck. It's 4.0L, 6 cylinder, automatic and gets a combined 17 mpg.
There were a lot of contenders for least efficient standard pickup truck. The Toyota Tundra 2WD FFV is 5.7L, 8 cylinders and automatic. The Toyota Tundra 4WD FFV is 5.7L, 8 cylinders and automatic as well. These trucks get a combined 15 mpg. However, it's important to note they are flexible fuel vehicles (FFV) and their mpg is based only on gasoline operation.
Average Efficiency
Most pickups fall in the 18 mpg range. Though that rate is better than in years past, it's still not up to some of the more efficient trucks on the market.
The list isn't finished yet.
The Toyota Tundra 4WD is 5.7L, 8 cylinder and automatic.
The Chevrolet Equinox AWD is 3.6L, 6 cylinders and automatic.
The GMC Terrain AWD is 3.6L, 6 cylinders and automatic.
The Infiniti QX70 AWD is 3.7L, 6 cylinders and automatic.
All of these trucks get a combined 18 mpg except for the Toyota, which gets a combined 15 mpg.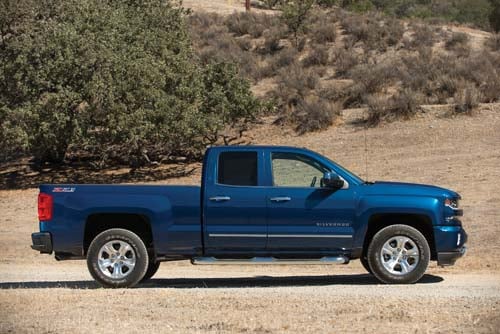 Chevrolet is releasing a select number of 2016 Silverados with
hybrid technology.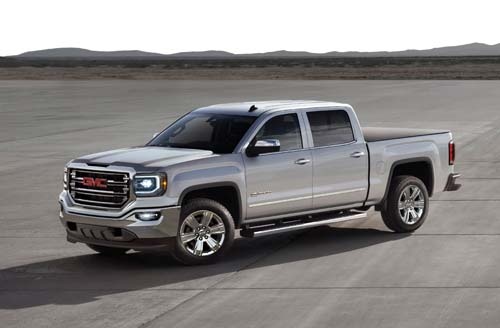 A limited number of GMC Sierras will be available this year with eAssist, a mild-hybrid technology.
Hybrid Pickup Trucks Make Their Mark
GM releases first, but limited, line of hybrid trucks.
As truck manufacturers work on developing electric trucks that can provide the power and range necessary for construction, some are releasing hybrids, which use a combination of fuel and electric power. These hybrids can cut fuel consumption and reduce emissions without sacrificing the ability to get the job done. Currently, General Motors is the only manufacturer with hybrid trucks on the market—and their availability is very limited.
Just 500 Chevrolet Silverados and 200 GMC Sierras with hybrid systems will be released this year, and they will only be available in California. The trucks feature eAssist, which is a mild-hybrid technology using components from Chevrolet's other hybrid vehicles, such as the Malibu Hybrid's battery cells and the Volt's software controls.
The eAssist system features a 24-cell, air-cooled 0.45 kWh lithium-ion battery pack. It turns off the engine when the truck is stopped at a light or in heavy traffic, and then restarts the engine when the driver's foot lifts off the brake pedal. The electric motor also provides a power boost during acceleration to save fuel consumption, and is also a generator, converting energy gained when braking into electricity to recharge the battery system. General Motors states the trucks will each have a combined rating of 20 mpg.
Ford, Ram and Toyota plan to release hybrid trucks in the next few years. Ford and Toyota recently ended a partnership to create a hybrid pickup truck, saying they will work on hybrid innovations on their own. Ford now plans on releasing a hybrid pickup truck by 2020.