Innovation in high performance products, renewable energy, and automation technologies, and corresponding advancements in codes and policy, have facilitated a massive migration towards net zero energy structures, as affirmed by a new market report released by Team Zero.
The market is heating up for net zero building. Grand View Research Inc. projects that the global market for net zero energy structures will explode to $78.8 billion by 2025.
In the U.S. and Canada, the number of net zero residential structures grew by 59% in 2018 (when compared to 2017) according to the recently published Zero Energy Residential Buildings Study.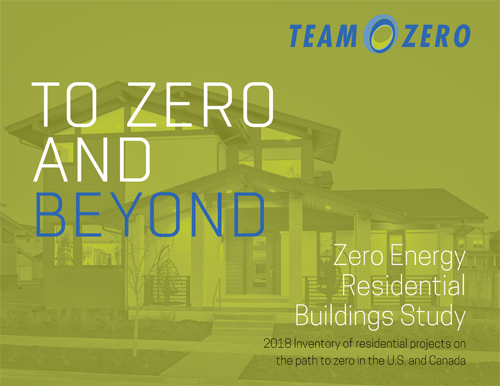 The study, compiled by Team Zero, a coalition of organizations—including Green Builder Media—working to accelerate awareness for net zero projects in North America, offers some noteworthy insights.
"The inventory documents 22,146 single family and multifamily projects that are either in design, construction, or operation, representing a 59% increase over the prior year inventory," says Richard Willingham, Chairman of Team Zero. "The tremendous growth in net zero structures across North America serves as reassurance to builders, homeowners, and manufactures alike that investing in high-performance structures and renewable energy is a smart, feasible market strategy."
The study reveals that larger multi-family buildings comprise the majority of net zero projects, representing 71% of the total residential stock, and that projects incorporating renewables are proliferating like never before.
Not surprisingly, California leads the net zero movement with 6,828 units. New York comes in second at 3,022. On a regional level, the Southwest (California, Arizona, Colorado, and Texas) is the trailblazer with over 9,600.
The growth numbers in Canada are impressive as well, with a 240% increase in net zero projects in 2018.
"Net zero is becoming normalized as people gravitate to the concept," says Ann Edminster, Founder/Principal, Design AVEnues LLC and Treasurer of Team Zero. "The market is exploding across the U.S. and Canada, irrespective of location, climate, and political jurisdiction. It's important to understand that zero energy isn't just for boutique, high-end homes—it's available for market rate and affordable housing projects as well."
Arizona-based Mandalay Homes is one of the leaders in net zero residential construction, with 23 net zero projects totaling 1,159 units. Mandalay lays claim to the largest single-family project in the country located in Mountain Gate in Clarkdale, AZ, which boasts 323 homes under construction, all zero-energy ready.
"We see net zero energy as a differentiator," says Geoff Ferrell, Chief Technology Officer at Mandalay Homes. "Most of our homes have sub-$100 per month energy bills, even without renewables. Almost all of the new homes we're building today have solar and storage, which brings the homes to a HERS rating of 25 and about $45 in monthly utility bills—and that's in Phoenix! Our homeowners are delighted, since they're used to monthly energy bills over $300. It's an exciting time—building net zero energy homes is the right thing to do, and if builders don't embrace it, it will be to their detriment."
The continued innovation of high-performance products, in conjunction with the advancement of more stringent codes, regulation, and policy, will continue to propel the net zero market. Important trends to keep your eye on: community micro-grids, electrification, and zero carbon.
Community-scale microgrids that enable homes to optimize the production, usage, storage, and monitoring of energy (even before it hits the grid) are taking California by storm. Grid optimization in conjunction with local utilities is also growing quickly, supporting concepts like energy sharing, voltage support, frequency regulation—which are all fairly new in the U.S.
The urgent push towards full electrification combined with the transition away from fossil fuels to clean energy is further propelling markets from coast to coast (with California and New York as leaders), with the goal of reducing—and ultimately eliminating altogether—carbon emissions.
"We've been using energy as a proxy for carbon emissions for a long time," says Edminster, "but they're not the same. Emissions are higher from fossil fuel-based energy than renewables. We have the technology to produce all of our energy through solar, wind, hydro and other forms of renewables at price parity, which means that electrification is, without doubt, coming to your state in the near future."
Berkeley, CA recently passed an historic ordinance requiring the full electrification of all new buildings beginning on January 1, 2020. No gas hookups will be allowed for newly constructed residential or commercial structures.
More than 50 other cities in California are exploring codes and ordinances that mandate electrification, including the City of Los Angeles, which released a sustainability plan earlier this year with ambitious zero-emissions requirements for all new buildings by 2030 and existing buildings by 2050.
All-electric buildings are expected to result in major air pollution reductions, since gas combustion from buildings is responsible for substantially more nitrogen oxide (NOx) pollution (a major factor in smog and cause for asthma and other respiratory problems) than power plants.
And the cost benefits further justify the transition to electrification and adoption of renewables. According to the NRDC, "The economics of electric heat and hot water get even better with rooftop solar photovoltaic panels (PV), as this enables homeowners to power their electric heating equipment with solar electricity that is roughly half the price of investor-owned utility rates, when considering life-cycle costs. This can cut heating and hot water bills in half or more compared to gas."
Sam Rashkin, Chief Architect of the Building Technologies Office at the Department of Energy, astutely asserts that, "If society acts in its own self-interest, zero energy buildings have to happen. It vital to our economy, jobs, health, and the environment. Spoiler alert. The progress is huge."
Apparently, the revolution has begun.
Interested in learning more about the transition to a net zero energy and fully electrified economy? Join us at the Sustainability Symposium 2020: Improving the Human Condition on January 20, 2020 in Las Vegas. Click here for more information—we'll let you know when registration opens!
Want to read more? Follow me on Twitter and Facebook. For more information about green building and sustainable living, visit Green Builder Media at www.greenbuildermedia.com, like us on Facebook, and follow us on Twitter for regular updates and breaking news.