Scientists predict record-breaking floods resulting from a snowy winter and wet spring. Are you prepared for the deluge?
Last week, the National Oceanic and Atmospheric Administration (NOAA) released its annual Spring Flood Outlook, which predicts epic flooding across the country this spring due to a unique blend of excessive winter snowfall, rapid snowmelt, heavy spring rains, and saturated soil.
"Nearly two-thirds of the Lower 48 states face an elevated risk for flooding through May, with the potential for major or moderate flooding in 25 states," NOAA declared in the report. "Portions of the United States – especially in the upper Mississippi and Missouri River basins including Nebraska, Minnesota and Iowa (areas with 200% above-normal precipitation)– have already experienced record flooding this year."
"This is shaping up to be a potentially unprecedented flood season, with more than 200 million people at risk for flooding in their communities," stated Ed Clark, director of NOAA's National Water Center.
Unfortunately, most existing homes in flood zones are woefully unprepared. Built without resiliency basics, these structures will likely not be able to withstand the torrent.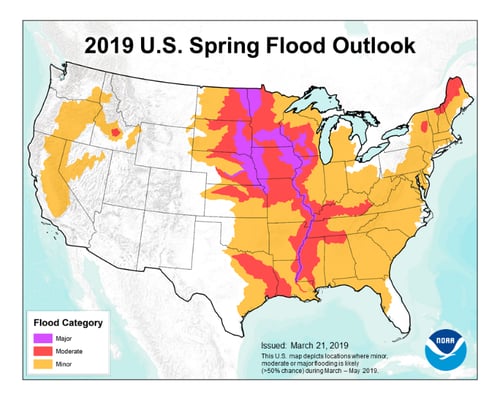 According to Green Builder Media's Resilient Housing Design Guide, resilient homes utilize durable building envelope materials, like Insulated Concrete Forms (ICFs) or Structural Insulated Panels (SIPs), and have features like tie-down or anchor systems, inlets, pilings, structural bracing, raised foundations, backup energy systems, and access to fresh, potable water in an emergency. But only a very small percentage of homes in our country actually boast these features.
To make matters worse, in some areas of the country unsustainable land use strategies and myopic planning decisions have allowed development in flood-prone areas, enabling extreme weather events to quickly turn from annoyances into disasters, nowhere more acutely evidenced than in Houston during Hurricane Harvey.
The status quo of policies and practices that permit irresponsible building—and rebuilding—in high-risk areas, as advocated by the development and building industry, is ultimately impoverishing homeowners, communities, and municipalities throughout the nation and threaten to bankrupt the very programs that have been implemented to provide protection, particularly considering that insurance costs are soaring as extreme weather events increase in frequency and intensity, especially in hard-hit areas.
"If the risk from wildfires, flooding, storms, or hail is increasing then the only sustainable option we have is to adjust our risk prices accordingly," admits Ernst Rauch, reinsurance firm Munich Re's chief climatologist. "Affordability is so critical [because] some people on low and average incomes in some regions will no longer be able to buy insurance," he asserts.
Flood insurance, enjoyed by only 6 million homes in the U.S., is a protection that is not generally included in most homeowner policies.
Aging and inadequate infrastructure is also exacerbating the already grave problem. In the Midwest, for example, saturated soil has forced water to flow into streams and rivers, overwhelming flood-protection infrastructure and resulting in over $3 billion in flood-related damages so far in 2019.
According to meteorologist Eric Holthaus, "U.S. efforts to control flooding have mostly served to make things worse. Over the past hundred years, we've built levees to transform free-flowing rivers into pathways for shipping and commerce—straightening their routes to allow for easier and more predictable navigation. And the illusion of flood control has led to development in historically risky flood plains, adding to the potential for catastrophe."
To be sure, this season's flooding is not an anomaly, due to climate change: as the atmosphere heats up, more water vapor is retained in the air, causing higher frequency of extreme precipitation. The eastern part of the country is becoming all too familiar with this scenario, given that it is experiencing 40% more precipitation today than 60 years ago.
According to Green Builder Media's editor in chief Matt Power, "It's no longer prudent to put an optimistic spin on the scenarios that lie ahead. Population growth, combined with unsustainable behavior by both industry and individuals make a sudden reversal of greenhouse gas pollution extremely unlikely, if not unthinkable. Since we can't compel our neighbors to change their behavior, what's left? Preparation. We can build disaster-resistant housing."
To learn more about how you can prepare your home for the impending floods, download Green Builder Media's free e-book, Resilient Housing Design Guide (be sure to check out the flood-resistant material list on page 8, tips for preparing your home for disaster on pages 42-43, and Floods and Folly on pages 44-47,) and don't miss our upcoming free webinar on resilient housing presented by Matt Power on April 3.
Want to read more? Follow me on Twitter and Facebook. For more information about green building and sustainable living, visit Green Builder Media at www.greenbuildermedia.com, like us on Facebook, and follow us on Twitter for regular updates and breaking news.