The Flex House: Second Coming
At CES, The Flex House became a fully functioning Smart Home 2.0, demonstrating technologies that save energy, water and other resources.
As companies jockey for Position in the burgeoning smart home market, questions about the true usefulness of smart home technology inevitably arise. Do we really need our toasters to be connected, or to talk to our refrigerators? How much is hype, and how much will smart home technology really be able to help the built environment become more sustainable and resilient? Green Builder CEO Sara Gutterman believes that the next wave of smart home technology—what she calls Smart Home 2.0—will help separate the hope from the hype. It's something The Flex House aptly demonstrated at the Consumer Electronics Show in Las Vegas.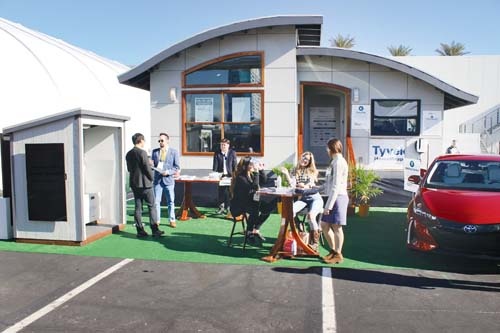 "CES is truly an incred ible show, showcasing the most innovative advancements in everything from artificial intelligence to autonomous driving to virtual reality," says Gutterman. "But there were many products at CES that seem to exist simply for the cool factor and don't have much meaning. By bringing The Flex House to CES, we endeavored to showcase how technology designed with a purpose can play a role in reducing energy and water use, optimizing renewable energy generation and storage, and keeping our families healthy, safe and protected."
Here's a roundup of the technologies showcased in The Flex House at CES:
SMART HOME 2.0 TECHNOLOGY CAN…
Save energy.
The Flex House optimizes energy use with an array of connected technologies: SYLVANIA LED lighting from LEDVANCE, smart appliances and HVAC from Bosch, a smart thermostat and a solar PV system with battery backup.
Smart thermostats continue to be among the most popular smart home devices, and for good reason: They're easy to use, they make homes more comfortable, and they save energy. In The Flex House, the Sensi smart Wi-Fi programmable thermostat from Emerson works in tandem with the Bosch Climate 5000 ductless mini-split to provide energy-efficient comfort; users can also program customized daily schedules and control the thermostat remotely using a smartphone.
But Sensi steps ahead of good, solid Smart Home 1.0 technology with its geofencing capabilities. By tracking the user's smartphone location, the thermostat anticipates when the occupant is close to home, and can adjust the temperature accordingly.
Save water.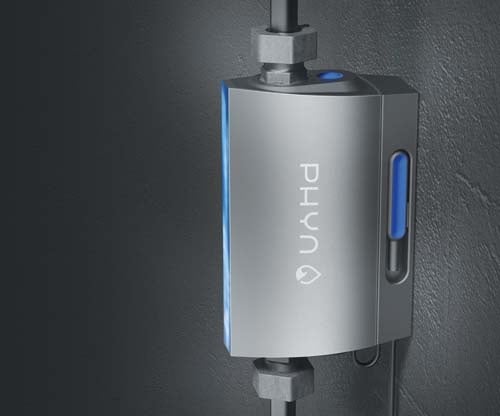 Making Good on Leaked Data
Phyn Plus, a smart water leak detection and shutoff, works by detecting tiny changes in water pressure. From these data, Phyn Plus can formulate a picture of the typical water use for each source, from faucets to washing machines to toilets. Launched at the Consumer Electronics Show in January 2018, Phyn Plus represents the culmination of a nearly a decade of careful research and refinement.
"Being able to detect leaks accurately is more complicated than it sounds," says Phyn CEO Ryan Kim. The company's methodical approach included a year-long pilot study involving more than 300 homes in 19 states from Alaska to Florida. Phyn devices were installed in the homes, which ranged from older to newer, and which had various plumbing systems and varying water pressures. The study collected data on over 11 million "water events," which enabled the company to perfect its algorithm so that Phyn Plus detects leaks with a high degree of accuracy and very few false alarms. But the study also revealed a prevalent issue: leaky toilet flappers.
In the homes where Phyn Plus detected a leak, 55 percent of those leaks were due to leaky toilet flappers. Based on the 300-plus homes in the pilot study, the average amount of water lost was 1,021 gallons per day per home.
"Half of the time people knew about the leak but just hadn't gotten around to fixing it," says Kim. Translating the number of gallons into dollars and cents proved motivating. Within three days, most of the flappers were fixed.
Phyn Plus, which is backed by Belkin International and Uponor, manufacturer of flexible plumbing products, will be available in 30 metropolitan areas in spring of 2018. The devices will be supported by the Uponor Pro Squad, a national network of plumbers and water specialists. The device interface will include education about toilet flappers. www.phyn.com
Water-conserving fixtures are a great strategy, but the intelligent fixtures and faucets from American Standard featured in The Flex House go a step further, by integrating features that maximize convenience—even as they minimize water use. These include the Spectra+ eTouch four-function showerhead with wall-mounted remote control and Serin deck-mount sensor-operated faucet.
There are also environmental novelties such as the Advanced Clean AC 2.0 SpaLet bidet seat. Features such as the heated seat and remote control may make the concept of a bidet more appealing to Americans. Popular just about everywhere but the United States, bidets save water directly and indirectly by foregoing the need for toilet paper, the manufacture of which is water and resource intensive. (According to bidet.com, an admittedly biased organization, toilet paper manufactures require 473 billion gallons of water annually to satisfy American demand.)
But water-conserving fixtures and faucets do no good if plumbing or fixtures leak. The Flex House debuted the Phyn Plus water monitoring device, which not only can detect leaks—a significant source of residential water use—but can shut off the main water valve. This is where data-gathering capabilities of smart home technology really shine. Phyn Plus processes 240 data points per second to form an accurate picture of a home's water use. After learning a household's basic patterns, it can detect anomalies. Phyn will alert the user if the device detects a leak and will shut the main water valve off in the case of a major event, potentially preventing thousands of dollars in water damage. The company intends to build on its platform, providing detailed data on water use that will hopefully lead to changes in behavior.
The Flex House also showcased a Nexus eWater graywater recycling system, which can capture two of every three gallons of indoor water use, treating and storing it for use outdoors, and a smart irrigation controller from Rachio. The Rachio controller, which the company claims can reduce your water bill by up to 50 percent, is a prime example of how smart home technology outshines conventional devices. Smart controllers take into account actual conditions—soil moisture, temperature and humidity, for example—along with forecasted weather to continually adjust and optimize irrigation schedules, even canceling or delaying a watering if rain is predicted. This is why WaterSense-labeled controllers are by definition "weather-based"—i.e., they rely on weather data to modify irrigation schedules. It's better for plants and better for your water bills.
Help homes be more resilient.
Solar-powered homes are good; solar-powered homes with battery storage and detailed energy monitoring are better. The Flex House demonstrates a comprehensive approach to energy management with an efficient PV array from JinkoSolar and Eco-Intelligent Battery System from Tabuchi. When grid-tied, the battery can store and discharge energy from the solar array or from the grid; it can also serve as emergency backup when the grid goes down. This system was tested at CES, when condensation on a transformer triggered an hour-long blackout.
"Interestingly, while exhibitors at CES unveiled technologies that promise to tackle big problems ranging from urban congestion to cancer, there is one thing that those technologies couldn't do: keep the lights on," says Gutterman. "In contrast to the endless devices that were powered down and silenced, the solar-powered Flex House kept running like the Energizer bunny!"
The Flex House also demonstrated the concept of "clean transportation" with the Toyota Prius Prime and Bosch EV charging station. In the near future, EV batteries will also tie into the grid, becoming part of an intelligent back-up storage solution.
Such "vehicle-to-grid" (V2G) technology will enable EV batteries to store excess energy from solar arrays or wind turbines generated during off-peak times and to feed the grid during periods of high demand. According to the National Renewable Energy Laboratory (NREL), which is coordinating several research projects on V2G technology, V2G-capable EVs which can feed the grid via bidirectional charging stations will soon be commonplace.
Use comfort, convenience and "cool" to drive sustainability.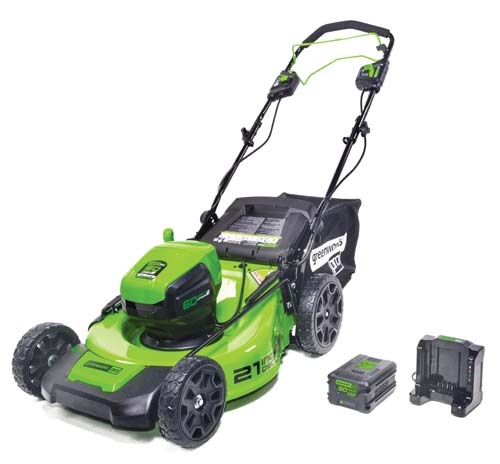 Sun-Scaping: A Clear Advantage
Yard maintenance is a national obsession. We've decided a perfectly coiffed lawn is worth the noise and pollution, and people all over America start Saturday morning with back-wrenching pulls of the mower cord, interspersed with helpful cursing.
Greenworks tools, powered by lithium ion batteries, boast comparable power to their gas-powered counterparts, but without the noise, odors, pollution or wrenched backs. "One of the biggest advantages is that they make a chore easier to manage," says Gray Abercrombie, director of global marketing for Greenworks. "There's no gas, no fumes and they're easy to start." The tools are also lightweight and take up less room in the garage. Greenworks, with North American headquarters in Mooresville, N.C., offers 24-volt, 40-volt, 60-volt, 80-volt, and commercial grade 82-volt battery-powered outdoor power equipment, a full line of corded equipment, and reel mowers. The 60-volt Greenworks Pro family of tools is ideal for everyday yard work and the occasional tough job. It includes a self-propelled mower, leaf blower, string trimmer, hedge trimmer and chain saw. A single battery is compatible with all of the tools of the same voltage.
Brushless DC motors ensure the tools can perform as well as gas-powered versions. As for battery capacity, a fully charged 60-V mower can take on up to half an acre; the chainsaw can make up to 90 cuts; and the leaf blower, string trimmer and hedge trimmer will operate for 40 to 60 minutes on a single charge.
The tools produce no onsite CO2 emissions, and if charged with solar energy, they don't contribute to fossil fuels emissions at all—a concept Green Builder calls "sun-scaping."
According to the U.S. EPA, gas-powered lawn equipment is responsible for 5 percent of the country's air pollution. If everyone started sun-scaping, it could make a real difference. Neighborhoods would be a lot quieter on Saturday mornings, too. www.greenworks.com
Statistics on smart home adoption consistently show that people are just as interested in security, entertainment and comfort as they are energy efficiency. Other reports track the growing popularity of smart home voice-control platforms such as Amazon Echo smart hub with Alexa voice control. User-friendly and, well, friendly, Alexa has provided just the sort of hand-holding that many people need when entering into the baffling world smart home technology. And, because female-voiced Alexa integrates with so many different devices, she makes possible the creation of scenes or routines customized to a user's home and lifestyle.
At CES, The Flex House demonstrated the appeal of such a strategy. Because Alexa pairs with SYLVANIA smart LED lighting from LEDVANCE, Lutron Serena shades and other smart home devices, users can create a routine with pre-programmed light and sound levels for, say, Movie Night, which activates with the command, "Alexa, let's watch a movie!" But an Alexa routine can also be used to control the Sensi smart thermostat and the Emerson ceiling fans—a strategy that saves energy. For example, the fans can be programmed to keep rooms comfortable at slightly higher temperatures, reducing the demand for space cooling from the mini-split.
Lighting is a perfect example of a smart home technology which lures people in with its "cool factor" and turns them into unwitting energy misers. Connected smart bulbs such as the SLYVANIA RGBW products featured in The Flex House are capable of thousands of colors and variations of white from warm to cool (RGBW stands for "red, green, blue and white"). They can be controlled via a smartphone, and they also work with Alexa and the Wink smart hub—Who can't see the appeal of saying "Let's Party!" to instantly change a room's mood? But the bulbs are also extremely energy efficient, and they can be paired with other energy-saving devices such as occupancy and daylight sensors, optimizing lighting levels while reducing energy use.
Change behavior…or not.
Anyone who's worn a Fitbit and grown obsessed with getting their "steps" understands what a powerful influence data can have on behavior. Therein lies one of the big promises of smart home technology: that providing fine-grained feedback on energy and water use (and the associated costs) will inspire people to shift energy usage to times of lower demand or fix that leaky toilet flapper.
As a case in point, Emerson has entered into partnerships with several utilities to engage customers in demand response programs facilitated by EnergyHub. Utility customers can use their Sensi smart thermostats to reduce or shift energy use from peak times, easing the burden on the grid and saving them up to 10 percent on their utility bills in the process.
Some smart home technologies, such as smart appliances and irrigation controllers, streamline resource use in the background without us even knowing. Others, such as the Belkin Wemo smart plugs featured in The Flex House, can be programmed to do so some of the hard work for us.
Here's how they work: Insert a Wemo Mini into a standard outlet, and whatever you plug into the Mini automatically becomes smarter. You can use Amazon Alexa voice commands to turn devices on and off or program them to do so automatically. (The plugs also work with Google Assistant.) This is the perfect application for someone like me, who intends but often forgets to do simple things to save energy, such as turning off power strips at night. (Anything plugged into a power strip will suck small amounts of energy throughout the night; hence the term, "vampire loads.")
Even better, you can use the Wemo Insight switch and Wemo app to track how much energy a specific outlet or room is using. The Flex House also featured Wemo switches and dimmers. None of the Wemo products requires a hub or subscription, so they represent an attractive option for those who want to dip their toes into the world of smart home automation without making a huge investment.
Save resources, including time.
With so many things to track, it's more important than ever to be able to do it all from one place and one device. That's what makes integration so important and helps explain the growing popularity of Amazon Alexa. Alexa can connect to over 1,000 smart home products, enabling hands-free control over music, lighting, security and just about every other smart home category.
Just as essential as integration is reliable, fast networking. The Flex House demonstrated this concept with a "command center" that included the Linkys Velop Wi-Fi system, various charging solutions from Belkin, and a writeable wall, made possible by Benjamin Moore's Notable paint.
The Linksys Velop Wi-Fi system uses mesh networking to consistently find the strongest Wi-Fi signal, ensuring fast speeds throughout the home. You can add "Nodes" to Velop, each of which increases the range by 2,000 square feet.
Belkin has developed BOOST↑UP wireless charging pads for Apple (iPhone X, iPhone 8 Plus, and iPhone 8) and Samsung Qi-enabled smartphones that deliver fast charging and which charge through most lightweight covers. Among Belkin's many charging solutions are a line of Pocket Power portable chargers, a wall-mounted charger and a universal charger which will charge any device with a USB cable.
While it's obvious that smart home technology can save resources, including time, by allowing people to doing some things virtually, some of the applications are lesser known. For example, The Flex House showcased the TytoHome patient center, which people can use to monitor vital signs and share information with doctors.
Don't forget to have fun.
Saving resources is great, but can smart home technology really can help improve our lives? Absolutely, says Gutterman, pointing to the Awair indoor air quality monitoring device as an example. IAQ monitoring by itself is a good thing. But as part of a smart home ecosystem, Awair can trigger the Emerson ceiling fans to kick on when air quality dips below acceptable levels. When Amazon Alexa connects the home's smart devices with each other, Gutterman continues, possibilities open up. For example, the connected smoke detector can "tell" the Rachio irrigation controller to switch on if it senses a fire nearby or smoke inside the home, potentially preventing a fire from spreading.
"Smart home technology can help keep our indoor air healthy, help us eat better and be cognizant of our activity levels," says Gutterman. "And smart locks, cameras and doorbells can help keep our families safe and protected."
And, with responsive speakers and VR goggles to enhance the entertainment experience, it can help us have more fun, too.