The Flex House: Multi-Faceted Adaptability
Shelter Dynamics and Green Builder® Media demonstrate right-sized living with this net-zero energy modular demonstration home.
Last year, Green Builder Media and Shelter Dynamics introduced The Arc House, a small-footprint, resilient demonstration home that showcased the convergence of intelligent, connected and solar technologies. Jim Gregory, founder of Shelter Dynamics and creator of The Arc House, called his prototype "a demonstration of a direction" in sustainable housing. This year, the two partners are expanding on that direction with the debut of The Flex House.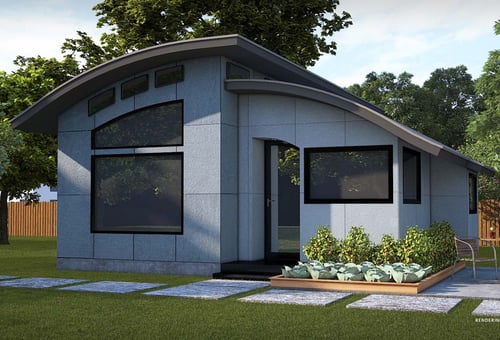 Exterior materials, treatments and colors give The Flex House prototype a distinctive modern style. Image credit: Align3D
The Flex House is characterized by the same high-end craftsmanship as its predecessor, and the two homes share many features, including curving rooflines, vaulted interior spaces and abundant daylighting. Like The Arc House, The Flex House is net-zero-energy ready and is built with durable, high-performance materials. But this new prototype is designed to appeal to a broader audience. The first Flex House is currently being constructed in a factory in Ridgecrest, Calif., in preparation for its debut at the PCBC trade show this June.
No More; No Less
Though still a small-footprint home, The Flex House, at 760 square feet, is significantly larger than The Arc House. The prototype includes a master bedroom, smaller bedroom or office, bathroom, two living areas, a full kitchen and a flexible "niche" space. Despite its high craftsmanship and customizable design, The Flex House was designed to be affordable. Mark Gautreaux, CEO of Shelter Dynamics, estimates the base model will range from $85,000 to $100,000. More than a tiny house, The Flex House represents a realistic alternative to today's oversized homes—a solution that could work for any number of customers, from young millennial families to empty nesters.
While the size of the average American home keeps growing, The Flex House speaks to the concept of right-sized living, or using good design to make the best use of every square foot.
"We live big here in America, but at the same time there's a growing awareness around resource conservation," says Green Builder® Media CEO Sara Gutterman. "What I like about The Flex House is we're not asking people to sacrifice; we're just asking people to not use any more than they need."
Multi-Faceted Flexibility
Flexibility may well become the new buzzword when it comes to desirable housing. With the changing architecture of families and the workplace, house design that can accommodate changing needs will have an edge.
The Flex House is flexible on several fronts. The initial prototype was designed to represent a "sweet spot" in square footage. But new modules—a "bedroom module" or "home office module," for example—can also be added to expand the home, should occupants' needs change. A second-story module can serve as either an extra bedroom, office or "getaway" space.
The Flex House also has another unique feature. When constructed in the factory, the floors are installed first, before the interior walls. This way, the dwelling can accommodate any number of different customized floorplans and wall configurations, and construction can begin before the design is finalized.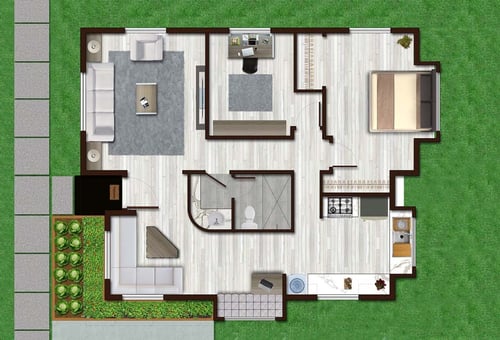 The living room and office space in this floor plan could be combined into a single great room. Image credit: Align3D
Finally, The Flex House is aesthetically flexible.
"Jim Gregory conceived of the idea of design flexibility, so that The Flex House can be adapted to any number of styles," says Gutterman. While The Arc House had a distinctive Craftsman aesthetic, with generous amounts of wood, knee braces and warm, earth-toned colors, The Flex House can pull off modern and other styles, ensuring it will appeal to many different customers and fit into many different settings, including new modern developments and "pocket" neighborhoods.
Smart and Sustainable
Right-sized living applies to more than square footage; it extends to energy and water usage and material choices, too. The Flex House is built with a high-performance envelope, and it will showcase energy-efficient HVAC and appliances and water-saving plumbing fixtures. But smart home technologies will also play an important role in making it a sustainable dwelling.
Like The Arc House, The Flex House will demonstrate the convergence of smart home and solar technologies, and with its solar PV array and storage battery, it can be completely self-sufficient when it comes to energy. But The Flex House goes beyond energy efficiency and improved comfort by demonstrating the concept of "intelligent water"—responsive technologies that save water by communicating with users. Other technologies will demonstrate what Gutterman likes to call "Smart Home 2.0."
These include advanced geo-fencing capabilities—the ability of home systems to detect that the occupant's vehicle is near the home, and making appropriate adjustments to lighting, HVAC, etc.—but also to location sensing within the home. This capacity enables systems or components to adjust themselves or shut off when occupants aren't in the room.
Shelter Dynamics and Green Builder Media will exhibit The Flex House at three premier North American trade shows over the next several months. Attendees of PCBC in San Diego will have the first glimpse of this innovative dwelling while it is featured on the showroom floor.
PCBC: San Diego, CA, June 28-29, 2017
Solar Power International: Las Vegas, NV, September 10-13, 2017
Consumer Electronics Show: Las Vegas, NV, January 9-12, 2018
"These are just a few of the ways that homes will start optimizing themselves," says Gutterman. "As homes become smarter, we'll start to live more efficiently and more appropriately."
Factory Advantages
Both The Arc House and The Flex House are modular, factory-built homes. This controlled environment offers several advantages. Building materials are protected, and waste and site disturbance are minimized. The factory setting also ensures good quality control.
"When you have a stable work crew and you're making multiple units, whether or not they're customized, it takes some of the uncertainty out of the process," says Ron Jones, president of Green Builder® Media. "The result is improved quality and a streamlined production schedule."
To meet the allowable dimension thresholds for highway travel, the prototype will be transported as two modules. But Gregory's vision is to eventually create Flex House communities without having to transport the units for long distances.
"The idea is to build temporary factories and train local labor, who will have a vested interest in the subdivision," explains Gautreaux. "The factory area then becomes community space."
The prototype will travel to the PCBC show in San Diego at the end of June. Look for more coverage of The Flex House over the next several months, as Green Builder® Magazine takes a "deep dive" into the various aspects of its design, construction and performance.