The Flex House is in Production!
In 2017, Green Builder Media and specialty modular builder Shelter Dynamics debuted the Flex House, a model for "Right-Sized" living in a small, flexible space that is connected, intelligent, resilient and sustainable. After much anticipation, the Flex House is finally in production and available for purchase. Order yours today!
Finely crafted by Shelter Dynamics, the Flex House embodies the concept of "Right Sized Living". At 768 square feet, the Flex House makes a big impression with its high ceilings, arched doorways, rounded corners, clerestory windows, and U-shaped flow. The home has two bedrooms, full kitchen, dining nook, sizable living room, and full bathroom.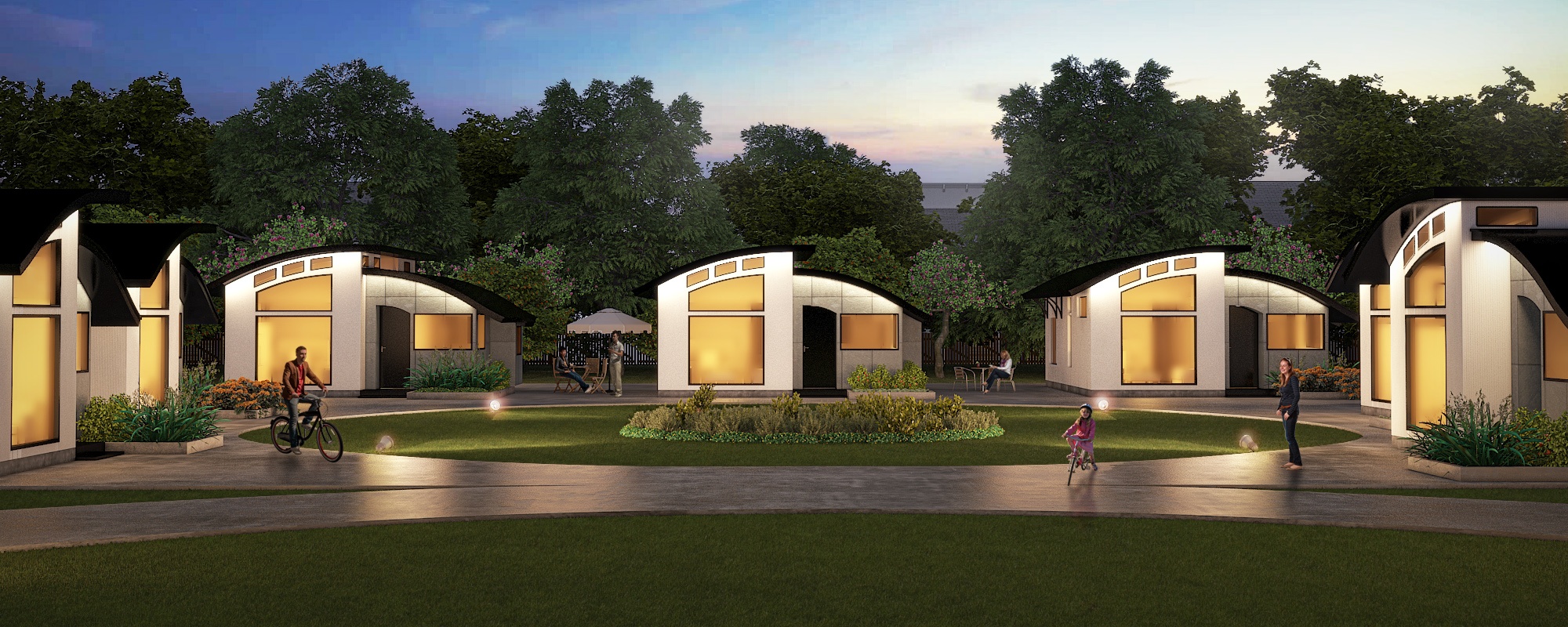 But Right Sized Living doesn't just refer to flexible spaces and square footage, it also means using exactly the amount of resources that you need—no more, no less, which is particularly important in the U.S., where we've grown accustomed to living large. The prefabricated Flex House is designed to be net-zero, healthy, and wholly sustainable, boasting:
High performance building envelope system
Energy efficient windows, appliances, and LED lighting
Solar PV array and battery storage (grid-tied or off-grid)
Mini-split heat pump HVAC system with separate controls for multiple zones
On-demand tankless water heater
Smart home switches, plugs, and door locks
Low flow plumbing fixtures
Intelligent leak detection system
Low VOC paints and materials
Closed cell spray foam insulation
Sustainable options for countertops, cabinetry and flooring
Outlet for electric car charger
Option for graywater recycling system
The Flex House meets California Title 24 requirements for all 16 climate zones. Its Class A roofing material, unvented attic, and cement board siding, as well as the sprinkler system, make the home extremely fire resistant. And, it complies with Seismic Design Category E for building near major active faults.
The home is delivered in approximately 8-12 weeks to your property complete—all you need to do is set it down on a foundation, hook it up, and move in! (*Delivery, permitting and site preparation costs not included, however, these services can be provided separately.)
The advanced home sells for $150,000, and a mere $5,000 will get you into the production queue!
Click here for more information about purchasing a Flex House, and contact me at sara.gutterman@greenbuildermedia.com for questions about shipping costs, geographic availability, and financing options.
Want to learn more about sustainable living solutions? Join us at our upcoming Sustainability Symposium 2019: The Desert Shall Bloom on Monday, February 18, 2019 at the UNLV campus in Las Vegas. Brimming with vision and ingenuity, the event's agenda includes luminaries like General Wesley Clark, Academy-Award winning actor Jeff Bridges, and NBA legend Bill Walton.
And, don't miss a special VIP dinner the night before the Sustainability Symposium on February 17 at 6:00 p.m. at the exclusive Mr. Chow in Caesars Palace.
Click here to register for the Sustainability Symposium 2019: The Desert Shall Bloom and Sustainability Awards gala. Space is strictly limited and by reservation only, so reserve your seat today!
A sincere thank you to our generous sponsors, Samsung, Ingersoll Rand, Emerson, Andersen, Owens Corning, Uponor, and Caesars Entertainment for helping to make the Symposium and gala dinner possible.
What do you think about the Flex House? Write to me at sara.gutterman@greenbuildermedia.com.
Want to read more? Follow me on Twitter and Facebook. For more information about green building and sustainable living, visit Green Builder Media at www.greenbuildermedia.com, like us on Facebook, and follow us on Twitter for regular updates and breaking news.