The Flex House Debuts
The Flex House, Green Builder Media's latest demonstration project showcasing the concept of "Right-Sized" small-footprint, intelligent, and sustainable living, debuted with much fanfare this week at PCBC.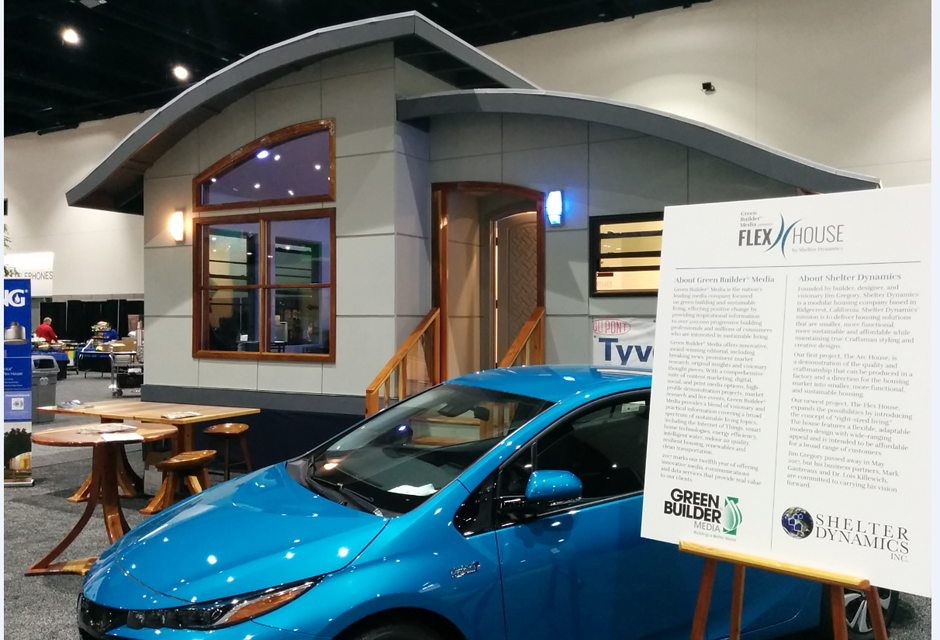 Green Builder Media and specialty modular builder Shelter Dynamics unveiled the Flex House this week in San Diego on the show floor at PCBC (Pacific Coast Builders Conference). As expected, responses to the Flex House have ranged from curiosity to sheer delight, with the most common refrain overheard from visitors: "Wow, this is beautiful. I could live here."
While the 760 square foot intelligent, solar-powered, net zero, and resilient demonstration home boasts an incredible array of innovative products and advanced technologies, it's price point is a modest $80,000-$100,000 (depending on fixtures and features).
Designed to accommodate evolving lifestyles, with moveable walls, modules that can be added for additional square footage, and a sophisticated smart home system that monitors energy, water, and indoor air quality, the Flex House enables homeowners to use exactly the amount of resources they need—no more, no less.
The Flex House's net zero performance begins with a super tight building envelope, featuring super-efficient Bay Seal spray foam insulation and Bayblock roof coating from Accella and Tyvek Housewrap and flashing systems from DuPont, which help to extend building life, mitigate moisture intrusion, and reduce the home's carbon footprint.
It includes a ductless mini-split HVAC system, which is appropriate for the size and layout of the home, a condensing high-efficiency low NOx gas tankless water heater, stackable washer/dryer pair, and compact 24" European-style appliances—excellent for small spaces, and an electric vehicle charging station, all from Bosch.
The EV charging station powers a Toyota Prius Prime, with a dual-motor hybrid powertrain and an estimated 133 miles per gallon equivalent.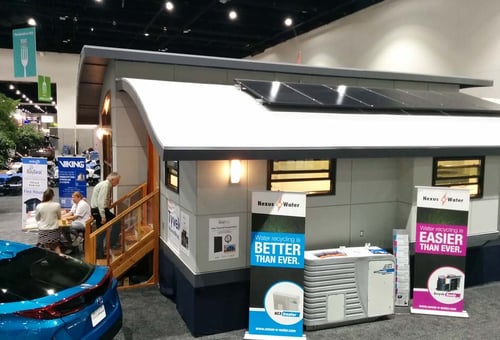 The Flex House includes all natural finishes and flooring, including stylish and sustainable sintered stone surfaces by Neolith (made of clays, feldspar, silica, and natural mineral oxides) and recyclable, low-emissions laminate flooring from Mohawk (part of the Classic Artistry Collection), to ensure healthy indoor air quality.
The home also features intelligent water products, namely the elegant low-flow plumbing fixtures from American Standard that conserve water, and the advanced greywater system by Nexus e-Water that enables reuse of greywater for landscaping and toilet flushing.
With its cutting-edge solar system from Jinko, the Flex House produces its own power and can therefore be grid-tied or independent.
The advanced smart home hub platform connects voice-enabled controls with a variety of intelligent systems within the home, including the tunable, dimmable LED lights from Sylvania-LEDVANCE, as well as the Rachio smart irrigation system.
The Flex House Smart Home system boasts advanced features, such as:
Easily adapts to a homeowner's preferences and desired settings by adjusting lighting and temperature. It even changes TV channels and selects music.
Detects when a homeowner's phone or vehicle is within one mile and turns on lights and music and adjusts the thermostat.
Detects poor indoor air quality and responds by turning on ventilation fans and opening windows.
Runs diagnostics on electrical/mechanical systems and lets a homeowner know when something is about to malfunction.
Senses fires and other dangers and responds by activating the fire protection system and outdoor irrigation system.
Tells a homeowner if there is a water leak, waters indoor plants and irrigates waters the garden and lawn when soil moisture reaches a certain threshold.
Offers healthcare monitoring and access to healthcare professionals.
Senses weather threats and responds by closing shutters and windows, keeping homeowners and their families protected.
Protects the network and devices against hackers and cyber-threats.
The home includes a fire protection system with recessed Viking sprinklers (which blend seamlessly into the ceilings) in every room to ensure safety.