Number of members: 233
Member breakdown: SIP manufacturing companies (18); builders (76); dealer/distributors (47); design professionals (32); suppliers (24); associate members (29); other (7).
Headquarters: Fort Lauderdale, Fla.
Website: www.sips.org
Key Services offered: Online and face-to-face AIA CEU courses with GBCI credit on Residential and Commercial SIPs; free one-hour video classes for Builder Education with SIPs Training (BEST) online and YouTube, which offer both a Registered and Master Builder credential; SIP Code Report for industry-wide acceptance for SIPs; annual Industry SIP Production Survey Report/Census of market size; annual SIP Building Excellence Awards Program; extensive technical research, structural and test reports, and design guides and publications; online "find a supplier, builder or designer" tool with maps and project description/lead generation services.
Mission statement: SIPA will provide an industry forum to increase the acceptance and use of SIPs, which will be the preferred building system.
"As an association, we are consistently working with educational and construction code bodies to advance the minimum building codes to approach and surpass net-zero-ready construction. SIPA feels the approach with engineered wood solves the labor shortage issues and on-site construction waste and inefficiencies." —Jack Armstrong, Executive Director, SIPA
The challenge is on for carbon-neutral buildings by 2030. SIPA members are off and running.
The Structural Insulated Panel Association (SIPA) is a non-profit trade association representing manufacturers, suppliers, dealer/distributors, design professionals and builders committed to providing quality structural insulated panels (SIPs) for all segments of the construction industry.
Since its arrival in 1990, SIPA has increased the use and acceptance of SIPs in sustainable building by providing an industry forum for promotion, communication, education, quality assurance and technical and marketing research. The association also spreads the word publicly about SIPs' high-performance, panelized building system that offers superior thermal performance, air tightness and durability for energy-efficient homes and commercial buildings.
Builders and design professionals seeking to reduce energy use and minimize the carbon footprint of their buildings utilize SIPs as a cost-effective solution for exterior wall and roof systems. The panels also reduce framing time, significantly reduce construction waste and ensure greater jobsite quality control through prefabrication. SIPs are an enabling technology designed to meet the Architecture 2030 Challenge—which calls for all new buildings and those with major renovations to be carbon neutral within 12 years—and do so now.
For more than 28 years, SIPA industry leaders supplying the construction market have nurtured a community of ethical, quality-minded, passionate champions striving to make high-performance envelopes a reality. Today's network of almost 200 SIPA member companies provide over 80 percent of all the SIPs in North America.
Helping with all aspects of support, SIPA members include professional engineers, architects, builders—including SIPA Registered Master Builders with proven SIP expertise—dealer/distributors, SIP manufacturers and suppliers.
---
Green from the outside in
A longtime builder and construction educator, Ted Clifton has been building and remodeling homes for more than 45 years. Energy-efficient homes are his specialty; he received the Energy Value Housing Award from the Department of Energy in 2009 and 2010 for custom homes he built in Coupeville, Wash.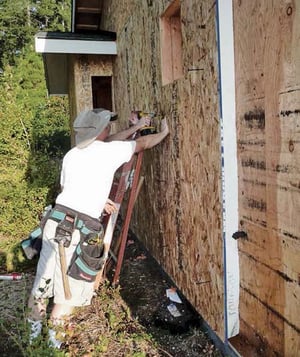 In 2009, Clifton was approached by a friend who had recently purchased a home in Oak Harbor, Wash., with an excellent view of Skagit Bay. "They loved the location, but they really didn't like the floor plan, and the house had some plumbing issues that would require a serious remodel," Clifton says. "They asked if we could make the house energy efficient during the process."
The homeowners actually considered a complete tear-down of the 2,900-square-foot rambler, but Clifton calculated that he could remodel the home for a fraction of the cost using retrofit insulated panels on the exterior of the home to provide air sealing and additional insulation.
"What is great about retrofit panels is that you get air sealing as well as insulation," says Clifton. "We were able to cover the rim joist, which is typically a major source of air leakage in older homes."
Retrofit insulated panels serve as an effective air barrier due to the low permeability of the OSB sheathing. Clifton's crew used spray foam sealant between each panel and around window openings to create a complete air barrier. Combined with other improvements, including new windows, attic insulation, HVAC system and other air sealing measures, Clifton was able to reduce the home's annual heating cost by 83.5 percent.
Although Clifton gutted the house to modify the interior floor plan and address the plumbing issues, he points out that retrofit insulated panels allow insulation to be added to the walls of the home without requiring work on the interior. "I want to emphasize that we can do this type of installation entirely from the outside without going inside the home," he said. "It is a major advantage for people who want to weatherize their house, but don't want a crew inside their home."
For builders unfamiliar with retrofit panels, Clifton says that with minimal training anyone can undertake a deep energy retrofit. "I would recommend that builders get some experience or find someone experienced with retrofit insulated panels and go for it," he says. "You'll find that you can be very cost effective doing deep energy retrofits with this product."
Reprinted from sips.org courtesy of SIPA. Edited for length.