A sustainable message rolls into the start of a third decade.

Number of members: 410
Member breakdown: Contractors (311); non-contractors (30); distributors (69). Of the non-contractors: manufacturers (17); trade groups (2); ancillary (3); accessory (2); suppliers (6).
Headquarters: Longview, Wash.
Website: www.metalroofing.com
Key Services offered: Lead generation; education support; marketing support; market research; industry advocacy and representation; coalition building.
Mission statement: Grow the market share of high-performance, quality metal roofing in the residential market through education and promotion to homeowners, coupled with recruitment, training and support of metal roofing contractors and distributors.
Since 1998, the MRA has served as a leading voice in driving residential market adoption of metal roofing and raising awareness for its exceptional durability, sustainability benefits and all-season protection in any climate among homeowners. As a nonprofit organization, MRA members—contractors/installers, manufacturers and distributors, and ancillary members—benefit from increased marketing support, online lead generation and increased awareness through consumer and contractor information and educational initiatives.
The MRA makes a major effort to educate residential homeowners about the fact that choosing metal roofing is a sustainable choice, according to the association.
While preparing for climate change is a reality for today's homeowners, lessening the impact on the Earth's resources also continues to be a key concern. Among 600 U.S. homeowners recently surveyed, durability ranked as the No. 1 priority for re-roofing decisions, with concerns about severe weather and climate-related factors being top of mind for many.
With the ability to withstand hurricane-force winds and damaging hail storms, and to resist wildfire sparks and hold up under unexpected heavy snow loads, the all-season, long-lasting durability of metal roofs has become a major selling point for homeowners wanting to guard against climate unpredictability.
Additionally, the facts that metal roofing lasts 50-plus years—nearly two to three times longer than other materials—and can be recycled at the end of its long life rather than dumped into the landfill and is energy efficient, are significant benefits. Quality metal roof coatings can also mean less long-term maintenance by naturally resisting moss and fungus. All of that reduces the need for strong chemical treatments that can harm the environment.
The MRA works to highlight these benefits via consumer education, marketing efforts and ongoing awareness building in ways that benefit all of its members and homeowners alike, the association notes.
---
Metal masters help the industry get its message out After 55 years in the metal roofing business, McElroy Metal (www.mcelroymetal.com) has developed quite a name for itself. The third-generation, family-owned manufacturer of metal roofing and siding components has 12 manufacturing facilities, 22 Service Center and 44 Metal Mart locations nationwide, and is known for its adherence to a longtime golden rule: Treat customers the same way McElroy likes to be treated by its suppliers.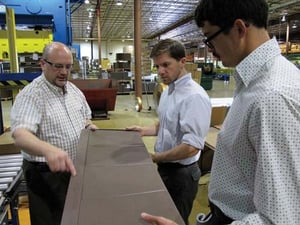 While the company was successful in transferring that customer service mantra to the marketplace, it noticed that the same could not be said of metal roofing overall. "Residential metal roofing offers so many benefits to homeowners," says Ken Gieseke, McElroy Metal's vice president of marketing. "But that message was not being received in the marketplace via the marketing efforts of individual companies."
A similar story is told by Piqua, Ohio-based metal roofing manufacturer Isaiah Industries (www.isaiahindustries.com). "Isaiah has always felt that the benefits and story of residential metal roofing are larger than any individual manufacturer," says Isaiah Industries President Todd Miller. "Therefore, to really help consumers understand the transition from traditional roofing to metal roofing, we needed to band together as an industry and go to the public with a common voice and common effort."
Both companies helped found the Metal Roofing Alliance—now known as the MRA—as a way for those in the industry to exchange ideas, discuss technology and examine code-related matters. "The MRA represented an opportunity to pool resources to educate the marketplace about the benefits of metal roofing with a unified voice and message," Gieseke says.
Miller says the effort has worked. Metal roofing's market share has risen steadily over the past half century. Miller doesn't see that changing anytime soon. "There is something that changes when you work cooperatively with others to focus on increasing market share," he says. "As the old saying goes, a rising tide raises all ships. By working with other members of the MRA, we can create that rising tide."