The Evolving Role of Assocations: Portland Cement Association
Cement plays a more important role in construction than realized— and PCA wants everyone to know about it.
Number of members: N/A
Member breakdown: Regular Member Companies (firms engaged in the manufacture or sale of Portland cement in the United States); Affiliate Member Companies (any local, area, state or regional organization with cement and concrete interests); Associate Member Companies (firms and consultants that provide equipment, products and services to the cement industry); Individual Members (any person employed in a management, leadership or professional role by a regular member company, an affiliate or an associate member)
Headquarters: Skokie, Ill.
Website: www.cement.org
Number of active sites: 2 (Skokie, Ill., headquarters and Washington, D.C., office)
Key Services offered: Advocacy for cement use; Market Intelligence; cement and concrete technical expertise and education; cement and concrete applications
Mission statement: To improve and extend the uses of Portland cement and concrete. here
The Portland Cement Association (PCA), founded in 1916, is the nation's largest policy, research, education and market intelligence organization serving America's cement manufacturers. PCA members have facilities in all 50 states and represent 93 percent of U.S. cement production. If someone works with cement, more than likely they're aligned with the PCA.
PCA promotes safety, sustainability and innovation in all aspects of construction, fosters continuous improvement in cement manufacturing and distribution, and generally promotes economic growth and sound infrastructure investment. There's a lot to promote: The cement and concrete industry collectively employs 600,000 people and contributes $100 billion each year to the nation's economy.
By offering a variety of educational and technical resources, such as the MIT Concrete Sustainability Hub (https://cshub.mit.edu)—which focuses on structure durability, energy efficiency, resiliency and cost-effectiveness—the PCA helps concrete manufacturers remind the public how sustainable and reliable a building material concrete is. It offers energy efficiency, has a long life cycle, carries lower life-cycle costs and provides resilience following natural and man-made disasters.
America's cement producers' strong culture of innovation that has led to new sustainable manufacturing practices that continually lessen environmental impacts. Over the last 40 years, U.S. cement manufacturers have reduced the energy used to produce a metric ton of cement by roughly 40 percent. More-efficient equipment has led to faster, safer projects. Company-driven improvements have led to increased use of alternative fuels, which now represent more than 15 percent of total cement plant energy consumption in the U.S. This keeps industrial byproducts out of landfills.
The PCA encourages further green efforts with its annual Energy and Environment Awards, which recognize outstanding environmental and community relations efforts that go beyond meeting minimal requirements.
Such stand-out efforts by cement producers in these areas have been consistently recognized by the U.S. Environmental Protection Agency's (EPA) Energy Star program. They also help contractors meet requirements for Leadership in Energy and Environmental Design (LEED) certification from the United States Green Building Council (USGBC).
---
PCA Market Intelligence: showing its smarts on the U.S. economy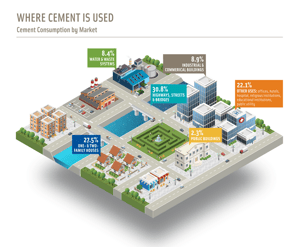 The cement industry is a bellwether for the U.S. economy: It is tied to construction, infrastructure, energy and many other sectors. The Portland Cement Association (PCA)'s Market Intelligence team regularly transforms data involving the use of cement across those sectors into reports, graphs and thought leadership used by the industry to forecast future growth.
Market Intelligence regularly updates its products to reflect the latest economic data and analysis. As it spreads the word that cement is the "new green," the association releases special reports focusing on topics that apply to within the industry, as well as the general public. Recent offerings include public attitudes on soil cement, the impacts of tariffs on cement production, and long-term opportunities for cement construction.
The team's economists have been recognized for their accuracy as forecasters, including by the Federal Reserve Bank of Chicago and the construction industry trade press. Market Intelligence economists have testified before Congress on behalf of the industry. And, the forecasts are widely used in corporate planning, government policy development and by the news media.