Green Builder Media President Ron Jones has an ominous prediction: "If you think the oil wars are bad, wait until the water wars begin." With severe drought conditions expanding across the globe, I fear that his warning may become a reality sooner, and more acutely, than we think.
In this country, California, Texas, Arizona, and Georgia are on the frontline of the water crisis. Arizona just experienced its fourth warmest winter to date, causing water shortages across the state, and Texas is suffering through the lowest reservoir levels in 25 years.


After years of record water shortages (and several instances of narrowly dodging substantial inter-state litigation with its neighbors), Georgia is making major investments in upgrading its water infrastructure and has made a state-wide commitment to efficient and sustainable water use for agricultural applications, electricity generation, golf course irrigation, landscaping, as well as industrial, commercial, and domestic use.
Coming off their warmest winter on record, California's crippling drought has brought the state to its knees, forcing policy makers into uncomfortable and unchartered territory. Farmers in the Central Valley (the nation's most productive agricultural zone) may be forced to keep nearly 500,000 acres of cropland fallow, a production loss that could lead to billions of dollars in economic damage and thousands of lost jobs.
Communities across the state are at risk of running out of drinking water. According to the San Francisco Chronicle, "After three consecutive years of below-normal rainfall, California faces its most severe drought emergency in decades. Governor Jerry Brown has called for Californians to reduce water use by 20% voluntarily, and mandatory rationing could be ordered soon so that homes, businesses, and farms don't run dry over the summer. Wildfire danger is unusually high."
Fortunately, as with most calamities that threaten humankind, innovative ideas and solutions are in hot pursuit of the problems. Entrepreneurial companies are experimenting with technologies that can mitigate water risk, and forward-thinking builders are introducing new approaches for diminishing water use in homes and communities.
One such example is WaterFX. The Fresno-County based desalinization company uses solar thermal to turn salty, contaminated irrigation runoff into ultra-pure water. While currently able to produce only 14,000 gallons per day, the company has big plans to significantly ramp up production to 20 million gallons daily over the next five years.
And, much to the relief of the company's customers—mostly local farmers—the cost of this deliciously clean water ($450 per acre-foot) is only marginally more than municipally sourced water ($300 per acre-foot), and about a quarter of the price of conventionally desalinated water ($2,000 an acre-foot.)
While advances in creative water purification and desalinization technologies are encouraging, these systems will only take us part way towards our water efficiency goals. While farming, power plants, and factories are the main users of our water resource, residential water conservation also plays a starring role in our quest for a sustainable future.
Enter KB Homes, who recently announced the launch of their Double ZeroHome in Lancaster, CA, one of the most water challenged areas of the country. Part of KB Home's ZeroHouse series, the Double ZeroHome sits at the nexus between water and energy efficiency, and is designed to be both net zero energy and net zero water for freshwater irrigation by a family of four or more.
According to KB Home, "the home is equipped to recycle drainwater on-site and reuse it for landscaping, minimizing the home's overall demand for new water and eliminating the household's need to use freshwater for the home's established low-water landscaping." KB Home estimates that "the home can conserve 150,000 gallons of water each year when compared to a typical resale home and landscaping, a reduction of approximately 70%. In addition, the Double ZeroHouse is designed to produce as much energy as it consumes, potentially yielding an electric bill of $0."
The Double ZeroHouse has a sophisticated grey water system from Australian-based manufacturer Nexus that serves double duty. First, the system channels grey water from sinks, tubs, showers, and clothes washers through purple pipes into a drain heat recovery system. As hot water runs through system, the heat is extracted and used for to pre-heat fresh water in the tankless water heater. This heat exchange results in an approximate 30% savings on water heating.
Next, the grey water goes through a collection tank, where it is treated and stored for landscape irrigation. KB Homes uses desert appropriate xeriscapes and drip and mesh irrigation with smart controllers, which dramatically reduces landscaping irrigation needs (requiring approximately 35,000 gallons of irrigation water per year). The grey water collected through the recycling system is enough to provide irrigation water for the entire year.
The Double ZeroHome illustrates a creative approach towards water conservation and efficiency in the home. While KB Home is not offering the innovative grey water system as a standard feature at this time—mostly because Nexus is in the process of ramping up production in the US— the company is offering grey water pre-plumbing as an option to homebuyers.
In this way, KB Home predicts that water management systems will go the way of solar—they will first be offered an upgrade, but soon they will become a standard feature. KB expects an accelerated adoption of water management systems (as compared to the longer adoption period of solar over the past few decades) due to severe droughts and water emergencies in communities across the US.
With that said, market viability will ultimately depend on affordability. Currently, the grey water system that KB Home is using is priced at over $5,000. In order for it to become market viable, KB Home estimates that the cost will have to decrease to somewhere around $1,500-2,000. This decrease in cost will likely be achieved by a combination of increased demand (which leads to reduced costs), incentives, and rebates.
However, as the cost of water is increasing, the return on investment for these types of water recycling systems is becoming more compelling. Rates for water and sewage (which are typically billed together) have climbed so rapidly in recent years that they exceed those for natural gas and are about one third electricity costs, as illustrated in the graph below from the Institute of Public Utilities at Michigan State University: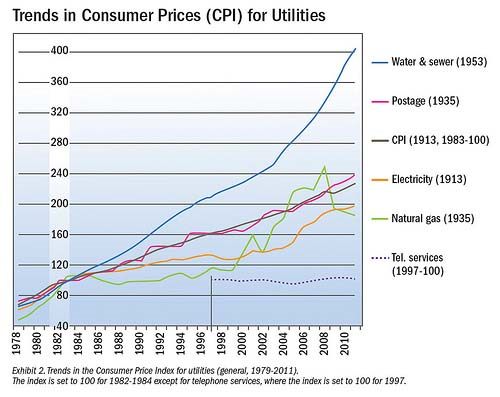 The combination of dilapidated infrastructure, drought, and climate change have driven water prices up exponentially, so implementing creative water efficiency and conservation solutions is paramount to keeping monthly utility bills affordable for homeowners.
Have ideas about advanced water management systems? Write to me at sara.gutterman@greenbuildermedia.com or follow me on Twitter or Facebook.
For more information about green building and sustainable living, visit Green Builder Media at www.greenbuildermedia.com, like us on Facebook, and follow us on Twitter for regular updates and breaking news.