Question: Which household device uses more power than 26 fluorescent light bulbs, or a new refrigerator? It's the set-top television box, according to research by the Natural Resources Defense Council (NRDC), In fact, they say that:

"In 2010, set-top boxes in the United States consumed approximately 27 billion kilowatt-hours of electricity, which is equivalent to the annual output of nine average(500 MW) coal-fired power plants."
Update: The electronics industry has begun to address the wasteful performance of set top boxes, but will their voluntary adjustment in this consumer technology make a real difference.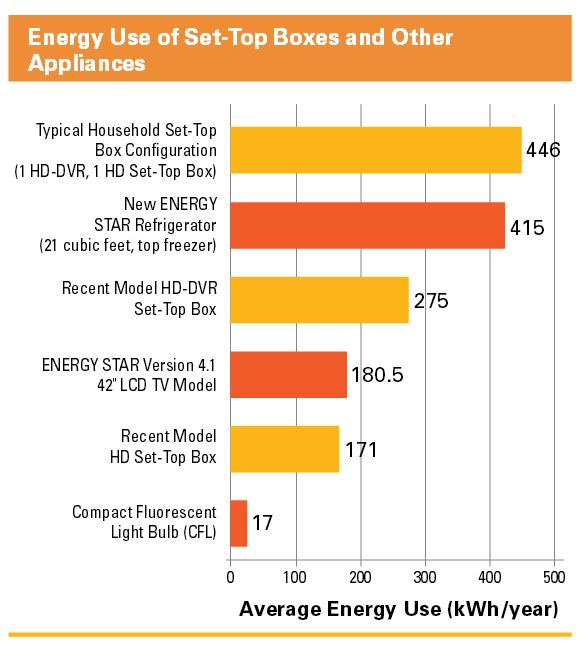 The industry is trying to improve its lousy record with set-top technology, and now has a voluntary program in place where TV service providers can specify Energy Star rated set-top boxes. This year, is saved an estimated $168 million worth of energy waste. That's pretty impressive, until you look at how much they waste. This from the NRDC:
"These devices cost American consumers $3 billion a year—$1 billion to operate when in active use and an additional $2 billion while inactive but still running at near full power."
That's part of the problem. It's not the end user who typically chooses the set-top box..it's the Pay TV company. So it's up to industry to do the right thing. A 4% increase in overall efficiency over three years is not enough.