By now, anyone who is a regular reader of Green Builder Magazine has seen the news that our publication has been named "Best Trade Magazine" for the third year running in the NAREE Real Estate Journalism Competition; in addition, we were also awarded gold for Best Website.
THESE ARE GREAT HONORS for any publishing company, but especially for a small, privately held one like ours, which competes with the likes of Inman News, The Wall Street Journal, The New York Times, and many more. Credit for this prestigious recognition belongs to our entire team, whose names appear on our masthead, and to all the excellent contributing editors, vendors and contractors who make it possible for us to deliver excellence month after month.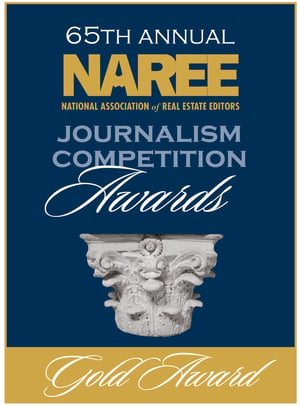 But in addition to the experience, skill, dedication and professionalism of our entire team, I believe that our most important common trait is our universal commitment to a more sustainable future, in the built environment and beyond. We are not only committed to talking the talk of sustainability; rather, we find that it is an essential element that runs through our organization's mission, our practices and our culture.
What truly sets us apart in this arena is that we have been absolutely consistent in our support of, and advocacy for, those individuals, companies, corporations and organizations in the design, development and construction sector who steadfastly refuse to drink the dinosaur milk pumped out by those in the industry who endlessly push back against innovation, stubbornly drag their feet against progress, and who continually misrepresent their purpose—which is to protect and preserve their ability to make profits—by claiming to be the voice for homeowners. They want to have it both ways, by portraying themselves as champions for safety, energy efficiency and a healthy environment while fighting tooth and nail against each and every new regulation or requirement that gets proposed.
We have confronted those individuals and organizations who make it their mission in life to oppose attempts to raise the bar on residential construction through stronger building and energy codes, and who blatantly blame their problems on the products sector of the industry and level ridiculous accusations at their own suppliers, such as: "The code development process has been hijacked by the manufacturers so they can force us to buy their new products!"
These are the very same folks who milk every dime of financial support, sponsorship and member recruitment from the companies they routinely scorn and treat as second class members of their own organization.
At Green Builder, we will continue to stand with those who innovate, cultivate new ideas and new solutions, and are not satisfied with the pitiful industry standards that have been offered across the country by those who fear change and will fall on their swords to protect the status quo. We will continue to be active players, not just reporting on code development, product and performance research, better indoor environment quality, responsible resource management and more resilient and durable systems, but encouraging and assisting in those efforts as well.
We will stay true in the pursuit our mission to make this industry one we can all be proud to be part of.