The Clock Tower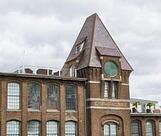 Some things are worth preserving. Books. Symphonies. Great Buildings. In times like these, when civil discourse is rare, when reality television portrays us at our worst, things of beauty from our past can sometimes provide a little rationale for the continuance of the human species.

That may sound a bit high-minded, but it's as good an explanation as any for why this brick tower in New Orleans has been brought back to life.

When Bill Batherson and his wife moved into a converted condo in the old warehouse attached to the Tower, he felt himself drawn to its ghostly interior. Long-neglected, it seemed to speak to him.

"I loved it the first time I saw it," recalls Batherson. "It just had a sense of safety and serenity. Spaces affect your mood, your sense of well being. There's a certain energy you can't really explain."

Without that emotional bond, it's likely the Clock Tower would never have been restored. Instead, six years of sandblasting, hand-carving, engineering, design and redesign went into this reborn building.

"The whole concept was to save all of the old stuff," Batherson explains. "To reuse everything we could—to marry the old form with contemporary."

To see more about this project, view a pdf of the article from our February 2012 issue.