In the words of the illustrious American poet Ralph Waldo Emerson, "The health of the eye seems to demand a horizon. We are never tired so long as we can see far enough."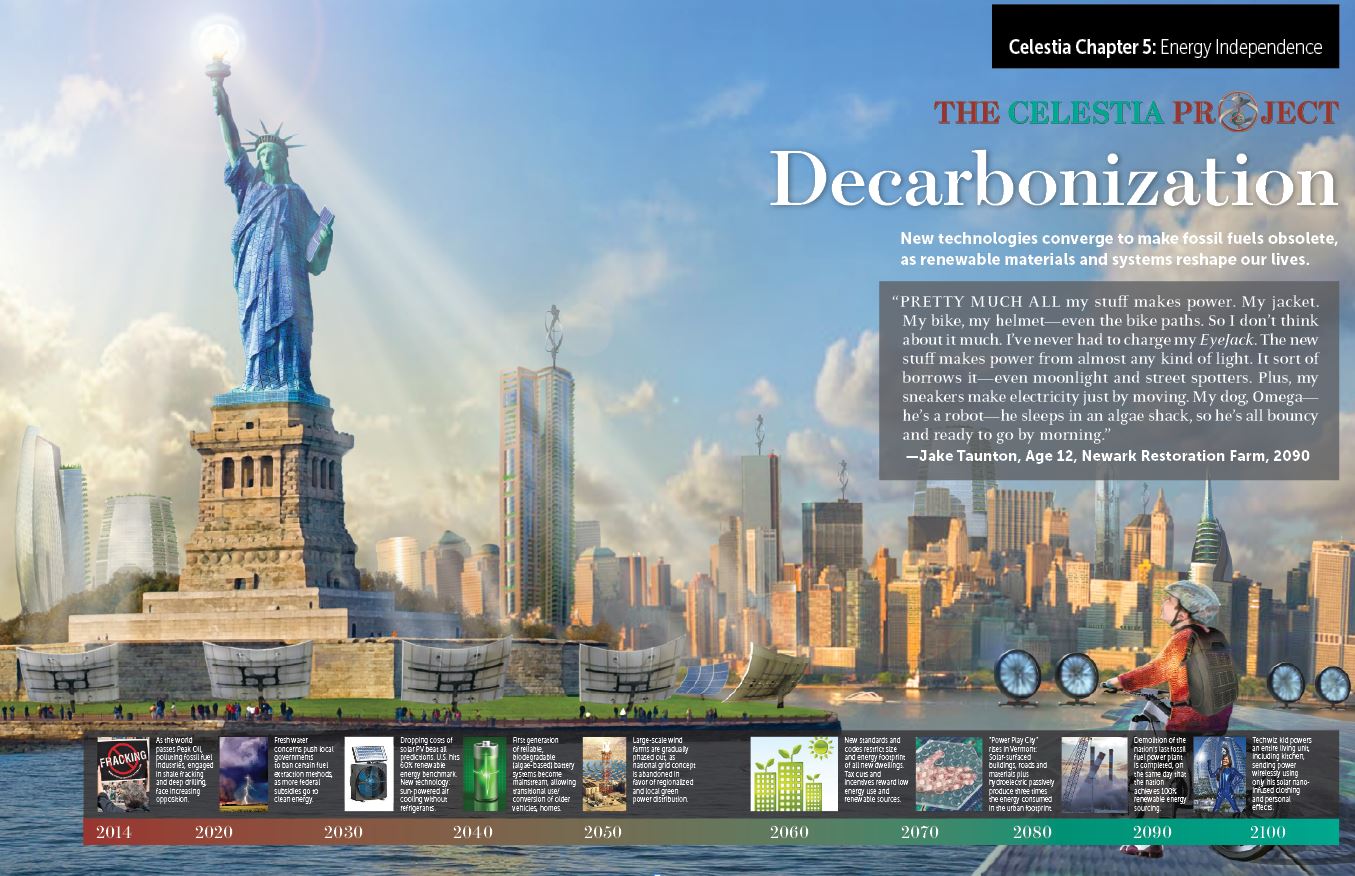 At Green Builder Media, we keep our eyes keenly focused on the horizon, always gathering ideas and inspiration from what we see in the distance. Our interest in the future drives our thought leadership content, and we do our best to paint a compelling vision of how we can affect a sustainable future.
We do this because we believe that thought creates energy and energy follows thought. We manifest what we see. As storytellers and purveyors of stimulating content, we are developing our own version of a biophilic future that serves as a counterpoint to the dystopic futuristic images that we so commonly see in pop culture.
In the movies, the future is portrayed all too often as bleak. People are filthy and underfed. Food and water are scarce, and the air is unbreathable. Humans are at odds with one another and other species on the planet. There is no harmony.
In our sustainable version of the future, which our editors will imaginatively reveal through an 11-part editorial series called The Celestia Project, we're healthy, safe, happy, and living in harmony with nature.
Through the Celestia Project, we'll explore topics like transportation and density, technology and building science, energy use and conservation, fresh water abundance, products and the sourcing of raw materials, durability and fire resistance, healthy lifestyles and indoor air quality, and the financial abundance that comes with sustainable living.
The first installment of The Celestia Project (launched in the April issue of Green Builder magazine) zeros in on food security, including ideas about how we should design buildings, cities, houses and kitchens based on how people will acquire and prepare their food in the future.
In contrast to today's model, in which we transport pesticide-laden foods thousands of miles before they are consumed, the future will offer easy access to fresh, organic food that is grown in local farms and nurseries, and even in our homes. In tomorrow's kitchen, whole-home water harvesting and filtration systems will provide on-demand drinking and irrigation water, we'll have point-of-use power generation for appliances and other devices, and everything—from the products that we use to food scraps—will be either be recycled or composted, resulting in net zero waste.
The Celestia Project predicts that smaller, organic farms will eventually win out over factory farms for two main reasons. First, the rising financial and environmental cost of transporting food items (which now travel on average 2,000 miles before being consumed) will reach a level that is no longer logistically feasible or economically viable. Second, as awareness grows about the health risks of pesticides and genetically modified foods, as well as the damaging effects that factory farms have on soils, water, and habitat, consumers will demand natural, healthy, locally produced food.
Fortunately, small food is becoming big business. According to the Organic Consumers Association, sustainable farming is worth $15.6 billion annually worldwide. Community Supported Agriculture (CSA) is on the rise in the US—there are now 6,500 CSAs (up from only 2 in the 1980's), and farms that are 27 acres or less have more than 10 times greater dollar output per acre than larger farms. And, interestingly, where small farms predominate, there are more local businesses, better maintained streets and sidewalks, schools, parks, churches, clubs and newspapers, better services, higher employment and more civic participation.
The Celestia Project allows us to observe what the reality of a different kind of future might look like—one in which we have solved the major crises of human impact and climate change has stabilized—and how we can get there from here with innovative solutions.
We predict a bright and hopeful future. We truly believe that despite the seemingly insatiable wanting of modern society, a joyful and abundant future lies ahead. Innovative entrepreneurs are developing breakthrough technologies and resource conserving solutions. Investors are divesting from fossil fuels and putting their capital into clean energy solutions. And old business models are rapidly shifting as the sharing economy transforms our economy and consumers make more informed choices than ever before.
As we enter a new dawn of sustainability, it's important that we shed old habits and patterns that no longer serve us. Inflexibility belongs to a different space and a bygone time—it has no place where we are going.
What's your vision of the future? Write to me at sara.gutterman@greenbuildermedia.com or follow me on Twitter or Facebook.
For more information about green building and sustainable living, visit Green Builder Media at www.greenbuildermedia.com, like us on Facebook, and follow us on Twitter for regular updates and breaking news.