This year's building show attendees—and product offerings—show a level of maturity not dreamed of by their predecessors.

HOMEBUILDING AND REMODELINGS are not what they used to be—and that's good news. I've been attending the annual International Builders' Show (IBS) every year for the past 20 years, and I can honestly say this one was different. It's not the venue, although the exhibits are generally classier—no piles of cigarette butts next to half-naked women on exercise bikes this year. It's certainly not the food.
It's the people.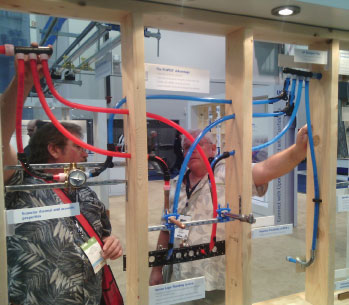 New Ways. Poducts such as Uponor's AquaPEX plumbing systems were just hitting the market 22 years ago, leading the way to their advanced ProPex products.
By and large, today's building pros are better educated, more sophisticated, and more open-minded and curious about building science. This wasn't always the case. For example, I worked for a homebuilder in north Florida back in the late 1980s. He began the day swearing and ended it swearing. A fast-talking, short-tempered little pirate, he compared every measurement on the job to his private parts and went to jail for attacking one of his subs with a wooden framing level.
You don't see many like him at the IBS show anymore. Instead, I saw large groups of builders and architects attending classes and seminars, asking in-depth technical and business questions and taking lots of notes. And even among the builder "elite," there was some real honesty. Building scientist Joe Lstiburek, for example, told a group at the Dow exhibit that he was wrong 22 years ago, when he recommended the airtight drywall system. "Never listen to what a 26-year-old says."
Happily, even the old dogs of the industry seem to be learning new tricks, and many of those changes are making houses more durable, better performing and less resource intensive. You see it everywhere in products, as well. The R&D is better. New products and processes are put through testing extremes.
Throw connected technology—smart thermostats, sensors and interfaces—into the mix, and you're in a world that yesteryear's builder would not recognize. In this issue, we present 50 of our favorite product picks, plus a lot more of the kind of information you need to make smart, savvy decisions for your clients. —GB