An ADU may be smaller, but it's just as challenging to build as a full-sized dwelling.
Steve Snyder and his wife Jackie Ellenz first learned about Accessory Dwelling Units (ADUs) through their designer, Libby Holah. She and her husband Greg had previously designed a bathroom for Snyder and Ellenz, and they were a natural first choice when it came to remodeling part of their home in Portland, Ore.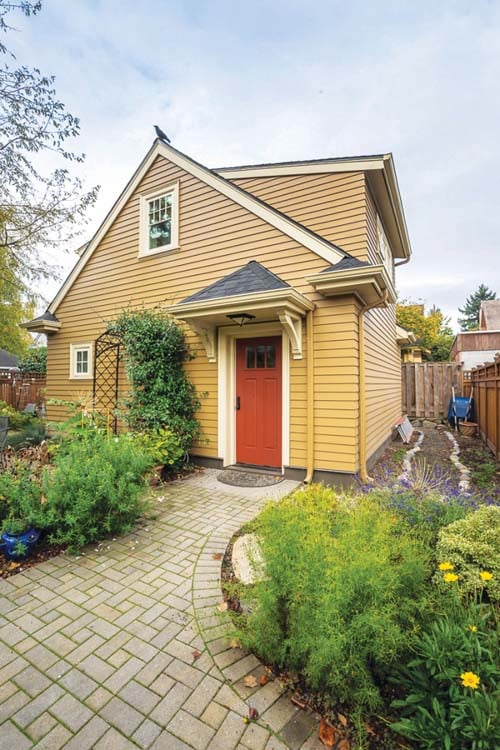 "Our garage was falling down, so we asked them to look at what we could do with it," Snyder recalls. "[Libby] asked, 'Have you ever considered an ADU?' We asked, 'What's that?' So she took us around to look at some other ADUs."
For Snyder and Ellenz, there were a lot of good reasons to build an ADU. They like the idea of supporting density and infill, and they're also committed to energy efficiency. Meanwhile, Greg Holah is especially interested in how building technology can help ameliorate climate change.
"I thought this could be a really cool sort of thing to do—to help a contractor think about energy-efficient design, including ideas from Passivhaus," Snyder says. "It could be a learning experience for everyone engaged, and perhaps even for a broader audience."
Lots to Learn
As they worked with the Holahs to design their ADU, Snyder and Ellenz kept in mind the lessons learned from years of reading books about small space design, Passivhaus design and simple living.
According to Holah, the design considerations for an ADU are very similar to the design considerations for any home. "ADUs still need all the basics: kitchen, bathroom, living room, and bedroom," he says. "Freestanding ADUs are just small houses; a lot of the program is similar to designing a one-bedroom apartment. They have all the same components as a house and we have to be smart about how we make everything work."
Energy efficiency was the primary guiding factor in the design. Whenever they design an ADU, the Holahs make it energy efficient, with sustainability in mind. "Creating a well-insulated envelope is important," Greg Holah says. "Since it's not a lot of volume to heat, if we create a well-insulated shell, it doesn't take a lot to condition the space. [In addition], good quality windows and a well-insulated exterior are very important things."
As a result, Snyder and Ellenz's ADU includes a laundry list of sustainability features:
The windows are triple-glazed and most of the windows face south to take advantage of passive solar heating.
The concrete slab is insulated to create a thermal break from the ground.
Additionally, the concrete slab acts as a thermal sink in summer and winter, absorbing heat through the southern windows, storing it during the daytime and releasing it at night.
The wall system uses staggered stud construction with eight-inch top and bottom plates to reduce thermal bridging (the transfer of heat through the exterior walls).
The walls have two inches of foam "outsulation" attached to the sheathing, in addition to the blown-in foam insulation in the interior wall, for a total of R-43. The walls are 12 inches thick, including the sheathing, drywall and siding.
There are solar panels on the roof.
Heat recovery ventilation brings fresh air into the super-tight building.
There are LED lights throughout the ADU.
Snyder's biggest disappointment with the ADU is that despite all efforts to make it energy efficient and use passive solar heating, it requires more energy than anticipated. "I had it in my head that I wouldn't have to heat the place because it's so well insulated, but that was naïve on my part," he says. "It does require heat—not a lot, but it's not something you can live in with just body heat, cooking and a light bulb.
"We had foam on the outside and we taped the seams," Snyder adds. "On the inside, after we foamed it, we used gasketed drywall, so that was two more layers of air sealing. [Yet] we still had a heck of a time getting it down to 0.6 air changes per hour (ACH). It's hard to get Passivhaus air tightness numbers on a small building because you're amortizing door and window space over less building volume."
A Multi-Purpose Project
As they were building the ADU, Snyder and Ellenz imagined that it could serve a variety of functions. They saw it as a place they could offer to friends or acquaintances for a short or long-term stay. It's also a possible source of income, depending on the economy and whether they'd like to rent it out.
Aging-in-place was also a design consideration for Snyder and Ellenz. They discussed the possibility that at some point as they get older one of them might need assistance. They realized that they could offer the ADU as a living space for someone in exchange for help.
Thus far, the structure has served as a part-time art studio, and a longer-term but temporary home for family members. "We never thought about Airbnb—that's not interesting to me," Snyder says. "If we had someone living in the backyard it would have to be someone we're comfortable with. Everybody who has stayed here is someone we're pretty close to."
Regulatory Barriers and Breakthroughs
Until December 2015, Portland required detached ADUs to match the primary house, which was just fine by Snyder. He says that even if it wasn't required, he and Ellenz would have wanted to evoke the main house in their ADU design. However, they also added a few extra flourishes to make the space special. For instance, they used plaster over wallboard with a Venetian finish.
The only regulatory barriers they encountered related to the challenges of building an extra-small home—in this case, one that was a mere 800 square feet. For example, Snyder and Ellenz were required to have at least a 36-inch-diameter floor in the shower and had to redo it since it wasn't large enough the first time. "Headroom at the stairs was also a challenge because we didn't have adequate clearance, so we had to mess around with that," Snyder says.
Another drag was the city's required five-foot setback. "We had to move the ADU five feet from the property line while the old garage was only a foot away," Snyder notes. "In some ways it feels like wasted space, but it's a lot better than I thought it would be."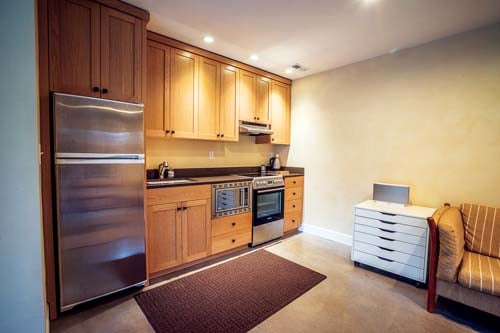 Storage is a bit of an issue, and Snyder notes that they would probably want to increase the storage if the ADU was used on a more-formal basis such as a rental. "We didn't really design it for storage," he admits. The unit lacks sufficient closet space, since the closet on the first floor is mostly occupied by the water heater and the closet under the stairs is short, with the rest of the space angled away.
Holah says that his favorite small space design tricks are making the spaces as flexible as possible and adding built-ins wherever they make sense. Storage is important to many of their clients, so he and [Libby] like to find opportunities for built-ins. Their two favorite places to stash storage space are in the low areas where the roof meets the exterior wall and under a staircase.
The latter was a hit with Snyder and Ellenz. "One cool thing we did was we put two drawers under the lowest part of the stairway that are accessible from the main part of the ADU," Snyder remarks. "It's way cool! It's how I'd like to work with the rest of the ADU if we ever get serious about improving the storage."
Points of View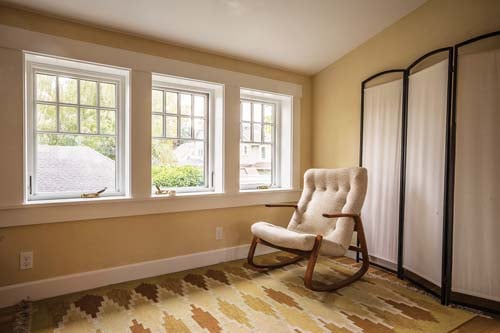 Snyder's biggest frustration was finding contractors that were as tuned into energy-efficient building practices as he was.
"I felt like I had a vision for the project that wasn't fully understood or maybe even shared by the builder," he notes. "We had to have the plumber redo the plumbing—they were doing pipe installation in a way that sucked up wall space and had too many penetrations. The window framing was overdone, which meant that we had thermal bridging where it wasn't necessary. So they had to tear it out and redo it. I definitely had to stay on top of things the whole time."
That frustration was offset by the pleasure of having the Holahs as their designers.
"[Greg and Libby] were great, really helpful," Snyder responds. "Working with them was a highlight. I felt like they were really excellent allies: They were great at thinking about problems that I saw during the construction and figuring out how to deal with them. The designer can put all this stuff on paper and the contractor can try to define what they're going to do, but there are always holes."
Meanwhile, Snyder's biggest surprise was that the ADU isn't as obtrusive as he feared it might be. "I thought there would be this looming behemoth," he says. "I worried that we were going to have this horrendous structure looming over our kitchen. But what it did was it create three spaces in our backyard. It's helped give better shape to our yard, like a plaza."
There's not much to be unhappy about. Ellenz says that if she had it to do over again, she'd do the floors differently. The concrete slab is polished and the couple anticipated it would be bomb-proof, but they've discovered that any stain becomes permanent. They would still probably use concrete, but might seal it differently or install another material such as tile on top, she notes.
Snyder and Ellenz were definitely thrilled with the end result—in more ways than one. "It's a great space," Snyder says. "I'm really, really happy with it and we did some cool stuff with it. But the highlight for me was getting the damn thing done!"
---
This story is an edited version of one that appears on the Accessory Dwellings website and is being reused by permission. Author Lina Menard is a small house dweller, designer, blogger, builder and owner of Niche Consulting LLC, in Portland, Ore.