"The question is not what you look at, but what you see."
When he wrote those words in the mid-19th century, Henry David Thoreau was possibly suggesting that beauty is indeed in the eye of the beholder. But perhaps he also meant that each of us is seeking what satisfies us the most, not necessarily what appeals to the greatest number of our neighbors.
It may be fair to say that for the most part humans are social creatures. Additionally, probably few other species are so specialized and as interdependent as people, which has a good deal to do with how we are able to avail ourselves of a seemingly endless set of options to choose from in our daily lives.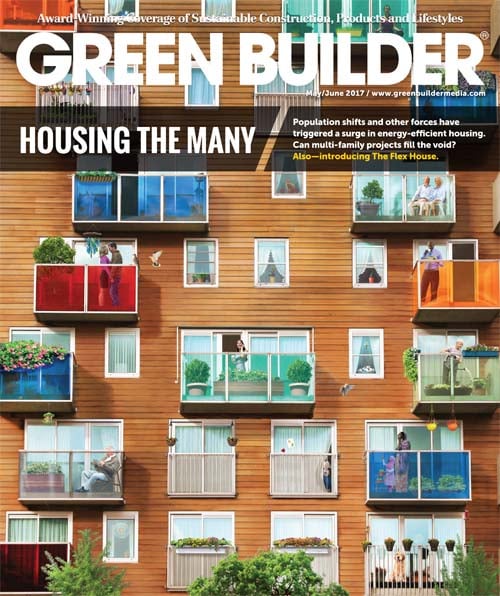 Imagine how narrow the choices for most of us would be if we were evenly distributed across the surface of the world. Instead, the majority of the human population of the planet resides in cities and towns, with all indications being that the trend to congregate will continue as urban populations increase and the percentage of those who reside in rural settings shrinks accordingly.
Those who promote sustainability generally agree that this is a good thing. A concentrated human population provides opportunities for greater efficiency in infrastructure and the distribution of goods and services. And urban dwellers can reduce their personal carbon footprints numerous ways, most notably in the area of transportation.
Fortunately, the shelter industry as we know it today has responded to urban dwellers in their collective search for basic protection from the elements and for things that help determine a person's quality of life. Comfort, security, convenience, efficiency, flexibility, affordability, privacy (which is increasingly hard to come by) and many other attributes combine to make multi-family living more desirable than ever for many people.
Architects, designers and engineers have made it possible for developers and builders to deliver safe, comfortable, attractive, high-performance housing options to millions of individuals and families in modern times. This allows urban planners and municipal governments to provide residents with access to basic services, culture, the arts, endless consumer options and the company of like-minded people.
Of course, not everyone seeks the close proximity of others in his or her living arrangements. Thoreau also wrote, "Nothing makes the earth seem so spacious as to have friends at a distance; they make the latitudes and longitudes."
For those of us who prefer solitude and the beauty of nature to the hustle and bustle of the urban environment, or the star-studded night skies to the bright lights of Broadway, it is important that we recognize the fact that our chosen lifestyle is possible thanks to the desires of so many millions to gather in the population centers around the globe.
I am pleased that those who find enjoyment and security in the nearness of others are able to satisfy their wants and needs. And, I am admittedly grateful (perhaps somewhat selfishly) that by doing so they unintentionally contribute to my opportunity to reside where I do, in what is quietly known as the least-populated county in the lower 48.
If there is any worthwhile takeaway from this muse, I think it's that the most important thing those of us associated with the shelter industry can provide is the ability for people to be able to choose where they want to live. It is our duty to preserve that choice. I would like to think that Thoreau would agree it's a beautiful thing.