The Arc House: Next-Generation Sustainable Living
Green Builder Media partnered with specialty modular builder Shelter Dynamics to take the beautiful, smart + solar, net-zero, and resilient Arc House on tour this summer, debuting at PCBC next week in San Francisco.
The Arc House, designed to flow like a wave, represents a new dwelling concept, combining the economy and simplicity of tiny house living with cutting edge building science.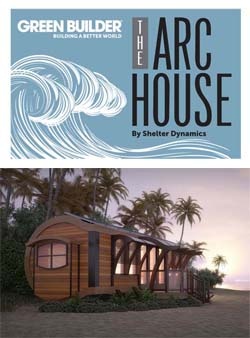 Shelter Dynamics founder, Jim Gregory, used a sailboat to inspire the home's design, with the goal of optimizing the efficient use of energy, water, and space without sacrificing quality of life. "With the Arc House, we're demonstrating more efficient ways to build, but we're also demonstrating that there is a market for smaller, sustainable and more functional housing," says Gregory.
The Arc House is an excellent example of how small, well-designed spaces can be practical, affordable, and comfortable. The home boasts ten-foot high exposed arch ceilings (which make living areas feel spacious), clever niches and built-ins to optimize storage, extensive smart glass to enhance efficiency and bring the outside in, and even a walk-in closet.
With super-efficient solar panels from Jinko Solar, Tyvek Housewrap, R-40 spray foam insulation from Covestro, and R-5 windows, the Arc House is net zero energy. The home's integrated smart home technology and solar system offers the ultimate control over the production, storage, usage, and monitoring of energy. The Arc House automatically makes adjustments to optimize energy use and comfort.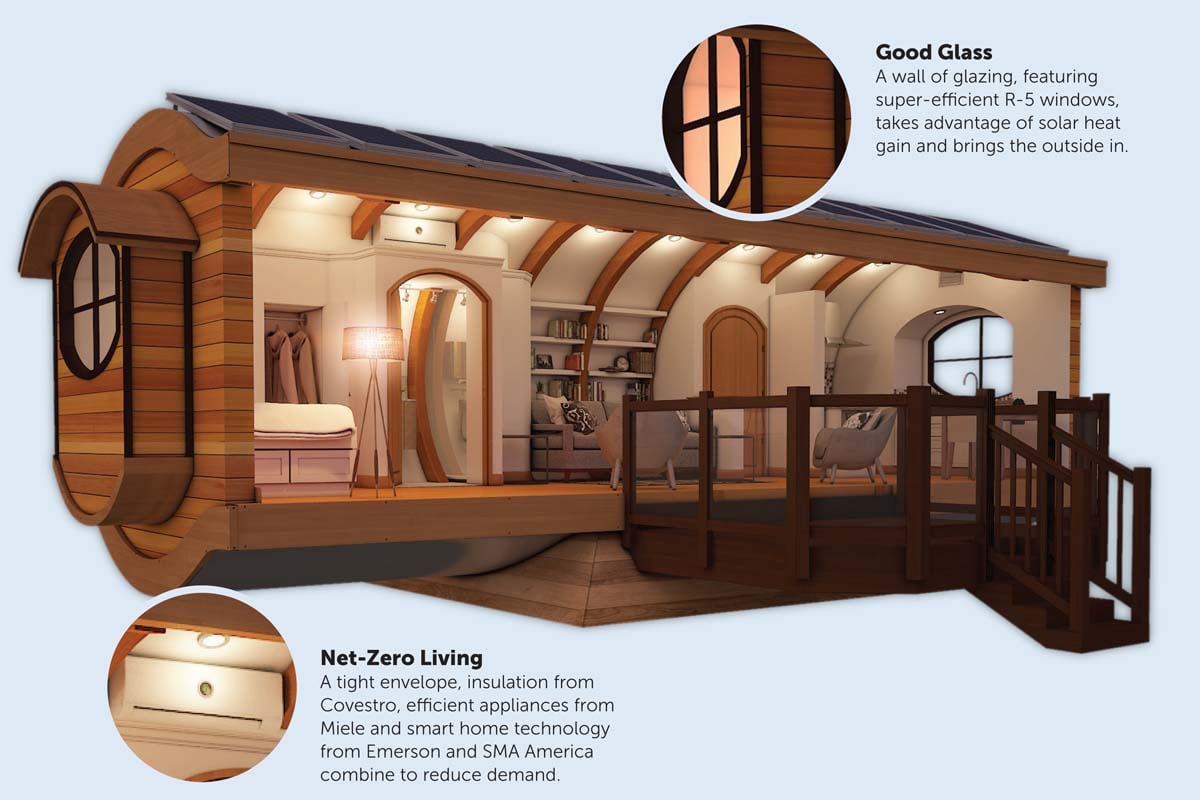 The house is resilient in its ability to function independently from the grid and its mitigation of fire risk—the fire protection system meets standards and guidelines set by the National Fire Protection Association.
Now, let's put our cards on the table and address the elephant in the room—tiny homes are all the rage in theory, but do they offer realistic and viable living solutions?
Apparently, the answer is yes. Baby boomers and millennials, two hugely influential demographic groups, are choosing to live in small, efficient homes in vibrant, walkable communities. Decisions based on lifestyle, financial, and environmental realities are driving these individuals to downsize and simplify, and they're actively embracing tiny living solutions.