The Arc House Goes to Vegas: Millennials Rejoice!
On display at this year's Solar Power International in Vegas, the Arc House is a Millennial's dream, not the lumbering McMansion of yesteryear.
I'm not a millennial, but I find myself intrigued by many of the things that seem to drive the interest and attention of that generation—smart technologies, clean energy, the circular economy, and tiny living.
Fortunately (for me and the Millennials), all of those sectors are spreading like wildfire, and innovation is rampant. Smart technologies are transforming the way that we interact with our homes, vehicles, and cities. Car sharing is blossoming, with mega-million dollar investments by the major automotive players in companies like Uber and Lyft. Tiny living is commanding the hearts and minds of people of all ages, from Millennials who want the freedom to live "stuff free", all the way to Boomers who want to shed the yoke of McMansions.
And on to solar—ah, solar. Let's linger here for a moment, since the category is so vital to the future physical and economic health of said Millennials. With pricing at an all-time low (the cost of solar fell by 5% for residential systems and 12% for utility-scale projects in 2015, with an equally steep decline in 2016), there are more residential, commercial, and utility solar installations today than ever before. As reported by Scientific American, "The cost decline observed in 2015 indicates that the coming years will likely see utility-scale solar become cost competitive with conventional forms of electricity generation."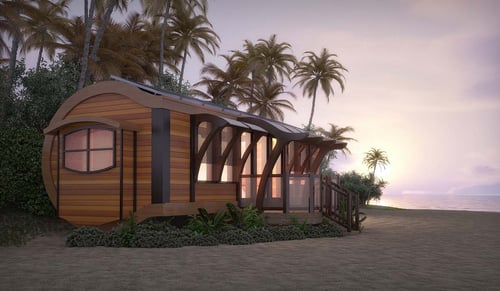 And while some states like Nevada and Maine are still absurdly bantering over the benefits of solar, the sector has experienced some significant wins lately, including a pivotal voter approval of a constitutional amendment in Florida that provides property tax breaks for people with solar panels on their homes and removes a "tangible personal property tax" on installed solar equipment. No doubt, even with annoying squirms here and there, solar is here to stay.
Green Builder Media has partnered with specialty modular builder Shelter Dynamics to marry smart home technology, advanced solar systems, and tiny living together in the form of the Arc House, a hand-crafted, beautiful, net-zero, tiny home (which happens to be its own microgrid with super-efficient solar panels from Jinko Solar and an integrated inverter/battery storage system from SMA.)
We're dressing the Arc House up and taking it out—next stop is Solar Power International (SPI) in Vegas on September 12-15.
The Arc House will be a main attraction in SPI's can't miss Smart Energy Microgrid Pavilion (located in the Silver Lot outside of the Las Vegas Convention Center,) which will showcase advanced smart + solar technologies.
We're excited to show off the Arc House's intelligent ability to produce, store, and monitor its energy usage, automatically making adjustments to optimize resource use and comfort, and it providing behavioral feedback to occupants.
We invite you to visit the Arc House at SPI in booth SL43. Join us for cocktails, appetizers, fresh air, and lively conversation after the show on Wednesday, September 14, from 5:00-6:00 at a private event generously hosted by Jinko Solar—it's invite only, so be sure to RSVP today!
To learn more about the Arc House, please visit the project's microsite. Heading to SPI and want a tour of the Arc House from one of our project team members? Write to me at sara.gutterman@greenbuildermedia.com.
Want to read more? Follow me on Twitter and Facebook. For more information about green building and sustainable living, visit Green Builder Media at www.greenbuildermedia.com, like us on Facebook, and follow us on Twitter for regular updates and breaking news.