Green Builder Media recently announced a partnership with specialty modular builder Shelter Dynamics to bring a prototype tiny home called the Arc House to several upcoming building industry shows.
Green Builder Media will partner with specialty modular builder Shelter Dynamics to bring a prototype tiny home called the Arc House to PCBC (June at the Moscone Center in San Fran), Solar Power International (September at the Las Vegas Convention Center in Vegas), and Greenbuild (October at the Los Angeles Convention Center in LA), with the goal of exposing conference attendees to the uniquely designed, hand-crafted structure that is simultaneously net zero, resource efficient, resilient, intelligent, and elegant.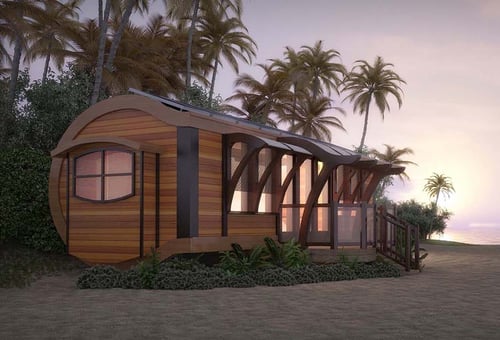 "Green Builder Media has a decade-long history of investigating the most topical issues of our time," says Green Builder Media CEO Sara Gutterman. "We're currently focusing our attention on the evolution of the smart home, the convergence of smart and solar technologies, resilient housing, and sustainable design. We're pleased to have the opportunity to work with Shelter Dynamics and kitchen designer Moorea Hoffman to exemplify next-generation living through the Arc House."
The Arc House is a prototype factory-built 432 square foot residence that shows how small, affordable spaces can be practical and beautiful. The home's innovative design is comprised of a series of flowing arches that offer structural stability. The Arc House's well-designed interiors are beautiful and functional, boasting comfortable living areas and even a walk-in closet.
With high-efficiency Eagle Black solar panels from JinkoSolar, DuPont™ Tyvek® HomeWrap®, R-40 spray foam insulation from Covestro, and R-5 windows, the Arc House is net zero energy.
The house is resilient in its ability to function independently from the grid and its mitigation of fire risk—the fire protection system meets standards and guidelines set by the National Fire Protection Association.
The Arc House, part of Green Builder® Media's VISION House® Series, represents an excellent example of resilient, autonomous housing that can be located in any kind of urban, suburban, or rural setting.