The Anatomy of Zero Energy in the Arc House
Net-Zero Energy Features
Super-Insulated Shell
Advanced Windows
Efficient HVAC and Appliances
Integrated Solar with Battery Storage
Passive Solar Design
Energy Use Feedback
The Arc House runs on the sun—but, first, a number of strategies come together to reduce energy demand.
AT 432 SQUARE FEET, The Arc House naturally has lower energy demand than a larger one, especially when it comes to space heating and cooling. An energy-efficient envelope, efficient appliances and smart home technology reduce The Arc House's energy demand even further.
Envelope Strategies
The unique construction of The Arc House posed some challenges for insulating and finishing the structure. A hybrid system consisting of polyisocyanurate and closed-cell spray foam insulation was the perfect solution for the home's irregular shape.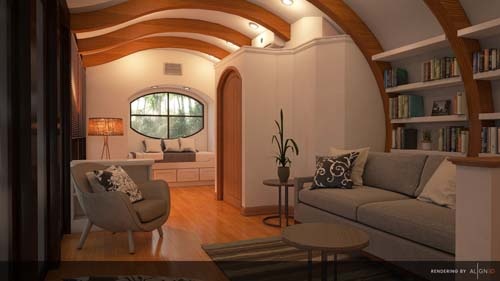 The net-zero Arc House's arches make smaller areas feel much larger.
An experienced crew from USI performed the installation of both the insulation and the roof coating. Two layers of polyiso were installed against the arched beams and a panelized network of two-by-fours. Additional two-by-four framing installed to the outside of the polyiso created cavities, which were filled with approximately five inches of Bayseal CC X spray foam insulation from Covestro. Shear panels and another layer of polyiso were installed against the exterior framing. The curved portion of the structure was covered with Bayblock HT, a waterproofing acrylic roof coating, which forms the outermost layer. DuPont Tyvek HomeWrap was installed on the ends and the straight side of The Arc House to create a weather-resistant barrier. Durable fiber cement siding from Allura finishes the exterior in those areas.
The combination of spray foam, polyiso and the acrylic roof coating creates a superior envelope that minimizes air leakage and thermal bridging and achieves an insulation value of R-40. Super-efficient R-5 windows from Alpen complete the envelope.
Because of its long form, and the fact that one of the long walls includes much of the glazing, The Arc House can be oriented to take advantage of passive solar gain. Built-in awnings keep the home from overheating in the summer.
All other things being equal, The Arc House has an advantage over larger homes, as a small space requires less energy to heat and cool than a larger space. Efficient HVAC and appliances also contribute to lower energy demand. The HVAC system relies on an efficient ductless mini-split heat pump from Carrier. Ceiling fans from Emerson can help distribute air during both the heating and cooling seasons, for more efficient use of conditioned air. The fans also help create better airflow when using natural ventilation. Featuring Emerson's EcoMotor, these fans are extremely energy efficient, requiring a maximum of just 33 watts to operate. The quiet and durable DC motor is capable of six speeds.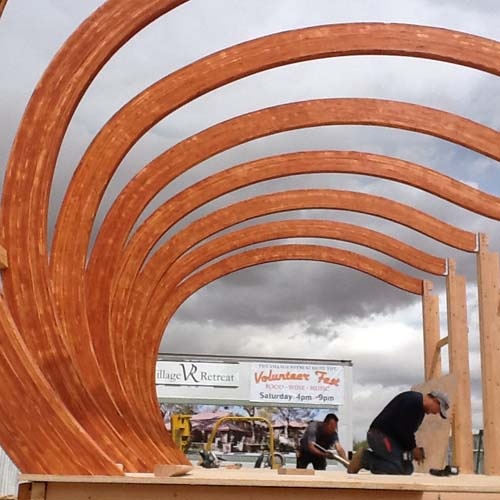 Applying spray foam and exterior finish materials to the curved structure of The Arc House presented some challenges.
A smart thermostat from Emerson also helps lower energy use. The Sensi Wi-Fi Programmable Thermostat can be programmed with custom schedules for each day of the week; users can also adjust the temperature with a smartphone, using the free Sensi mobile app. Flexible programming and the ability to control the thermostat remotely ensure that heating and cooling only occurs when it is needed. The thermostat offers precise temperature control (it is accurate to within one degree F) and is one of the only Wi-Fi thermostats to be Energy Aware certified.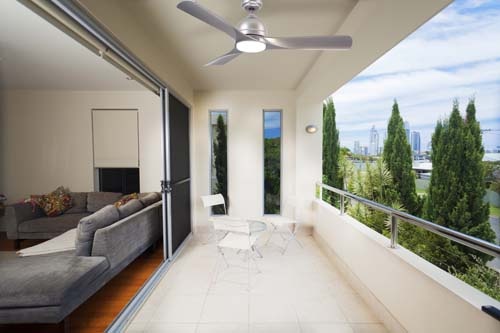 EcoMotor ceiling fans from Emerson range from
42 to 72 inches and come in a variety of styles, from traditional to contemporary. Many are compatible with Emerson's LKGLO LED light fixtures, as well. www.ceilingfans.emerson.com
The many windows bring in abundant natural light, reducing the need for artificial lighting. Efficient recessed LED lights provide task lighting in the kitchen, living room niche and bedroom.
An Integrated Renewable Energy System
The Arc House's renewable energy concept system includes a solar PV array, inverter, battery storage and energy management. The 2.6-kW solar PV array powers The Arc House during the day; at night, the home switches seamlessly to battery power. The system can operate on or off grid. With an efficiency rating of 17.1 percent, the Eagle Black modules from JinkoSolar are among the most efficient of their kind; their dark black color also makes them aesthetically pleasing. The module-level electronics platform from SMA America and Tigo Energy ensures that the PV array will perform optimally, no matter what the conditions. The system includes of optimizers that are attached only to modules affected by shading or other conditions that compromise performance.
Showcasing the next development in residential renewable energy, the system relies on a Sunny Boy Storage battery inverter and Sunny Boy PV inverter from SMA America and a high-voltage storage battery. The Sunny Boy Storage transformerless battery inverter converts electricity from high-voltage battery to the grid, and vice versa. The inverter, which was first introduced in Europe, is lightweight, affordable and efficient, and it is compatible with high-voltage batteries from several manufacturers.
The SMA Smart Home allows occupants to better manage their energy. Automatic load control ensures the most efficient use of solar power and optimizes energy use so that the home doesn't draw from the grid when rates are high. This eases the burden on the grid and reduces demand charges in regions where utilities employ a tiered structure. Other features of the system include forecast-based charging of the storage battery, which ensures optimum use of excess PV power, and recommended actions to help users manually optimize energy consumption.
This flexible system functions off the grid, as well. In off-grid mode, The Arc House would rely solely on power from the sun, ensuring it does not contribute to fossil fuel-based carbon emissions.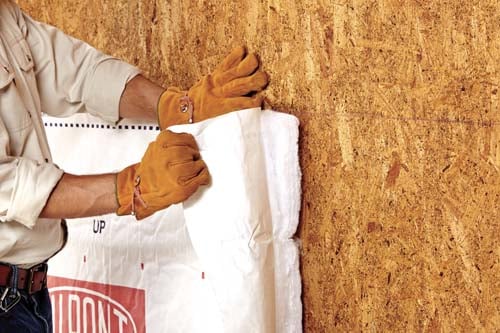 DuPont Tyvek ThermaWrap® R5.0 offers the air and water management benefits of all DuPont Tyvek weather barriers with an R-value of 5.0. www.dupont.com
ENHANCED DURABILITY
Building above code shouldn't compromise durability.
Changing code requirements are prompting builders to increase the insulation values of roofs, walls and foundations. One strategy for increasing the R-value of wood-framed walls is to increase the width of the cavity by using 2 x 6 or 2 x 8 framing members, or by utilizing "staggered-stud" or "double-stud" walls, which also reduce thermal bridging. Builders are also going with a hybrid strategy that includes both cavity insulation and exterior rigid insulation. While this strategy has a number of benefits, including enhanced R-value and reduced thermal bridging, it's important to not compromise the durability of the building for the sake of energy efficiency.
Although building code allows the use of exterior rigid foam with taped joints without an additional weather barrier, eliminating this step could invite trouble. Here's why:
Butt Joints. Rigid foam products swell and contract with changes in temperature. This can compromise the taped seams between butt joints and eventually cause them to fail, allowing moisture to penetrate the assembly.
Horizontal Seams. The taped horizontal seams between rigid foam panels cannot achieve proper shingling that ensures water will shed off the building.
Window Flashing. The thickness of rigid exterior insulation can create a "reverse shingle" at the head of windows; consequently, proper detailing and reliability of tape or self-adhered flashing at these locations is critical.
Including a wrap product that serves as a permeable weather barrier can eliminate these concerns, increasing thermal performance while also enhancing durability. Here are a few recommendations to ensure optimal performance of a hybrid system that includes exterior insulation:
When using a water-resistive barrier in tandem with exterior insulation, it is not necessary to tape the seams between panels of rigid insulation; in fact, open seams will allow the assembly to breathe. It is more important to ensure proper shingling when the house wrap is installed.
Housewrap can be installed over or underneath exterior rigid insulation, but a housewrap with enhanced drainage is recommended if installing underneath.
Install housewrap at the same plane as the window flange for the most effective performance.
Consider using a vapor permeable alternative to exterior rigid foam, such as rigid mineral wool or an integrated weather barrier and insulation product such as DuPont Tyvek ThermaWrap® R5.0. Source: DuPont