Heading to CES in a few weeks? Join Green Builder Media and our sponsors for a personal tour of The Align Project, a stunning example of net-zero, small footprint, solar-powered, intelligent living—with the smartest, most intuitive technology available today.
If you've never been to the Consumer Electronics Show (CES), allow me to paint a picture for you—imagine Disneyland for tech geeks filled with endless gadgets that do almost anything you can think of, drones filling the skies, robots roaming the hallways that would make even Rosie from the Jetsons jealous, connected electric vehicles that run on solar power, Artificial Intelligence powered products that make your home smarter than you are, wearables that track your every biorhythm, and TVs, oh those illustrious high-def TVs, everywhere (literally, everywhere!) in a wall-to-wall jam-packed, high-energy sea of human invention.
CES proponents claim that the show turns dreams into reality, which may actually be true, since the expo halls are teaming with venture capitalists, private equity investors, and eager entrepreneurs who are all looking to stake their claim in the next big idea. No doubt, CES stretches the limits of human imagination and offers a glimpse into the future.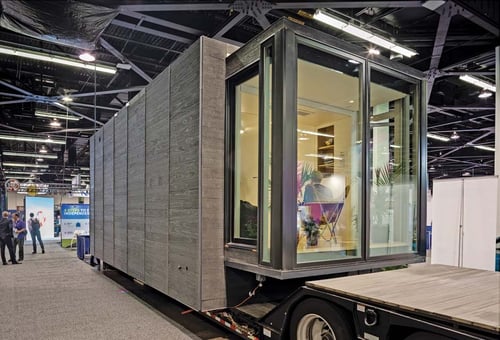 Green Builder Media is excited to get in on the action again this year—we're bringing The Align Project, our traveling demonstration project, to the show. Located in exhibit space CP-6 in the Silver Lot right outside the Las Vegas Convention Center (next to Google!), The Align Project exhibit will challenge entrenched ideas about how we live in the U.S. and offer suggestions for how we can align our lifestyles with our changing socio-economic and environmental realities.
Through The Align Project, we explore how we can harmonize our spaces, technology, finances, and mobility solutions with our health and wellness, enabling us to live with grace and age with dignity.
We investigate how we can move beyond the ridiculous price per square foot metric, instead emphasizing quality, sustainability, efficiency, and lifecycle costs.
We examine how we can invest in resiliency to enhance robustness, resourcefulness, rapid recovery and redundancy in the face of our changing climate, intensified weather patterns, and amplified natural disasters.
The cornerstone of The Align Project is a small footprint, prefab, solar-powered, connected home that is precision-engineered not only to take advantage of every square foot of living space, but also to respond to the occupant's preferences and behaviors, all while optimizing performance and resource use behind the scenes.
Green Builder Media editor Juliet Grable describes the experience of living in this type of home: "Here's the vision: You return home after a long day at work. Lights fade on in a pleasing combination of soothing greens and blues; your favorite chillaxing music queues up. You've plugged in your electric car, but your charger knows to delay charging until rates are lower, or your smart inverter/battery system may tell the charger to draw from the storage battery instead. In the background, devices are talking to each other and automating all kinds of tasks, freeing us to do other things while saving energy and money."
A few years ago, this type of integrated technology was only a pipedream. Until recently, we were in a phase that technology entrepreneur Jason Jaynes calls the "Mindless Home", in which a homeowner cobbled together a smattering of devices, all with separate apps and functionality.
Jaynes asserts that, due to technology platforms like Google Home and Amazon Alexa with voice control that can integrate devices together, we've entered the "Managed Home" phase, offering a much more streamlined experience for homeowners.
However, The Align Project goes a step further, entering into the realm of the "Intuitive Home", where all of the smart home technology is methodically designed and built into the home, connecting the central platform with devices, HVAC, water heating, lighting, water monitoring, appliances, irrigation, and more not just to respond to the homeowner's commands, but to teach itself to optimize home performance, even without human intervention.
"In an Intuitive Home," Jaynes says, "the homeowner doesn't have to install anything, configure anything, or program anything. Since the technology comes with the home, all the occupant needs to do is set passwords and preferences, like with a smart phone."
To achieve this level of responsiveness and connectivity, The Align Project relies on Loxone's sophisticated technology platform to control lights, switches, plugs, and more, and also seamlessly connects with other systems and devices such as the Rheem ductless mini-split HVAC system and hybrid electric water heater, as well as cutting-edge devices like a Flo leak detection system (which measures water flow, water pressure, and temperature and sends real-time alerts or shuts off water if a leak is detected), Aware indoor air quality monitor (which measures air temperature, CO2, humidity, dust, and VOCs), Delta smart ventilation fan, and Andersen Yale Assure smart locks.
The home also features a comprehensive solar system, with a super-efficient array of Jinko solar panels and a Tabuchi Eco-Intelligent Battery System (an all-in-one storage battery and inverter with energy monitoring software that enables a homeowner to monitor energy production, storage, and usage.)
And, the home even connects with a Toyota Prius Prime (electric vehicle) through Alexa, so that the occupant can use voice control to turn on routines remotely when arriving home after being away.
If you're planning to attend CES in Las Vegas on January 8-11, please let us know and we'll schedule a private tour of The Align Project.
And, if you sign up for our upcoming Sustainability Symposium 2019: The Desert Shall Bloom (see below for more info), we'll provide you with a FREE pass to CES. We look forward to seeing you there!
About the Sustainability Symposium 2019:
Green Builder Media and our sponsors invite you to join us at the Sustainability Symposium 2019: The Desert Shall Bloom on Monday, February 18, 2019 at the UNLV campus in Las Vegas. Brimming with vision and ingenuity, the event's agenda includes luminaries like General Wesley Clark, Academy-Award winning actor Jeff Bridges, and NBA legend Bill Walton.
And, don't miss a special VIP dinner the night before the Sustainability Symposium on February 17 at 6:00 p.m. at the exclusive Mr. Chow in Caesars Palace.
Click here to register for the Sustainability Symposium 2019: The Desert Shall Bloom and Sustainability Awards gala. Space is strictly limited and by reservation only, so reserve your seat today!
A sincere thank you to our generous sponsors, Samsung, Ingersoll Rand, Emerson, Andersen, Owens Corning, Uponor, Zappo's for Good and Caesars Entertainment for helping to make the Symposium and gala dinner possible.
Want to learn more about The Align Project or Sustainability Symposium? Write to me at sara.gutterman@greenbuildermedia.com.
Want to read more? Follow me on Twitter and Facebook. For more information about green building and sustainable living, visit Green Builder Media at www.greenbuildermedia.com, like us on Facebook, and follow us on Twitter for regular updates and breaking news.