The Align Project: Align Your Technology
As we move toward the 'Intuitive Home,' a tech-filled smart home like the Orient becomes increasingly hard to turn down.
Here's the vision: You return home after a long day at work. Lights fade on in a pleasing combination of soothing greens and blues; your favorite chillaxing music queues up. You've plugged in your electric car, but your charger knows to delay charging until rates are lower, or your smart inverter/battery system may tell the charger to draw from the storage battery instead. In the background, devices are talking to each other and automating all kinds of tasks, freeing us to do other things while saving energy and money.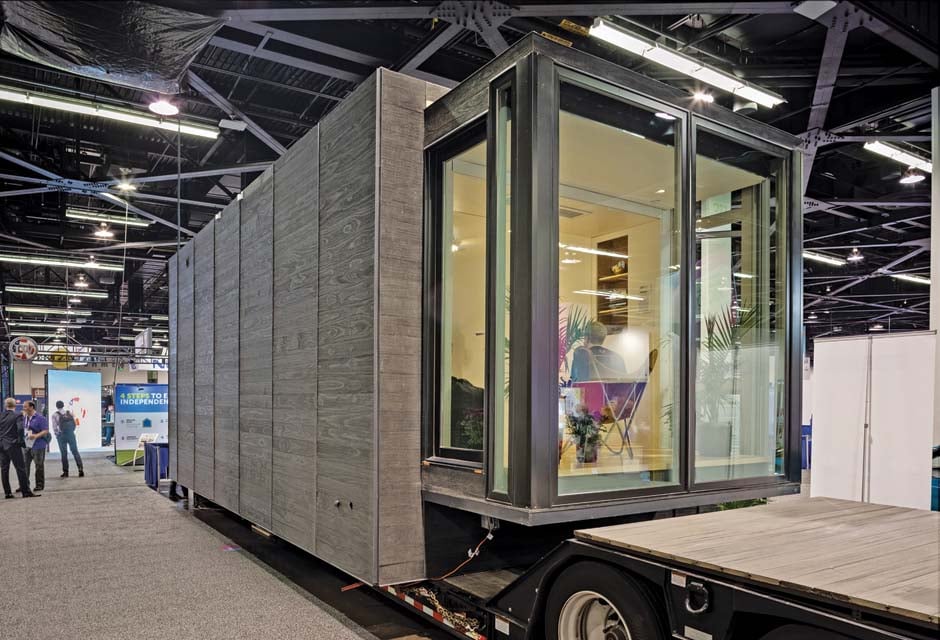 Such is the promise of the Internet of Things. But there have been a few bumps on the evolutionary road toward what Jason Jaynes, head of technology for Kasita, calls the "Intuitive Home."
When it comes to the inner sanctum of our homes, people are cautious. They don't want more complication added to their lives, and they don't want Google ogling them (or Alexa giggling at them), especially in their living room or bedroom. iQor's Customer and Product Experience 360 Survey reveals the frustration of early adopters of smart home technology as they "struggle with setup and installation issues and disjointed technical support involving multiple people at multiple companies." Often, the frustration leads to people giving up on the devices, the report notes.
Similar findings are elsewhere. People surveyed by ReportLinker cited privacy concerns as the No. 1 drawback to smart home technology. And a poll of 2,000 homeowners conducted by home security provider Ooma found that 72 percent of people with such systems worry that companies will use smart home advances to invade their privacy. In addition, nearly a quarter (23 percent) said they turn off their system when they have guests to avoid being "spied on."
Toward the Intuitive Home
These issues are likely growing pains. First, according to Jaynes, there was the "Mindless Home." People purchased individual smart home devices and brought them into their dwellings. Most required a separate app to control, and the devices couldn't necessarily "talk" to each other. The evolutionary boneyard is littered with start-up companies that brought their devices to the market, only to die a quick death.
More recently, we've entered the era of the "Managed Home," thanks to platforms like Apple HomeKit and Amazon Alexa, which enable a more seamless experience.
"The onus is still on the owner to go out and get the devices, but there's the option to control everything through a single app or using voice control," says Jaynes.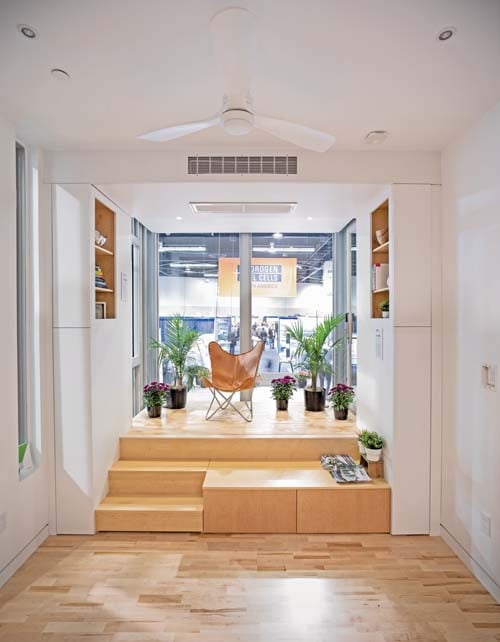 One of the goals of The Align Project, a joint venture between Austin-based modular home company Kasita and Green Builder® Media, is to demonstrate the potential of smart home technology. Kasita debuted its Orient smart home platform at Solar Power International in Anaheim, Calif., in September. This platform is a solid player in the Managed Home era, but it also offers a glimpse of where we are heading—what Jaynes calls the "Intuitive Home."
Kasita's approach, where the owner's entire experience is considered, is a key factor toward enjoyment, according to Jaynes. "The user doesn't have to install anything, configure anything or program anything."
Jaynes notes that the smart devices are already there, and control everything from temperature and lighting to security and entertainment. But "the space has the responsibility to respond to our settings," rather than the other way around.
Early on, Kasita partnered with Loxone, which offers a complete smart home ecosystem managed through its Miniserver. The company manufactures more than 150 products, but others can be integrated.
Kasita has wrapped Orient around the Loxone system—in particular, Loxone's highly efficient and powerful lighting system and touch controls, which can be used to control lighting moods, music and shades.
Orient is a cloud-based platform, which in theory allows users to take their preferences with them from one Kasita to another. The platform builds in privacy by using "anonymous" profiles—in other words, the space may "know" about a set of user preferences and settings, but it will not be able to leverage those preferences and settings to identify the individual.
Jaynes adds that people can choose to opt out of having their data collected.
Here's another important point that may comfort those who have yet to warm to smart home technology: In Kasita, the Orient platform is available to assist the user, but it is not required to function. Every feature can still be controlled manually.
Materials Technology
Though smart home technology is showcased throughout The Align Project, equally important is the materials technology represented in everything from the exterior cladding to the Corian countertops. Some of these materials are brands that have proven their staying power and earned bragging rights when it comes to durability, performance and environmental sustainability. Two examples are DuPont Tyvek CommercialWrap and Trex Transcend decking.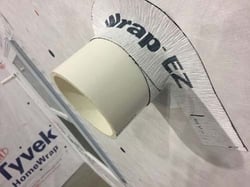 It's a Wrap
Tyvek has become to housewrap what Coke is to soft drinks. Made with non-woven, high-density polyethylene, the material has unique properties—it's durable, lightweight and water resistant, yet breathable—and these have made it a mainstay for builders. Tyvek CommercialWrap, used in The Align Project, adds extra wind and UV resistance, making it a good choice for the tough conditions on commercial jobsites.
DuPont continues to develop accessories and products that enhance the performance of Tyvek. For example, the company's FlexWrap EZ, introduced just this year, is a self-adhered flashing intended for smaller penetrations. It comes in a 2-3/4-inch-by-15-foot roll and can be used around HVAC vents, plumbing pipes, gas lines, and electrical wires and outlets, making it a single solution for multiple trades.
"People don't pay as much attention to the smaller penetrations," says Julie Short, marketing analyst at DuPont. But, she adds, sealing around these can collectively contribute to an exceptionally airtight envelope.
Smart water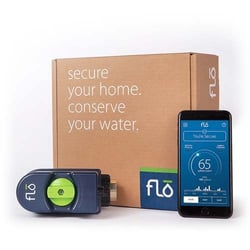 The Align Project features several innovative ways to save water, ensure water quality and protect the home. One of these is Flo, a smart leak detection device that is installed on the main water supply line. By running daily tests, Flo can detect small leaks that, drop by drop, add up to thousands of gallons of wasted water.
Flo keeps tabs on three metrics: flow, water pressure and temperature. The system will send a real-time alert to the homeowner's phone if a leak is detected. It automatically shuts off water in the event of catastrophic failure.
Immediately after installation, Flo goes into "learning mode," getting a baseline on normal water usage for that particular home. Thereafter, Flo runs daily tests. The user can also set goals for weekly usage, and the app will send an alert if the usage total is exceed.
Flo Protect, an additional subscription service that costs $5 per month, provides fixture-by-fixture water usage data. This service also comes with live chat support and a guarantee: The company will pay the deductible, up to $2,500, for any homeowner insurance claim.
Smarter than Average; Plays Well With Others
When it comes to smart home devices, it can be challenging to separate the wheat from the chaff. Here are some points to consider:
1. Is it compatible with smart home ecosystems?
2. Is it intuitive/easy to install and operate?
3. Does it save energy, water or other resources?
4. Will it contribute to the safety, security and enjoyment of the home?
And here are three examples of smart home technologies featured in The Align Project that fit the bill:
Tabuchi Eco-Intelligent Battery System (EIBS): This all-in-one storage battery and hybrid inverter comes with energy monitoring software that not only allows the homeowner to track energy use, but enables techs to troubleshoot issues. The system manages energy from a home's solar array, the battery and the grid to optimize energy use and savings. You can also customize the system. For example, some might choose to prioritize cost savings, while others might want to ensure maximum storage energy in anticipation of power outages.
Awair 2nd Edition: Like its predecessor, this device keeps tabs on volatile organic compounds, carbon dioxide, humidity and temperature, but it also monitors fine dust, or particulate matter, which can be absorbed by the bloodstream and cause respiratory problems. Awair 2nd Edition comes with an easy-to-read LED screen which displays the overall "Awair Score." It will also send your smartphone an alert if any one of the five metrics is out of the healthy range. The device is compatible with many smart home ecosystems, including Alexa, Google Assistant, Nest and IFTTT.
Andersen Yale Assure Lock: This smart lock enables keyless entry and accommodates up to a dozen unique PIN codes. You can monitor, lock and unlock the door with your smartphone, and receive notifications when someone enters or exits. A voice assistant will guide you through a quick set-up. The lock integrates with Amazon Alexa for voice control. Z-wave and Bluetooth modules are included, but ZigBee and HomeKit modules can be purchased as well.
---
Click image to enlarge