The Align Project: Align Your Space
What if we optimized our living spaces to create a home that's 100 percent useful?
Every year it's the same report: New homes in the U.S. keep getting bigger, even as the size of the average household shrinks. Though the rate of bloating has slowed in recent years, new single-family homes still averaged 2,457 square feet in 2017. And we're filling those homes with stuff, much of it bought on credit.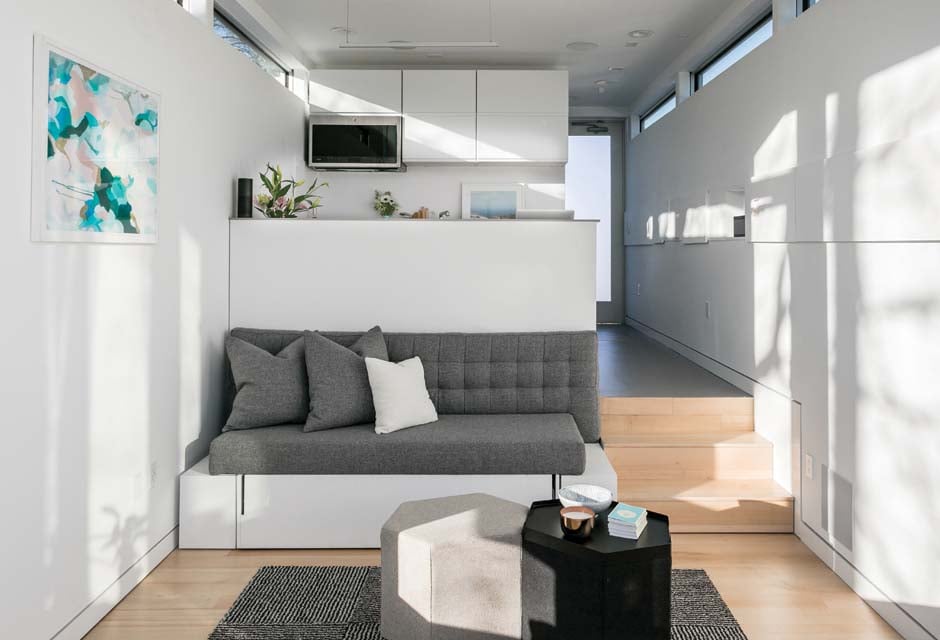 If our homes were smaller, would we be forced to simplify? By giving up space and things, would we find ourselves with more time—and possibly more happiness? Kasita founder and CEO Jeff Wilson thinks so, and he has the experience to prove it. He spent 2014 living in a 33-square-foot dumpster on the Huston-Tillotson University campus, where he was a professor.
"I wanted to compress space to its ultimate limit and see if one could be happy owning things, rather than having them own you," says Wilson.
The value of space is one of the questions we decided to tackle with The Align Project, a joint partnership between Green Builder® Media and Kasita, an Austin-based modular homebuilder that specializes in the optimization of space.
Mission: Optimize
One of The Align Project's goals is to demonstrate that we can do more with less, without compromising. But first, let's consider the Great American Home of the 21st century. A University of California at Los Angeles (UCLA) study of 33 Los Angeles families confirms what we already know: The way we use our homes has changed. We've abandoned the formal dining room and we (mostly) use our bedrooms to sleep. The kitchen is the home's hub—it's where we eat, where we meet and where we exchange information. As for those extra rooms, many are stuffed with possessions we rarely use but can't bear to part with.
Most of us use only a fraction of the large homes we were told we needed. How can we instead optimize the living spaces we actually want and create a home that's 100 percent useful?
Wilson's epiphany came while living in the dumpster. "I realized that we need to design the space around the user, by asking how the user experiences space," he says.
Among other things, the 352-square-foot Kasita illustrates how to make a space feel larger than it is: Use high ceilings and clean, flat light-colored surfaces, and bring in as much natural light as you can.
Kasita's floorplan is a deceptively simple rectangle, consisting of a bathroom, kitchen, living space and airy niche, with plenty of designed-in storage. The living room ceilings are 10 feet high, and the stepped floorplan effectively creates separate "rooms" without full walls. This also enables the bed to be stowed under the kitchen when not in use, freeing up 50 square feet of underutilized space and pushing Kasita beyond the studio concept.
The Great Indoors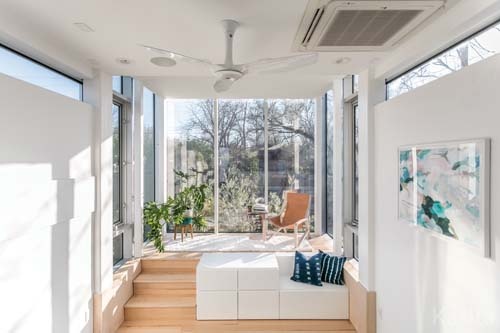 The Cube is an inviting nook that connects occupants with light, views and fresh air.
One of the sad findings of the UCLA study is that very few families were engaged in the famous "California Living." Even children spent very little time outside, despite ample backyards enhanced with swing sets and BBQ grills. With average adults spending more than 90 percent of their time indoors, it's crucial to foster a connection to the natural world. So-called biophilic design can have a positive impact on health and well-being, not to mention lower lighting costs.
One of Kasita's most striking design features is the "Cube"—a 42-square-foot cantilevered space surrounded by glass on three sides. This flexible "end cap," inspired by San Francisco's iconic bay windows, can be outfitted with fixed windows or sliding glass doors and enhanced with a porch or balcony.
The glazing here and elsewhere is vital for connecting occupants with views, fresh air and sunlight, while contributing to the home's energy efficiency. Align Project sponsor Andersen Windows is bringing the clean, modern lines of the company's E-Series windows and doors to the home. These include fixed and casement windows that promote natural ventilation and hinge or gliding doors. The aluminum-clad windows are Energy Star certified, as are 99 percent of Andersen's products. The windows will also feature Andersen's VeriLock sensors— which tell the user whether a window is open, closed, locked or unlocked—and the Yale Assure Lock, a keyless smart lock that users can control remotely.
These doors and windows will connect to outdoor living spaces, which can expand the usable square footage of a smaller home. There's an inverse relationship between the amount of indoor "hang-out space" and time spent outdoors, says Wilson.
Space Savers
According to Wilson, another trick to small spaces is keeping lines clean and possessions out of sight.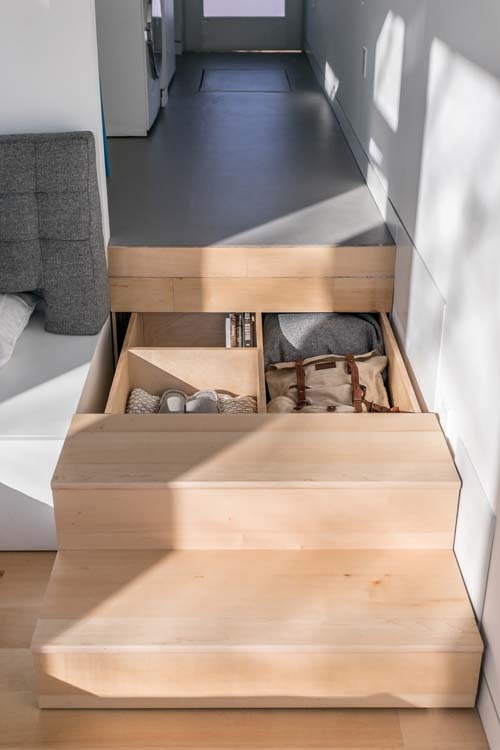 To solve the problem of storage, Kasita doubles down. The short stair leading up to the kitchen pulls out to reveal a deep drawer, which can also be accessed via a hatch next to the kitchen. A closet next to the kitchen houses a stacked washer and dryer pair and a couple of shelves. Two closets flank the Cube, for a total of 36 inches of hanging closet; the bench dividing this space from the living room also functions as storage.
The kitchen includes a full suite of appliances, including an induction cooktop, microwave and convection oven, range hood and refrigerator/freezer. And at 52 square feet, the bathroom isn't short-changed, either. Here you'll find one of the most eye-catching space savers in the demonstration home: the Viega carrier, which takes the place of a traditional two-piece toilet. The tank is elevated and housed in the wall cavity and can be accessed through the flush plate; the seat fixture attaches to the carrier through the wall. Not only does this save space and make cleaning a lot easier (no more working around those gasket covers!), the design takes advantage of gravity, making reliable performance possible with very small volumes of water and pressures down to 5 psi. The dual-flush Eco Plus WC Carrier featured in The Align Project uses 0.7 and 1.9 gallons per flush.
"These carriers are very prevalent in Europe," says Tim Schmidt, product manager of Flushing and Drainage Technology for Viega. He adds that although the technology is mostly confined to public facilities in the U.S., "it's coming."
The Stuff of Experience
As the world gets more connected, you'll see more emphasis on the user experience and less on the actual stuff being sold. This is happening with brick-and-mortar retailers as they compete for real rather than virtual customers, and among manufacturers as they increasingly turn to the "product-as-a-service" model. So why should this not also happen in our homes?
Turns out, it is. Anticipating this trend, the creators of Kasita are focused as much on creating a rich and positive user experience as on flooring finishes and closet storage. They have partnered with Loxone to offer the company's integrated smart home technology with every Kasita. Users can control lighting, locks, entertainment, climate and more through the intuitive Loxone Smart Home App, or they can let the home cruise on autopilot. Meanwhile, the system will continuously learn occupants' patterns, refining schedules and settings in response.
Kasita's tech team is also working on a platform that allows users to take their settings with them—whether to a new Kasita, a hotel room or other space. After all, it's what we do within those walls that makes a building a home.
"I see Kasita as a vessel of permission to downsize," says Wilson. "Leave a light footprint and see how much richer your life can be."
Look for our next installment of The Align Project, where we'll look at how to align your finances by investing in resilience.
---
Size Done Right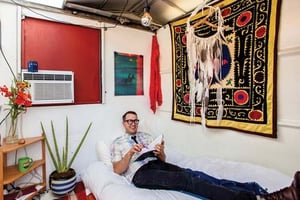 When Jeff Wilson moved into a 33-square-foot dumpster on Huston-Tillotson University in Austin, Texas, he had to confront something big: his stuff.
Wilson decided to go cold turkey. He posted a notice on Facebook announcing he was selling almost everything he owned for $1 an item. It was all gone in one hour. He used the standard, "Does it spark joy?"—made famous by the wildly popular book, The Life-Changing Magic of Tidying Up—to vet his remaining few possessions. "What you own comes into sharp focus when you downsize this radically," he says.
He's not unhappy one bit. "My life and time became a lot richer," says Wilson, who became known as "Professor Dumpster" during his year-long stint. "The things I had, I absolutely loved, and I didn't miss the things I had lost."
After the Dumpster Experiment came the "craziest OkCupid date ever," when Wilson and his girlfriend of eight weeks embarked on a 21-day, eight-country tour with no plans and no baggage. Wilson continues to live a radically downsized life—proving his year in the dumpster wasn't just a gimmick—and he claims freedom as the payoff.
"These things we own have weight beyond their gravitational mass," he says. "They weigh on your pocketbook; they weigh on your soul."