The Align Project: Align Your Mobility
When we consider daily travel, most of us keep our sights on the destination. What if we instead focused on the journey?
A millennial with a downtown job zips by on a rented electric scooter to the nearest light rail station. A single woman with a flex schedule walks down to the co-working space a few blocks away. An older person with mobility issues consults with his doctor using FaceTime.
One of the questions we're exploring with The Align Project is how to thoughtfully overhaul our transit habits: Can we reduce the negative impacts of transportation, energy use and traffic among them, and improve our quality of life at the same time?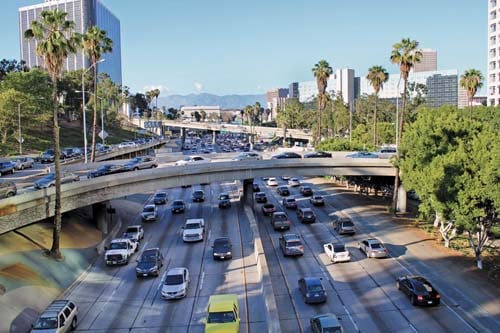 While California may lead the way when it comes to share of EVs and charging infrastructure, the Golden State also has the dubious distinction of having the most cities with large numbers of "super commuters"—people who spend at least 90 minutes per day traveling to and from work.
One way to approach this problem is to make the journey as important as the destination. This shift in perspective would affect everything: the type of car or truck we drive, which city we live in, the type of neighborhood we choose, how far we are willing to live from work or play, and with whom we travel.
For example, there's been a lot of hype about autonomous cars in recent years. By taking out the human error, such vehicles could improve the flow of traffic. However, other studies warn of negative consequences. The World Economic Forum modeled traffic in downtown Boston and predicted a 5.5 percent spike in traffic as users chose autonomous vehicles over mass transit.
One problem with autonomous cars is that they are strictly destination based. And while they may be a great solution for some people some of the time, they're just one small part of a more human-centric transportation system.
The point is that there is no silver bullet—even a bullet train. It will take thoughtful, holistic planning. But first, we need to first consider where we are.
The Drivers of Change
Transportation represents nearly 30 percent of our collective carbon footprint, eclipsed only by building energy use. What's more, we spend a lot of time in vehicles—nearly an hour per day on average. And that time doesn't always add to our quality of life.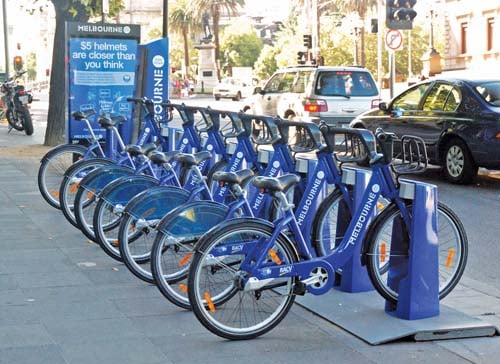 Sharing cars, bikes and even scooters helps reduce the burden of ownership, making transportation more affordable and equitable.
We like to think that our individual choices matter—and while they do, our collective behavior is shaped by an amalgam of incentives, policies and market realities. As we explored in an earlier installment of The Align Project, it's no coincidence that California, which sets quotas of electric vehicles (EVs) for carmakers, offers generous incentives for customers who choose EVs. It has also committed to charging infrastructure and has the highest share of EVs on the road of any state.
According to Bloomberg NEF's EV Outlook 2018, EVs may achieve price parity by 2024, at which point EV sales will take off, soaring from 1.1 million in 2017 to 11 million in 2025 to 30 million in 2030. By then, EVs will have become cheaper to make than gas-fueled vehicles, and by 2050, they will comprise 33 percent of the global car fleet and 55 percent of new car sales.
From the perspective of most American cities, where the occasional Tesla is still a rare sight, these numbers may sound impossible, so it's helpful to zoom out for a global view, where whole regions are charging toward a zero-emissions future. Several countries have set targets for phasing out vehicles powered by fossil fuels. Norway has decreed that by 2025 all new cars must be zero-emission vehicles. Already the country's incentives and policies have fueled a surge of EVs, which accounted for more than half of all new sales in 2017.
India is pledging to sell only EVs after 2030. China is taking steps toward phasing out gas and diesel-powered vehicles, not only restricting the number of new fossil fuel-run cars in cities and offering generous subsidies for EVs, but setting EV quotas for carmakers and banning "new independent enterprises" that only produce combustion-engine vehicles.
Some manufacturers are preparing for the inevitable and currently or plan to offer a broad portfolio of alternative vehicles: hybrids, plug-in hybrids, battery electric, and hydrogen fuel cell vehicles. Tesla, with its three models, continues to dominate the American EV market, but the field is about to get crowded—very crowded. GM, much to the chagrin of thousands of laid-off workers, announced a restructuring fueled in part by a commitment to EVs. Nissan, maker of the world's best-selling battery electric vehicle (the Leaf) recently unveiled two new "concept cars," illustrating its take on a zero-emissions future. And, more than a dozen automakers have announced plans to release electric SUVs.
A few automakers are also hedging their bets with hydrogen. Toyota, building on the success of its signature gas-electric hybrid, the Prius, now offers the Prius Prime, a plug-in hybrid, which boasts 133 MPGe (miles per gallon equivalent) and an all-electric range of 25 miles. But the company has also committed to fuel cell technology and began offering Mirai, its hydrogen fuel cell vehicle, to California customers in late 2015. Mirai boasts a range of nearly 275 miles on 5 kg of hydrogen, which is the energy equivalent of 5 gallons of gas. And unlike EV charging, filling the tank with hydrogen takes just a few minutes.
"We see [hydrogen] ramping up similar to the Prius, starting with a few early adopters," says Russ Koble, communications manager for Toyota. He adds that Toyota has committed to building 30,000 fuel cell stacks by 2020.
Though making up only a tiny fraction of U.S. sales, fuel cell vehicles are already taking off in parts of Asia and Europe. One attractive benefit of hydrogen is that it can be used to store wind and solar energy, says Koble. In theory, hydrogen could be used to store energy during times of peak production and provide energy during times of peak demand.
Which brings us to another key part of the magic formula to broad adoption: convenience.
Charging and Fueling Infrastructure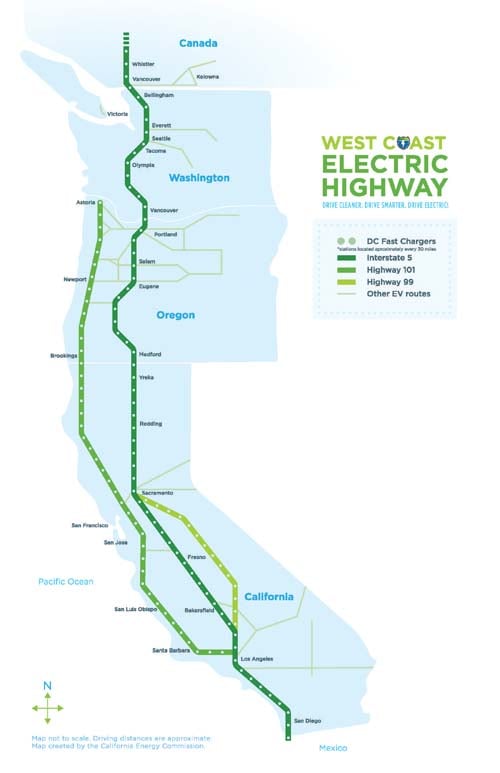 EV charging stations are becoming more common, especially in certain regions. For instance, the Pacific Northwest states and Canada have collaborated on the West Coast Electric Highway, reducing "range anxiety" by ensuring drivers can access EV charging stations every 25 to 50 miles when traveling along Interstate 5, the main north-south artery serving the region.
When it comes to hydrogen fueling stations, the landscape is much spottier. There are clusters of hydrogen fueling stations in Canada—particularly British Columbia and Toronto—as well as in Northeast cities, including Boston. But California has the most robust network. Local and state governments, NGOs, carmakers and suppliers all play a role in promoting charging and fueling infrastructure. For instance, Toyota and Honda (which also markets a fuel cell vehicle in the U.S.) have partnered with Shell to bring more hydrogen stations to California, and Shell and Toyota are developing the first hydrogen-truck refueling station at the Port of Long Beach.
However there are some regulatory hurdles that must be overcome, Koble notes. "There's a lot of fear around hydrogen," he says. For instance, the Port Authority of New York and New Jersey currently doesn't allow hydrogen fuel cell vehicles on certain bridges and tunnels.
Quantity and Quality of Life
A strong economy plus low fuel prices equals more driving. In 2015, with the Recession in the rear-view mirror, Americans logged a record-breaking 3.1 trillion miles.
It's an irony that's unfortunately mirrored in other sectors: Yes, our refrigerators are way more efficient per unit than in the 1970s, but they're also way bigger, and many households have more than one unit (and in some cases, relegate the old, inefficient fridge to the garage, where it continues to waste energy).
Quantity affects quality. Whether your vehicle runs on gas, hydrogen or electricity, sitting in traffic is no fun. California, the same state that boasts such progressive policies when it comes to promoting alternative-fuel vehicles, also has the most registered automobiles of any other, and several of the Golden State's cities suffer from notoriously congested roadways. A lack of affordable housing is driving up the number of "super-commuters"—those who spend two hours or more per day driving to and from work.
The costs of being stuck in traffic can be quantified. According to INRIX, a transportation analytics firm, traffic jams cost each San Francisco driver $2,250 and the city $10.6 billion in 2017. The costs were both direct—fuel and time wasted—and indirect—the freight and business fees "from company vehicles idling in traffic, which are passed on to households through higher prices."
These realities are forcing tough decisions about where to live and work. I know many couples and families who have abandoned the California dream for something more affordable, and less frenetic and complicated.
Bostonians who drive spend a lot of time sitting in traffic. That could help explain why vehicle ownership fell 9 percent in the five-year period between 2010 and 2015. The decline can in part be explained by a reverse migration from the 'burbs back to the city's core, where people can walk or cycle to work, along with the growing popularity of car-sharing services and alternative taxi services, such as Uber and Lyft.
In addition, mass transit systems are being modernized with the use of smartphone-integrated solutions, such as apps that tells you when the next bus is due to arrive at your nearest bus stop.
The Boston example hints that a multi-pronged approach to traffic management can be successful. This strategy, which some call "modern mitigation," upends the usual way of doing things. For example, developers are required to mitigate the traffic impacts of their projects, typically by widening roads and/or providing more parking. But these measures often induce more traffic and make roadways decidedly less friendly for bikes and pedestrians. A "modernized" mitigation approach awards measures that reduce traffic, rather than accommodate it.
Here are some of those traffic-reducing measures:
Develop shopping and restaurants that are accessible by bike or foot
Make public transit (and transit stations) appealing, attractive and easy to use
Create bike lanes and pedestrian paths and crossings
Add bike facilities—parking, storage and showers
Provide child care at work places
Create thoughtful infill
Strengthen "first and last mile" connections
Award car-pooling and ride-sharing
Incentivize car-sharing
Encourage flexible work schedules
A report, titled Modern Mitigation: A Demand-Centered Approach, expands upon these opportunities. And to be fair, California has passed a state law that encourages, if not require this type of mitigation, and several California cities are creating plans based on modern mitigation strategies.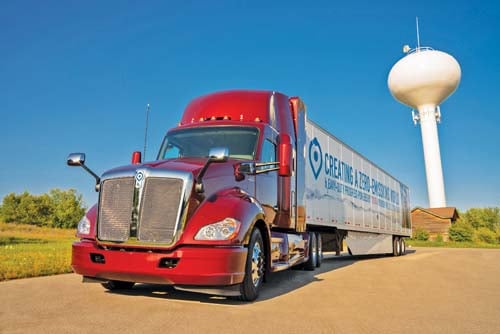 A Portal into the Future Fuel cell stacks are not just powering sedans. In 2017, Toyota launched Project Portal with Alpha, a prototype big rig that runs exclusively on hydrogen. In 2018 the company launched its second prototype. Beta is larger and lighter and enjoys a range of 300 miles. Soon, 10 of the Class 8 rigs will be shuttling goods between Los Angeles and key destinations. The project is a collaboration between Toyota, Shell Oil, Kenworth Truck Company and the Port of Los Angeles. The sound of idling diesels at a truck stop could be a sound of the past.
Smarter Cities; Rural Realities
If you scan the news, it often seems like the future is reserved for city dwellers. Rural communities face different challenges than cities—brain drain, aging populations, deferred maintenance of housing stock, aging infrastructure, and lack of access to resources, to name a few. Rural residents can feel left behind, whether talking about high-speed internet or public transportation. Rural residents often drive more, too, and usually without passengers. However, some rural communities, including my own, are trying to address these issues. My community is 20 miles from the nearest town (and grocery store). One thoughtful resident created our community Facebook page, and it has since become a vital hub for sharing news, resources and advertising events, and coordinating rides "down the hill." People post when they need a ride, or sometimes ask a neighbor to pick up an item from town for them. Our one restaurant has an EV charging station, and a few forward-thinking residents are considering purchasing an electric car that can be used by the entire community.
The Scales of Mobility
In a truly "aligned" society, people should be able to comfortably, affordably and efficiently travel across the country, between cities, across town, across the street and across the room. In some cases, these movements may be virtual.
A smart home system such as the one featured in The Align Project can enable a person to live independently and safely manage their home. "Digital doctors" can help people with chronic conditions manage their conditions without necessarily making a trip to the doctor's office—or more expensively, to the ER.
Making Hydrogen: The Source Matters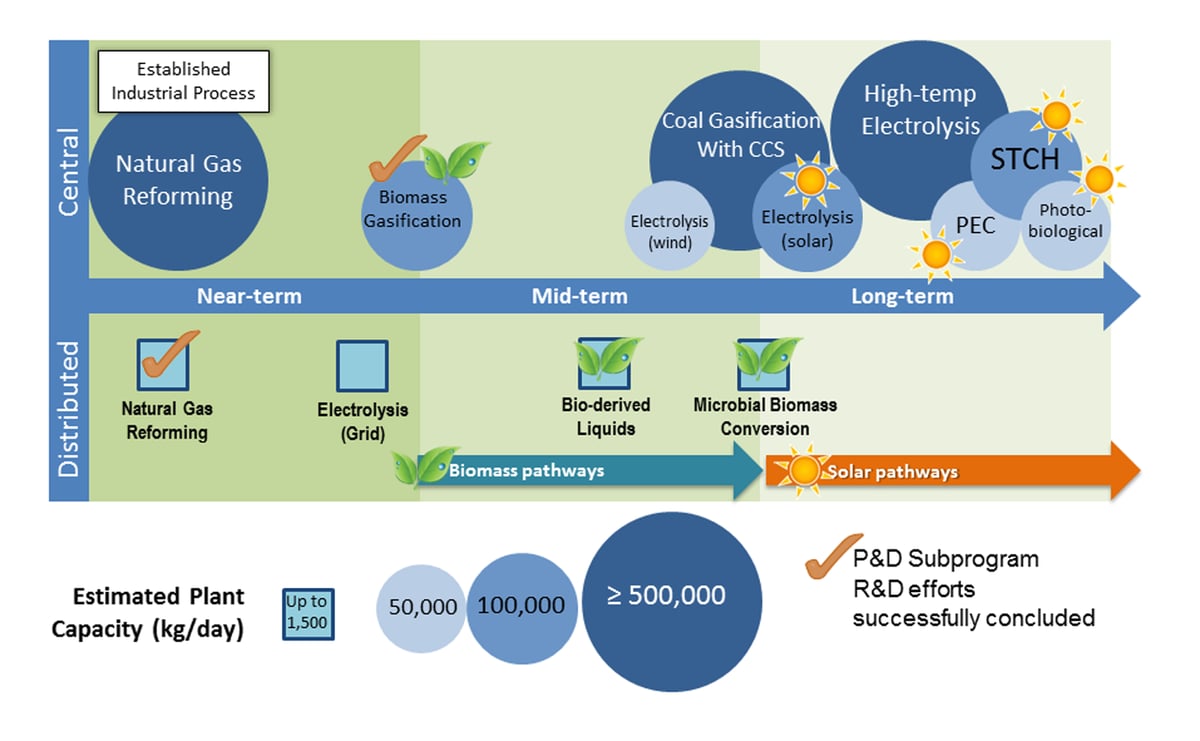 An EV that charges on solar power has more bragging rights than an EV charged with electricity from the grid. Similarly, not all hydrogen fuel sources are created equal when it comes to energy use and emissions.
As of now, most hydrogen fuel is made through "natural gas reforming." In this process, steam is used to separate hydrogen from methane (natural gas) molecules. Another method for capturing hydrogen is electrolysis, where an electric current is passed through water to separate hydrogen from oxygen. Fuel cell vehicles don't create any tailpipe emissions; hydrogen combines with oxygen to generate electricity, which runs the motor; the only by-products are heat and water vapor. Even if you consider the upstream energy costs associated with "making" hydrogen, the total greenhouse gas emissions are 30 percent less. California requires that at least one-third of its hydrogen fuel comes from renewables, whether biogas, electrolysis or biomass, ensuring that cars that run on hydrogen produce even fewer emissions that gas-powered vehicles.
The Department of Energy (DOE) has set a target of producing hydrogen at less than $4 per gasoline gallon equivalent. In the near future, more and more hydrogen fuel will be captured through renewable sources, making it an even more attractive and sustainable option. here
---
About the Align Project: The Align Project is a one-year demonstration project designed to challenge entrenched ideas about how we live
in the U.S., and offer suggestions for how we can align our lifestyles with our changing socio-economic and environmental realities.