The Align Project: Align Your Future
It's time to rethink where we live, what we buy and how we can help ourselves go with green.
On the one hand: climate change disasters, species extinction, geo-political upheavals and population growth. On the other: renewable energy, zero-carbon transportation, protein substitutes and smart tech. When thinking about the future, it's easy to vacillate between hope and despair. Throughout The Align Project, we've been reexamining how we live. Now it's time to look ahead and question our assumptions about the future.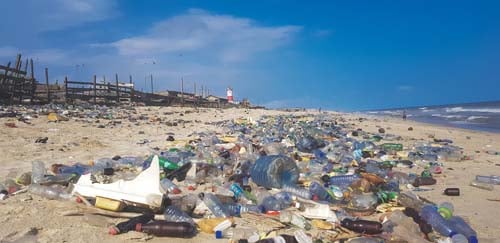 Not only will bioplastics take the place of petroleum, plastic garbage will be harvested and turned into useful products.
If you're involved with green building, you already understand that we need to radically revamp our buildings. You may also believe we need to rethink what we purchase, what we eat, how we get from A to B, how we age and even how we die. It's a revolution that, in many ways, has already begun.
The Material Revolution
Let's start with something familiar: our homes. Buildings consume resources during construction and occupancy. The relationship between a material's environmental impact and its contribution to energy efficiency and comfort often sets up a conflict; for example, the manufacture of closed-cell spray foam insulation produces greenhouse gas emissions, yet spray foam helps a building save energy over its lifetime.
Building professionals have a real opportunity to effect change by showing a preference for materials with good sustainability pedigrees, and rewarding companies that have embraced transparency and responsible manufacturing. Product certifications and transparency labels such as the Forest Stewardship Council (FSC), Cradle-to-Cradle, and Declare, along with transparency documents [Health Product Declarations (HPDs) and Environmental Product Declarations (EPDs)] can help specifiers and citizens alike make responsible choices. Though homeowners are less likely to read an HPD, they'll more often choose products with labels like Declare, GREENGUARD or SCS Indoor Advantage, which identify them as free of toxins.
The hope is that in the future, we won't need those labels, because all products and materials will be non-toxic and biorenewable. In the meantime, anyone can demand change. If enough people climb aboard, it works. Trader Joe's is a recent case in point: Responding to a consumer petition, the grocery franchise finally announced it would phase out wasteful plastic packaging, including plastic produce bags and those annoying plastic containers used to encase apples and tomatoes.
Another case in point: Spray foam manufacturers are embracing next-generation blowing agents with lower global warming potential. It takes time, but this is an area where consumers—who are actually citizens with purchasing power—can make a difference.
The Healthy Home
On Deck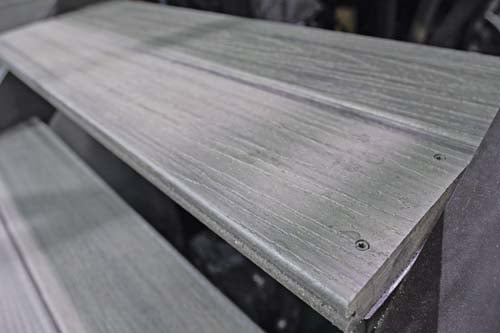 Back in the mid-1990s, Trex pioneered composite decking—a magical material composed of wood and plastic that imitated the look of wood but without the hassle. More than 20 years later, Trex is still on top, and the company offers a variety of companion products, including railings, pergolas, spiral staircases and landscape lighting. Options such as steel framing and hidden fasteners enhance strength and aesthetics.
In 2009, Trex introduced Transcend, the first encapsulated composite decking on the market. The composite core is wrapped on three sides with a proprietary high-performance material, enhancing its fade, stain, scratch and mold resistance. And while all of the company's decking and railing products offer a 25-year limited residential warranty against material defects, the Transcend line includes an additional 25-year limited residential fade and stain warranty.
The company gets high marks on sustainability, too. Trex products are made with 95 percent recycled content: The wood component is reclaimed sawdust; the plastic is sourced from sources ranging from grocery bags to newspaper sleeves.
Climate change has dire implications for human health. According to the Centers for Disease Control and Prevention (CDC), climate change will increase air pollution, vector-borne diseases and allergens, and negatively impact water quality and interrupt food production.
Extreme weather and temperatures will expose people to potentially life-threatening conditions, and warmer temperatures will worsen air quality and promote the growth of disease-carrying pathogens. Temperature fluctuations can also increase the incidence of certain diseases such as pneumonia, especially in children, the elderly or immune-compromised people.
We already spend most of our time inside. Healthy indoor air will become even more imperative when outdoor air is compromised. For example, wildfire smoke contains particulate matter, which can compromise lung function and aggravate conditions like asthma; it's even linked to some cancers. Millions have suffered prolonged exposure to wildfire smoke over the past several years. The Fourth Climate Assessment, released in November 2018, predicts that wildfires will increase by 30 percent by 2060, exposing more people to wildfire smoke for longer periods of time.
For this reason alone, smart indoor air quality (IAQ) devices may become as ubiquitous as smoke detectors in some regions. The Align Project includes an Awair 2nd edition unit, which tracks five components of indoor air: temperature, humidity, CO2, particulate matter and volatile organic compounds (VOCs). The new edition can detect fine dust or particulate matter down to 2.5 microns. The Awair app will send the user a notification if IAQ dips below a certain threshold.
The strategies already embraced by green homebuilders—ensuring an adequate supply of fresh air, choosing non-toxic finishes, and even speccing materials that actively and passively purify indoor air—will become standard.
Ductless mini-splits, such as the Rheem unit featured in The Align Project, will be ubiquitous (as they already are in Europe), recognized not only for their energy efficiency, but for their ability to filter incoming air.
But tomorrow's homes may be healthy in a different way. Yes, they will be efficient and high-tech. But they will also be more integrated with nature, and instead of being consuming end-users, occupants will be part of an ecosystem, using their homes to produce energy, recharge aquifers and grow food.
Going Flexitarian
In more ways than one, our diets are a disaster. Across the globe, prime habitat has been converted to farmland, and huge volumes of chemical fertilizers, pesticides and animal waste run off into waterways. The oceans are being plundered. And yet, nearly 30 percent of food is wasted in the U.S., where many people are simultaneously obese and malnourished.
We have a template for a more sustainable diet. Faced with the dilemma of feeding a global population that is predicted to reach 9.8 billion by 2050, a group of 30 scientists from around the world published a report that includes a tidy summary of the "Diet of the Future:" plant-centric, with small amounts of meat, dairy and sugar. This "Flexitarian" diet is something we can aspire to now, and is sure to be a win-win for the planet and our own health.
The vast majority of greenhouse gas emissions (78 percent) related to food production are tied to animal protein. Animals are not very efficient at processing food. Fish are much more so, as are insects.
The Food and Agriculture Organization (FAO) of the United Nations is already on it. In 2013, the organization issued a report explaining how insect-based protein can contribute to food security. Crickets, for example, require just two kilograms of feed for every one kilogram of bodyweight gain. Insects can also feed on "side-streams" such as human and animal waste, and they require very little water.
Perhaps less controversial, aquaculture is growing exponentially, and the FAO predicts fish farming will soon eclipse fishing. But perhaps closed-loop systems such as aquaponics offer the greatest hope. Aquaculture, in which fish waste feeds veggies and runoff from veggies feeds fish, does not require soil and is water and space efficient. Aquaponic greenhouses can even be integrated into housing or multi-use buildings, providing a sustainable food source, along with local jobs and greenery. Sounds utopian, but several such developments are in the works.
I don't believe we're facing a future of deprivation. Humans are incredibly creative and resourceful—and don't knock insect-based protein, algae or 3D-printed hamburgers until you've tried them.
Water Security
We like to celebrate homes that conserve water, and technologies that recognize the true value of our most precious resource. But there are pragmatic reasons to emphasize water efficiency. Our water infrastructure is aging, and with age comes risk. As the Flint, Mich., polluted water crisis showed so tragically, we can no longer take safe, abundant potable water for granted.
Droughts and climate change are already threatening water security. Disasters such as hurricanes and wildfires can interrupt and compromise water supplies, which happened after the Camp Fire in Paradise, Calif., where water pipes were contaminated with heavy metals and toxic chemicals such as benzene.
Droughts can also spark rationing. Increasingly, municipalities are turning to reuse, even potable reuse, where effluent from wastewater treatment plants is treated to potable standards. Admittedly, this strategy will take some careful PR to win people over, but in the future, people won't even raise an eyebrow at the notion. Here are a few more trends we expect to see:
Reuse, reuse, reuse! Some municipalities in drought-prone regions are already requiring homes to be "dual-plumbed" for future reuse. In the future, graywater reuse will be standard, and toilets will never be flushed with potable water.
Vacuum-flush and composting toilets. Once confined to cruise ships, vacuum-flush toilets will use a fraction of the water of today's most efficient models. Most buildings will also have composting units for human waste.
Distributed water. Small individual water tanks and/or neighborhood cisterns, some supplied with treated rainwater, will ensure at least a limited supply of potable water.
Smart water meters. Soon to be as common as smart energy meters, these will detect leaks, identify unusually high usage and provide customers with feedback.
The end of the lawn. All irrigation will be connected and efficient, and food gardens (including greenhouses) will replace lawns. Except in the rarest cases, potable water will never be used to water landscaping.
The Align Project Water Strategies
Of course, water-efficient fixtures are important. But The Align Project goes a step further by including strategies that not only save water and energy, but ensure water quality and protect the home. One of these is Flo, a smart leak detection device that is installed on the main water supply line. By running daily tests, Flo can detect small leaks that, drop by drop, add up to thousands of gallons of wasted water.
According to the U.S. Environmental Protection Agency (EPA), the average home could save 10,000 gallons per year simply by addressing leaks.
Flo measures flow, water pressure and temperature, and will send a real-time alert to the homeowner's phone if a leak is detected. It will also automatically shuts off water in the event of catastrophic failure.
The Align Project also features the Viega MiniBloc, a smaller version of the company's ManaBloc central plumbing manifold. These manifolds, which can be compared to an electric panel, enable a "home run" plumbing design, where each fixture has its own dedicated line and shutoff. This is an advantage for maintenance, as single lines can be shut off without disrupting water supply elsewhere.
The manifolds also save water and energy. They are plumbed with Viega's PureFlow system, which includes the company's cross-linked polyethylene PEX tubing and press-and-crimp fittings. Different fixtures can be fed with differently sized lines; in fact, most can be fed with 3/8-inch or half-inch line, compared with larger 3/4-inch supply lines typical of branch-and-tee systems. The combination of dedicated lines and smaller volumes means that far less water is wasted purging lines of cold water—according to the company, up to 40 percent less.
Finally, The Align Project features DiEntry and DiUse residential water treatment units from Voltea. The units rely on a technology called membrane-capacitive deionization, or CapDI, which is a two-step process that removes salts from water.
During the purification step, water passes between two oppositely charged electrodes. The salt ions are attracted to the electrodes, while the water passes through. Once the electrodes are saturated with ions, the polarity of the electrodes is reversed and the ions are released and flushed from the unit. The process recovers up to 95 percent of the water treated. The percentage of salts removed from the water is also "tunable," meaning users can decide how much salt they want removed.
CapDI can work at high temperatures, unlike reverse osmosis, and it does not require chemicals or added salts. The technology is applicable to water reuse. For example, used laundry water can be recovered and treated with CapDI, then used to flush toilets. CapDI can also be used to remove salts from water destined for cooling towers.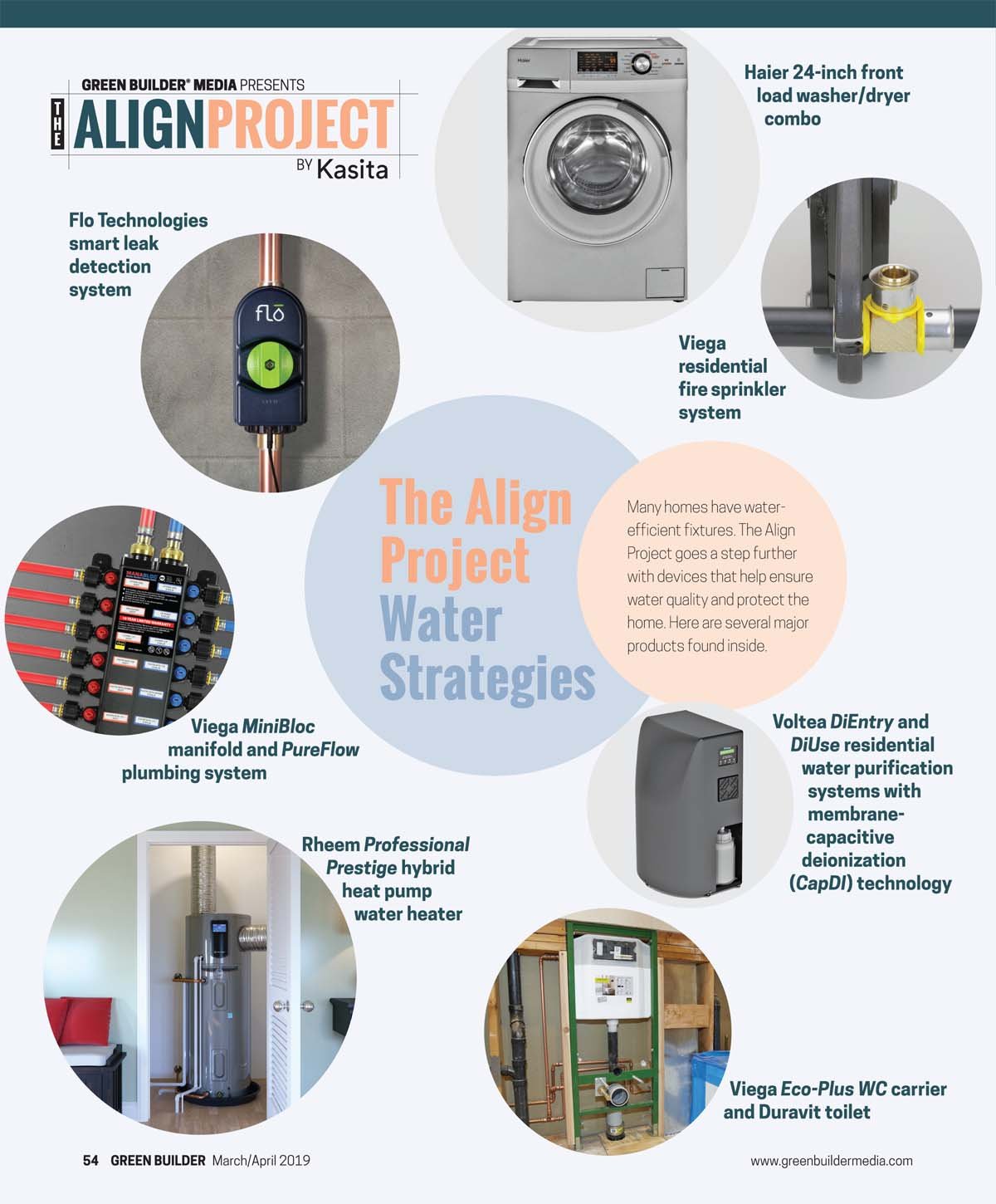 Aging in place; Aging with grace
By 2035, one-third of U.S. households will be headed by someone age 65 or older, and many of these seniors will be living alone. Many will face decreasing incomes, which will make it more difficult to pay the mortgage and upgrade the home for aging in place. How will people stay connected, independent and safe?
Baby boomers are showing us some of the answers. Their tendency to question the status quo has not abated with age, and they have the financial resources to back up their demands.
Many are rejecting "the home" in favor of their homes. According to AARP, nearly 90 percent of seniors want to stay in their own homes as they age. (Ironically, this trend may be adding to the housing crunch.) Some have taken matters into their own hands and created their own net-zero, cohousing-style communities such as Ankeny Row in Portland, Ore. Others are living in apartment-style housing with plenty of amenities and easy access to restaurants, shops and classes. And some have downsized into "granny flats" behind their grown children's homes.
But there's a huge disparity between those who can afford to choose and those who can't. What option do you have if you can't afford to design and build your own development? The Align Project offers one possibility: small, hyper-efficient units that can physically move and change with you. The home's Orient smart home platform, with the integrated Loxone lighting system, is key. The occupant can be involved in programming the home or letting it run on autopilot. The system is ready to go as soon as you open the door and ask the lights to turn on.
Though low-tech and practical solutions such as ramps, grab bars and handrails are essential for aging in place, voice-activated technologies, programmable devices and "virtual doctors" are enabling older people and those with disabilities to remain independent. Other examples include sensors that detect a person's location and movement, and dispensers that dole out the correct dose of medication at the right time. And don't discount the importance of apps, such as Skype and FaceTime, which can help people stay connected with loved ones— isolation and loneliness are as deadly as cardiovascular disease.
So what will the future hold, not only for those nearing the end of their lives, but for those just starting out? We'll likely see an intensification of the trends we're already seeing now: smaller, more flexible homes, more sharing of resources and more intergenerational households. Resilient homes that can shelter occupants from disasters and serve their needs efficiently. Will any of it be enough? That will be up to us.