As staggering as the facts are about outdoor air pollution, most of our exposure to pollutants may actually come from poor indoor air quality.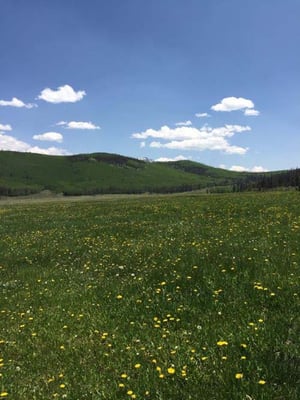 One of my favorite things about living at 9,000 feet in the Colorado Rockies is the fresh, crisp air. It's particularly aromatic after a rainstorm, and it's so clear in the evenings that, on a cloudless night, I feel like I can see the entire universe.
Now that I live in the least populated county in the lower 48 with more elk than people and some of the cleanest air in the U.S., I'm acutely aware of air quality when I travel to urban areas. In cities across the world, carbon dioxide emissions from tailpipes, factories, and refineries are trapping heat and creating toxic "domes" that act as suffocating shrouds.
Take, for example, Los Angeles and its southerly neighbor Long Beach, which boast ports that are the entry points for more than half of the goods shipped into the US each year. While these ports are essential to commerce in our country, they are also the largest source of air pollution in California, with a complex infrastructure of idling cargo ships that deliver over 30,000 containers from Asia every day to approximately 1,200 diesel-powered freight trains and 35,000 trucks that transport goods across the country.
The City of Angels also has the highest number of vehicles per capita in the country (nearly two per household), which translates into 12 million vehicles traveling the extensive highway system every day. This substantial vehicle exhaust, in combination with emissions from the Central Valley's farming and industrial activities and growing urban sprawl throughout the state, has put California on top of the list of cities with the worst air pollution in the nation.
California is not isolated in its air pollution woes, and emissions aren't like Vegas—pollution emitted in one location doesn't stay there. Pollution gets swept away by air streams and travels like a vagabond.
Extreme pollution across the globe has resulted in a dramatic increase in respiratory disease, asthma and stunted lung development in children, and a higher rate of premature and disabled infants. As temperatures continue to rise, population grows, carbon levels increase, and air quality worsens, it is expected that one out of every four children born will develop asthma.
As staggering as the facts are about outdoor air pollution, UL Environment claims that most of our exposure to environmental pollutants actually comes from breathing indoor air.
Indoor air pollutants are generated from activities, products and materials we use every day. UL Environment has identified over 11,000 different kinds of VOCs that are emitted from building products, furnishings, cleaning products, and even electronics. The air in homes, schools and offices can be 2 to 5 times more polluted, and in some cases 100 times more polluted, than outdoor air. When you consider the fact that people spend 90 percent of their time indoors, this becomes a big problem.
Why care about indoor air quality (IAQ)? Because, chemicals, toxins, and volatile organic compounds (VOCs) in our indoor air result in asthma, ADD, allergies, headaches, and other ailments. In fact, according to the National Institutes of Health, poor indoor air quality has caused a 160% increase in asthma rates in children over the past 14 years alone.
Josh Jacobs UL Environment Technical Information and Public Affairs Manager, there are three main ways to address indoor air quality. "The first is ventilation, which determines how much fresh air is brought into the building to refresh the air. The second is filtration, which is taking potentially harmful things out of the air. And the third—the most important—is source control, which is controlling the potential VOCs that you bring or put into a home."
UL Environment offers an abundance of information about creating healthy indoor air environments, including a downloadable e-book that provides important information for builders about product selection and manufacturers about product testing, as well as a Sustainable Product Guide that lists a vast number of GREENGUARD certified products, including insulation, paint, wallboard, flooring, and furniture, that meet rigorous chemical emissions limits.
We followed UL Environment's interactive graphic, which offers tips on how to improve indoor air quality throughout a home, when selecting products for our latest demonstration project, the VISION House at Mariposa Meadows, and the organization's Home Renovation Checklist when retrofitting the Rancho La Garita. We will conduct a case study in conjunction with UL Environment at the VISION House at Mariposa Meadows to test how non-toxic, low-emitting products and finishings can create healthy, thriving indoor environments.
Green Builder Media also has a dedicated microsite with a wealth of information about improving indoor air quality. For too long, the importance of IAQ has been underestimated, particularly considering its profound impact on our health. Though our IAQ microsite, we shed light on building science, proper air flow, ventilation, humidity control, VOCs and off-gassing, and green products that contribute to healthy homes.
Do you know of articles or resources that we should add to our Indoor Air Quality microsite? Write to me at sara.gutterman@greenbuildermedia.com or follow me on Twitter or Facebook.
For more information about green building and sustainable living, visit Green Builder Media at www.greenbuildermedia.com, like us on Facebook, and follow us on Twitter for regular updates and breaking news.