The ADU Equation
It's been a long road toward respect for the 'other' type of tiny home, but accessory dwelling units have (finally) begun to gain traction.
In the beginning, it was just an affordable way to buy a home. Kol Peterson had relocated to Portland, Ore., in 2010 and needed somewhere that would be his without breaking his budget.
"Housing was likely to be the single largest expense I would have in my life," Peterson notes. "Ultimately, I settled on the idea of buying a house and building, and living in an accessory dwelling unit (ADU)."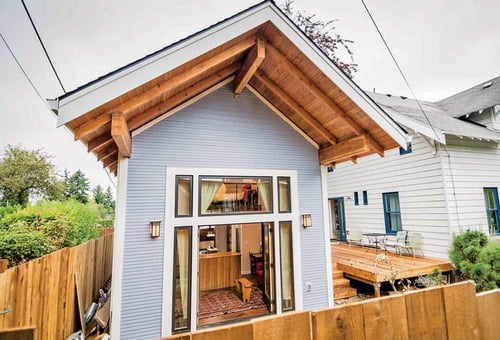 Fifty potential residential properties and one whirlwind construction year later, Peterson and his future wife, Deb, had their dream home—all 800 square feet of it. For Peterson, it also meant the start of a career built around tiny housing. The one-time environmental planner has become known as the guru of the ADU, especially in the Pacific Northwest: He consults with prospective homeowners on what they can expect as they buy or build their home. He conducts construction industry-aimed educational seminars and teaches courses at building schools—such as the upcoming Accessory Dwelling Academy in June (see sidebar). He maintains a website, AccessoryDwellings.org, a one-stop resource on all things ADU. His citywide ADU tour draws nearly 1,000 attendees each year. And he's the author of Backdoor Revolution: The Definitive Guide to ADU Development, which contractors, consumers and other authors consider to be the bible on building an ADU.
"I have been on the front edge of ADU education, advocacy and consulting for six years," notes Peterson in Backdoor Revolution. "I now find myself in a unique position to contextualize the roles that ADUs play in the development of infill housing in a growing city."
What We're Talking About Here
Accessory Dwelling Units go by many other names—"granny flat," "in-law suite," "carriage house," "secondary dwelling unit" and "ancillary unit" are just a few—but one thing they are not is a "tiny house." The website Maxable defines an ADU as a structure that is typically around 800 square feet in size, has its own kitchen, bedroom and bathroom, is considered an accessory to an existing house—meaning it can't be bought or sold on its own—and can be rented out legally. The unit may or may not be detached from a primary residence.
In contrast, a tiny house is usually no more than 400 square feet, contains a living area, sleeping loft, kitchen and bathroom, is typically built on wheels to enable easy relocation, can be parked on land sharing properties, and can be sold as its own dwelling.
There's also a district difference in how the home can be built, if at all. On the surface, regulations on ADUs appear to be more relaxed than those for tiny homes. Most cities do not outright ban ADUs, but very few cities actually embrace them—in most cases, regulations are so restrictive that most jurisdictions grant no more than 10 permits are issued each year, Peterson notes.
The low rate is "largely attributable to restrictive ordinances and bylaws, and long, involved, complex permitting processes," Peterson states in Backdoor Revolution. "No wonder so few homeowners would dare to run the ADU development gauntlet—such formidable roadblocks stand in their way."
Three of these roadblocks are what Peterson calls "poison pill regulations," items that effectively kill an ADU effort: owner-occupancy requirements, off-street parking requirements, and conditional or discretionary reviews.
Live Here or Lose It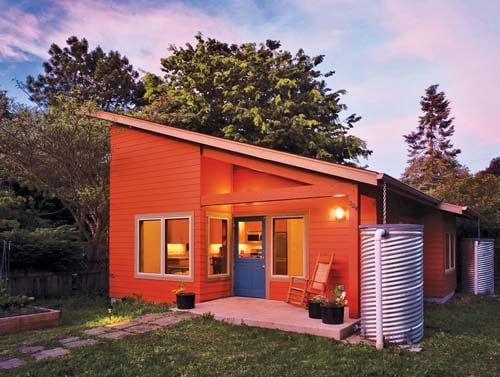 Under owner-occupancy, an owner must live on the property is there is to be an ADU upon it. This precondition, "the default rule of the land for ADUs today," effectively bars any such construction, Peterson notes. It shoots down one of the principal reasons for building an ADU: as an investment. "An owner can no longer move away from the property without having to sell it," he says. For example, this bylaw eliminates an option such as renting out the main home should the owner need to suddenly relocate and not want to quickly sell the property for less than market value. It also opens a can of worms if a family member were to inherit the property and not want to sell.
Most U.S. cities have owner-occupancy bylaws for properties with ADUs. Some tighten the restriction further by requiring residents of the ADU to be relatives of the property owners. Other cities require those relatives to be ill, disabled or elderly and require extended care or supervision by the owner. And, there can be a time limit as to how long a relative may stay in the ADU, usually no more than a few years. Still other cities restrict occupancy to specific age or income groups, and some prohibit the unit from being rented out.
The sad thing is that there's no real justification for owner-occupancy requirements. Peterson believes it was once a logical ordinance somewhere, one that, for simplicity sake, other jurisdictions simply copied—along with numerous other building codes—when developing their own ordinances. Now, these "accidental mindless regulations" are seen as normal and well-reasoned, simply because they're on the books everywhere.
Packing It In
An off-street parking requirement basically mandates that there be a parking space available on or near the property for the occupant of the ADU. Some cities require as many as three covered spaces. Others require any parking spaces to be side by side, or capable of two-car tandem (end-to-end) parking. "For many lots where you would want to build an ADU, adding an additional 9-by-18-foot parking space is impossible, nearly impossible or highly undesirable," Peterson writes. "Fitting two or three parking spaces is harder still."
Adam Peterson, an architect with Muddy River Design in Bend, Ore., recalls a time when he had to configure a property to fit five parking spaces for one single-family house with an ADU. "It was a 2,000-square-foot house with an ADU above the attached garage," he notes. "It was on an improved alleyway, so it was a challenge with the planning department to make all of the parking spaces work. They required two in the garage, two outside the garage for the house, and then one off to the side for the ADU. So there's no yard, because it has to be hardscaped for that parking stall."
Yes You Can't
The conditional/discretionary review or conditional-use permit allows a property owner to ask the city for permission to use a property in a specific way. But it does not necessarily grant the owner the right to build anything on it. The lengthy process can require neighbor notification, a public hearing, and written and oral justification. It can also result in a lot of lost money upfront. For example, there are non-refundable permit fees, as well as the costs of site plans and elevation drawings. This expense easily totals thousands of dollars, something that a professional developer have come to expect. An amateur homeowner, on the other hand, would probably throw in the towel.
"This type of development uncertainty deters them from initially even pursuing the idea," Peterson says. "In what other circumstances would a homeowner be forced to spend [thousands] on an application where permission may not be granted?"
In addition to the three "poison pill regulations," there are the typical development standards faced by all homebuilders, which can hinder ADUs: setbacks, size limits, minimum lot sizes, structural forms, sewer and water connections, and development fee costs. "Rules like these are so restrictive that it would be remarkable if any resident tried to develop a permitted ADU," Peterson notes.
But not every city agrees in poison pills.
Where Reform's Becoming the Norm
ADUs were originally viewed as a way to ease a housing crunch in many of the fastest growing—and expensive—areas. Cities like Portland, Ore., Santa Cruz, Calif., Austin, Texas, and Vancouver, British Columbia, made ADUs an option for homeowners, although they didn't take off at first. Changes in building regulations, along with growing word of mouth and promotional efforts, have made them a bit more popular. But they're still a miniscule part of the housing market.
Peterson has seen the difference. When he began his housing project in 2010, his was one of only 86 such permits Portland issued that year—and Portland was one of the less-restrictive cities. But by 2016, the annual number had grown to 615. The difference? The city eliminated development impact fees, which cut the cost of building an ADU by thousands of dollars. It also loosened design and size requirements.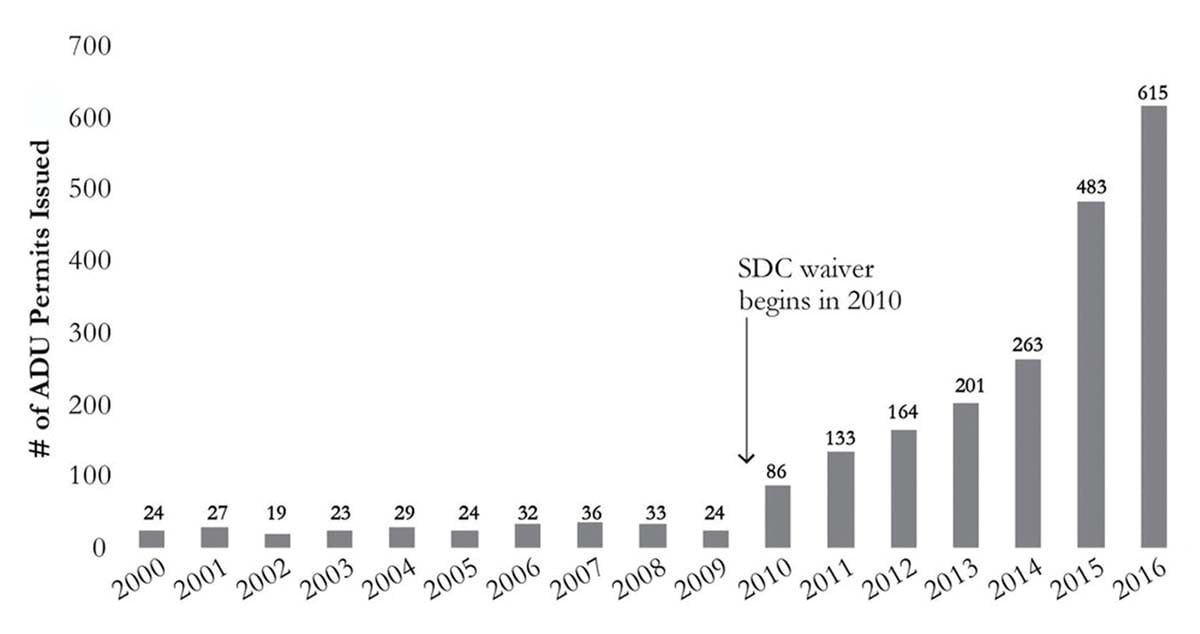 A report by the University of Nebraska, "Use of Accessory Dwelling Units as a Housing Strategy," identifies numerous other cities where legal reform meant added interest in ADUs.
In 2017, California passed legislation that did not address owner-occupancy, but did redefine the specs of an ADU, making it easier to build one. Numerous cities benefited immediately. For example, Los Angeles, which already lacked owner-occupancy, saw the number of permits rise from 142 to 2,000 in one year. Santa Cruz, considered an ADU pioneer but also very strict in its building requirements, saw construction triple from 100 to 400 units, partly from the new legislation, and from ongoing and increasingly popular city-wide efforts such as zoning reforms, pre-approved designs, a how-to manual for homeowners, and a low-interest loan program.
Elsewhere, Seattle's reforms, which included changes in owner occupancy and parking requirements, as well as greater public discussion, pushed its ADU annual permit total from less than 10 in 2012 to more than 200 in 2016. In Austin, a series of building reforms over a decade, including programs aimed at low- and moderate-income households, pushed ADU permits issued from 32 in 2007 to 387 in 2017. And Barnstable, Mass. made it easier to bring existing, non-permitted units into compliance with its Amnesty Program, which offers fee waivers for the inspection and monitoring of units. The city also offers financial incentives, such as block grants, to reimburse eligible costs associated with the rehabilitation of a qualified ADU that meets the minimum qualifications outlined in the program.
But it's Vancouver that is considered by many to be the template of how to do it right when it comes to ADU regulation. According to Strong Towns Content Manager Daniel Herriges, the units were allowed to some degree prior to 2009. But that year, ADUs became legal citywide. That meant 65,000 lots where the micro-homes could be built, with virtually no red tape. "No additional parking was required, no public hearing or approval by neighbors, and no expensive or cumbersome design requirements," Herriges notes. "You can build an ADU on just about any residential lot in Vancouver, behind just about any style of house."
As a result, ADUs—commonly referred to as "laneway houses" in Canada—have proved "spectacularly" popular in Vancouver, according to Herriges. According to the Sightline Institute, a Seattle-based nonprofit research group, Vancouver is now adding more than 1,000 of these units every year, and the total share of single-family houses with legal ADUs is up by 35 percent from a decade earlier, to about 2,600 homes. Another 4,200 permits have been issued for units known as secondary suites—an ADU in a basement or other "carved out" part of a home.
Part of the increase has also been attributed to the city's grid-like layout and deeper, wider residential lots, which are conducive to ADU construction, according to the Urban Land Institute.
The Next Big Thing?
Peterson says that no one will argue that a lot of progress has been made in recent years toward defining what an ADU is and how it can be built. But despite the ongoing changes in attitude on display in some cities, there's a long way to go before an ADU is as desirable—and hassle free, construction wise—as a two-car garage.
"Because ADUs are challenging to create, small changes to the rules are likely to have even smaller effects on the number of ADUs actually constructed," Peterson notes. "If ADUs are actually meant to contribute to the quantity of housing in an urban area, and not just be token examples of a good idea, then barriers—both governmental rules and nongovernmental challenges—will have to be taken down wholesale. That's probably what it will take to finally, really make ADUs the next big thing."