The Accelerated Uptick in Health and Wellness
It's not surprising that, in the age of Coronavirus, consumers are placing enhanced emphasis and priority on Health and Wellness. With COGNITION Smart Data, Green Builder Media is tracking trends in the Health and Wellness category, assessing how shifting consumer demands will create systemic change in the housing sector.
The Coronavirus—the first global pandemic that has ever unfolded online— has hit all-time records of online engagement and activity. Understandably, one of the leading conversation drivers about the topic is Health and Wellness.
Health and Wellness related discussion skews negative, as people are worried about minimizing the spread of the virus, staying well, and losing healthcare benefits. But, interestingly, over the past few weeks, positive sentiment is mounting as people devise creative ways to relieve stress, help neighbors, and foster hope.
With that said, the Coronavirus is taking an undeniable toll on mental health. COGNITION data shows that anxiety, depression and stress are increasing due to economic losses and the pervasive sense of uncertainty. Reported cases of marital strife, domestic violence, child abuse, and substance abuse are increasing. And people with mental health problems who are generally soothed by human contact now report feeling lonely and disoriented.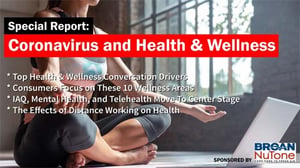 No doubt, the Coronavirus is forcing people to rethink their lifestyle choices and behavioral patterns. We're tracking exploding interest in indoor air quality, smart appliances, smart thermostats and other connected living devices that enhance comfort and efficiency, home healthcare and telemedicine, and fitness equipment and monitors.
Indoor air quality has quickly shifted from a "nice to have" to a necessity. Homeowners are clamoring for solutions that improve IAQ, particularly systems that monitor air quality and then proactively trigger fresh air exchange or ventilation systems (ERVs, range hoods, vent fans) once toxins are identified.
Clearly, this transformation will place new demands on building professionals and manufacturers alike. Some progressive builders are already jumping on the opportunity to reposition themselves, shifting away from the High-Performance moniker and marketing themselves as Healthy Home builders.
Demand for telehealth is also swelling, particularly as people become more comfortable with interacting via video and online. Healthcare professionals are encouraging the shift towards telehealth services, as they keep people out of overtaxed hospitals and can offer faster service and diagnosis for certain types of aliments.
Along with telehealth, there is a rising interest in fitness wearables, digital workout services, and virtual training as gyms across the nation have closed their doors.
New applications for wearables are emerging—in addition to tracing fitness metrics, wearables are now being used to identify and monitor those who fall ill and track the progress of the pandemic as it spreads across the country.
As more wearables incorporate advanced monitoring capabilities like blood pressure, heart rate, body temperature and oxygen saturation, the health care system will be able to streamline remote monitoring, which will hopefully enable us to get ahead of the next pandemic.
New nesting instincts are also leading to an increased interest in remodeling projects, including kitchen redesigns, landscaping (namely, planting edible gardens to enhance food security), and the creation of sanctuary spaces.
There is also a growing interest in gardening and food production as an essential survival tool and path to resilience, evidenced by a sudden and pronounced spike of interest in edible gardens, native plants that save water, and urban oases that offer refuge in concrete jungles.
For more information about shifting consumer demands and expectations in the Health & Wellness space and the corresponding impact on the building industry, check out our Special Market Report, Coronavirus and Health & Wellness.