Despite near-biblical storm events in Florida and Texas, few seem to take the warning signs seriously.
What would happen if a 16-foot storm surge hit the Tampa Bay, Fla., area? We almost found out on Sept. 11, just a few months ago. But by happenstance, luck or grace, the storm "wobbled" slightly to the east. The big surge never hit, and winds dropped to Category 1. Lives and property were spared.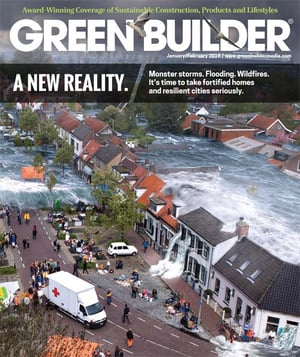 What's the rational way to respond to this near miss? We could ask the residents of Puerto Rico or St. Thomas. They may never recover to their pre-Hurricane Irma standard of living. Or we could listen to real estate brokers and builder groups in Texas and Florida, who seem to see this year's unprecedented series of powerful storms as flukes that will barely interrupt the status quo homebuilding process.
In Florida, for example, real estate brokers expect demand for new homes to remain high, with buyers looking for few resilient "upgrades," including impact glass and "hurricane-related construction features." For their part, builders seem more concerned with finding qualified labor than what the new age of serial hurricanes means to their business.
Of course, many homes in Florida were spared Irma's muted wrath, thanks to better building codes passed following Hurricane Andrew in 1992. But the State's climate change skeptic-in-chief—Governor Rick Scott—recently weakened those rules. Builders now have a choice: Follow Scott's spiral into irrelevance or build homes that just might survive the coming deluge.
Let's flash back for a moment to the night Hurricane Irma made landfall in Southwest Florida. The storm's surge was expected to peak at 12 feet to 16 feet. According to Weather Underground, "a one-foot storm surge can sweep your car off the road." Imagine if that surge had hit at high tide, with 10-foot waves. Water would have reached 26 feet. The highest point in the Tampa Bay area is only 48 feet.
Folks, impact glass is not going to be enough.
What will matter, however, is every choice you, the builder, make: piling depth, rebar placement, tie-down systems, roofing fasteners, glass protection—all of it. Fortunately, we have a lot of hard experience to learn from. FEMA has documented the impacts of Katrina, Harvey and other major storms on conventional structures, and has much to say on the matter.
Can we build homes to withstand the worst nature can throw at us? Probably not. I've seen the aftermath of a Category V tornado. But as you'll learn in our January/February issue focused on resilient building, we have many tools and systems available. We're not helpless. We can build and strengthen homes so that they have a fighting chance when the next big one comes.
And it will come. Let's not bet life and limb on the next wobble.