If you think America is destined for a return to blackened skies and foul waters, you haven't read the fine print. Progress is here to stay.
A new survey of U.S. attitudes arrived on my desktop from the ReportLinker.com search engine. The survey found that more than three-fourths of U.S. citizens agree that human activity is the main cause of climate change. Just as importantly, more than two-thirds are worried about air pollution and water pollution. Many other environmental issues also concern them.
But how is this possible, given the latest election's outcome? It's really very simple. About 42 percent of eligible citizens did not vote in the most recent national election. Of the 58 percent who did, just under half chose the candidate who believes that climate change is a hoax. In other words, 71 percent of the country did not necessarily agree with the premise that global warming is a vast conspiracy, or that the coal industry should be revitalized.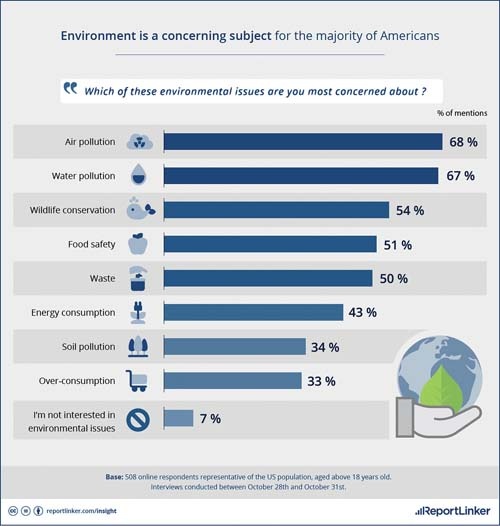 Now, I'm not endorsing the other candidate, either. She had connections to fracking and big banks that would have deeply compromised her ability to do the system-changing work that's needed.
Let's focus on the present. A minority group with strong anti-regulatory leanings will be running the Federal Government. Will they set back progress on some issues? Probably. But many of their views are far more extreme than where the 71 percent want to go. Rhetoric is one thing. Policy is another. It's doubtful that any American would welcome back air pollution and water pollution—or the disappearance of half of Florida to rising sea levels.
The economic future of this country lies in green technology. It's simply our best hope to maintain any semblance of our current way of life. A massive transformation is already underway.
Here's an example: employment in solar power doubled over the past five years. According to CNN, the solar industry workforce is "bigger than that of oil and gas construction, and nearly three times the size of the entire coal mining workforce." At the same time, technologies such as wi-fi controls, Big Data, electric vehicles, whole-house batteries and heat pumps offer us the imminent promise of a cleaner, leaner lifestyle.
Almost all of this technology converges in the modern home. It's become so easy to achieve net-zero energy use in new construction now that there's almost no excuse not to hit that target. Mini splits, solar and smart controls are a perfect trifecta. These systems also make homes better able to buffer the uncertainties of troubled times.
As builders, architects and manufacturers, now is the time to stay on course and continue to reduce your impact on the planet through greener, cleaner technology. You don't need big government to re-define whether we should do what's right for future generations. By designing homes and products to be less expensive to operate and less reliant on fossil fuels, you'll be acting in the interests of the 71 percent—as well as that of every other American.