When you reside at almost 9,000 feet above sea level, you don't necessarily give local flooding a lot of thought. Flooding is something you see and hear about on the news coming from coastal regions and the farmlands in the Midwest. That changed for us here in the Colorado Rockies this summer, after we received roughly twice our normal snow accumulation over the winter. That tremendous snow load triggered massive avalanches here and in many other parts of the Mountain West, as they crashed down the slopes and chutes with incredible force.
They mowed down entire sections of forests, turned thousands of mature trees into shattered missiles, and then deposited them, along with trainloads of boulders, into gigantic debris piles held together by ice and packed snow. As a result, the pending snowmelt represents flooding threats in the creeks and rivers up in the high country on a scale rarely experienced over the decades. Our little village has been under flood warnings since the middle of spring and, as of this writing, the threat persists even though thousands of sandbags now line many of our buildings and roadways.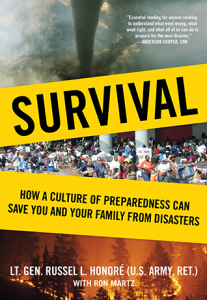 Several years ago, I had the opportunity to deliver a presentation on the same program as retired General Russel Honoré, the renowned military commander who was sent into New Orleans in the aftermath of Katrina to restore order and provide protection, assistance and hope to the citizens there. Honoré was a leader known for getting results and for providing colorful sound bites.
On the subject of floods he is quoted as declaring, "This is a disaster. This isn't something somebody can control. We ain't stuck on stupid." Unfortunately, we may be. Many places experience the same series of catastrophes and disasters time after time, and yet we continue to build and rebuild in many of them.
The General said that he had previously declared that "recovery costs five times more than prevention," but subsequent reports from the federal agencies responsible for dealing with such events showed him to be in error. The data from those studies indicated that the actual costs were tenfold or even more. Yet, the homebuilding and real estate development industries relentlessly lobby lawmakers to maintain their opportunities to harvest profits from risky projects in areas that are often marginally safe at best.
The old axiom, "an ounce of prevention is worth a pound of cure," famously attributed to Benjamin Franklin, is believed to have referred to fire prevention, but it can apply to many kinds of threats that result from a host of man-made and "natural" disasters. Sadly, the wisdom in his words often falls on deaf ears, when short-term economic opportunities are at stake.
Many of us have recognized that we are witnessing just the tip of the proverbial (melting) iceberg, when it comes to pending environmental challenges and the many disasters that are occurring with increased frequency and intensity. But collectively, our industry appears willing to pursue the business-as-usual model for as long as there are profits to be grabbed, regardless of how steep the odds are that history will continue to repeat itself, often in ways that are bad for everyone.
One more quote from General Honoré seems increasingly worth considering: "People need to be cautious, because anything built by man can be destroyed by Mother Nature."